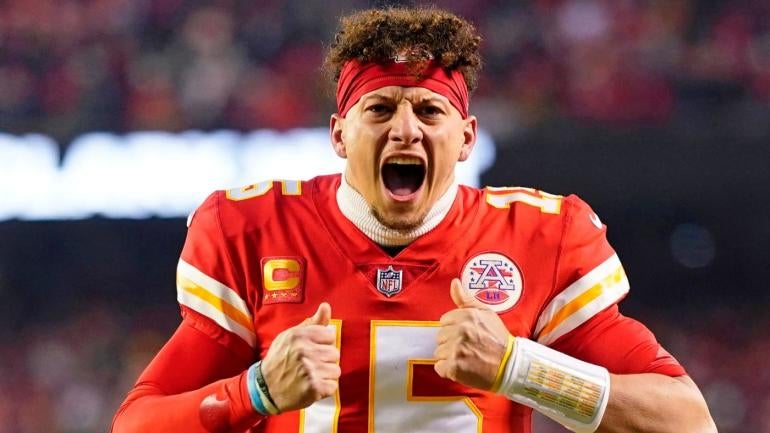 USATSI
Since taking over as the Chiefs starting quarterback in 2018, Patrick Mahomes has been the most unstoppable player in the NFL. No one knows that more than the Denver Broncos. 
At this point, the Broncos probably dread seeing the Chiefs on the schedule, and that's because they've never beaten Mahomes. As a matter of fact, he's been so good against the Broncos that he could make NFL history if he beats them again Sunday. 
Mahomes has a total of three impressive streaks going, and he'll be looking to continue all three of them with a win in Denver. Let's take a look at the streaks below. 
Streak 1: Mahomes is 12-0 against the Broncos in his career. With his perfect record against the Broncos, Mahomes is tied with Otto Graham for the most victories by a QB against a single opponent without a loss. During his career, the Browns QB went 12-0 against the Cardinals. Mahomes is currently tied with Graham, but he could break the Hall of Famer's NFL record by improving to 13-0 against the Broncos with a win Sunday. 
Streak 2: Mahomes is 16-0 on the road against AFC West teams. The only thing more impressive than Mahomes' record against the Broncos is the fact that he has NEVER lost to a divisional opponent on the road. He already holds the NFL record for most divisional road wins to start a career, and if he wins Sunday, he'll inch closer to Joe Montana's NFL record for longest winning streak in divisional road games at any point in a career. From 1984 to 1993, Montana won 20 straight divisional road games as a starter. Mahomes only plays three divisional road games this year, so he won't be able to catch Montana until next season, if he can catch him at all.  
Streak 3: Mahomes is 25-0 in his career against teams that are multiple games under .500. When it comes to winning the games that you're supposed to win, no one is better at that than Mahomes. During his career, he is undefeated against teams that are two or more games under .500 when they play the Chiefs. A win over the 2-5 Broncos would push Mahomes to 26-0, which would extend his own NFL record. To give you an idea of how impressive this is, the second-longest streak since the merger belongs to Tom Brady, and his streak ended at 18 games. Winning in the NFL is tough, even against bad teams, but Mahomes has managed to make it look easy. 
One other impressive streak that could continue is Kansas City's team dominance over Denver. The Chiefs have won 16 straight games against the Broncos (Mahomes is responsible for 12 of those), which is the third-longest streak by any team against a single-opponent in NFL history. If the Chiefs push their streak to 17 on Sunday, that will put them in a tie with the 49ers for the second-longest streak (San Francisco beat the Rams 17 straight times from 1990 thru 1998). 
The all-time record belongs to the Dolphins, who beat the Bills 20 straight times from 1970 thru 1979. At the rate things are going, the Chiefs might eventually break that record, but it can't happen until 2025 at the earliest. 
Our Latest NFL Stories