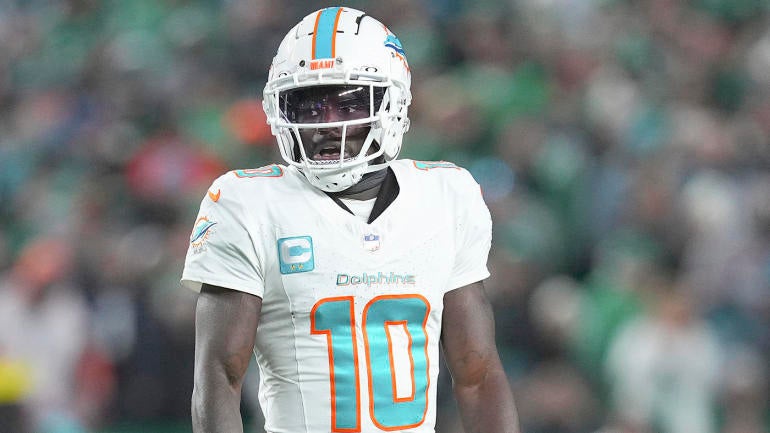 Getty Images
The Miami Dolphins did not have Tyreek Hill on the practice field Wednesday as the star wide receiver is dealing with a hip injury, according to the opening injury report. Adding a bit more concern around Hill missing practice ahead of their Week 8 game against the Patriots is the comments made by quarterback Tua Tagovailoa, who told reporters the team will see Hill "down the line," which could be an indication that he may miss time.
This is the first instance this season that Hill has missed a practice. 
"I don't think anyone can emulate what Tyreek does on the field," Tagovailoa said, via the Miami Herald. "His speed, his cuts in and out of breaks. I don't think there's anyone that can emulate him. He's in his own league. He's one of a kind. But needless to say, I think people forget about the things Jaylen Waddle can do, the things that he already has done for our team since his rookie year. And there's a lot of other guys that I think you can't sleep on. 
"If we couldn't have Tyreek, that would be tough. But the show goes on. You've got to continue to play. And somewhere down the line, we're going to get Tyreek back. And it has to be one of those things where you never lift your foot off the gas and you don't lose that rhythm as a team or as a unit." 
Not having Hill for their Week 8 matchup at home against New England would be a key blow to their offense. Hill has been arguably the top skill position player in the entire NFL this season and is currently on pace to exceed 2,000 yards receiving. Naturally, eliminating that from the Dolphins offense would be a significant loss. 
On top of Hill, the Dolphins were without running back Raheem Mostert (ankle) during Wednesday's practice and saw fellow wideout Waddle — who was in and out of their Week 7 matchup against Philadelphia with a back injury — listed as limited. 
Hill's status on Thursday and whether or not he makes his return to the practice field will be worth keeping an eye on to see if Tagovailoa's "down the line" comment carries as much weight as it's initially feared.