The 2023 World Series has arrived. It's an unexpected matchup in the Fall Classic as the Texas Rangers and Arizona Diamondbacks square off for the title. The Rangers, who were the No. 5 seed in the American League bracket, will have home-field advantage in the playoffs for the first time in the World Series. Texas will host Games 1 and 2, and Games 6 and 7 (if necessary), but the team is just 1-3 at Globe Life Field this postseason and 8-0 in the road.
The Diamondbacks were the sixth and final seed in the National League bracket. They ousted the NL Central champion Brewers in the Wild Card Series, took out the NL West-winning Dodgers in the NLDS and battled back to eliminate the reigning NL champion Phillies in the NLCS. The D-backs are in the World Series for only the second time in franchise history. They won the title over the Yankees in 2001.
The Rangers, meanwhile, are still looking for their first World Series trophy. This is the franchise's third trip to the Fall Classic.
A World Series Game 7 would take place on Saturday, Nov. 4. Here's the complete World Series schedule.
Friday's playoff schedule
World Series Game 1: Rangers vs. Diamondbacks, 8:03 p.m. ET (Fox/fubo) 

2023 MLB playoff bracket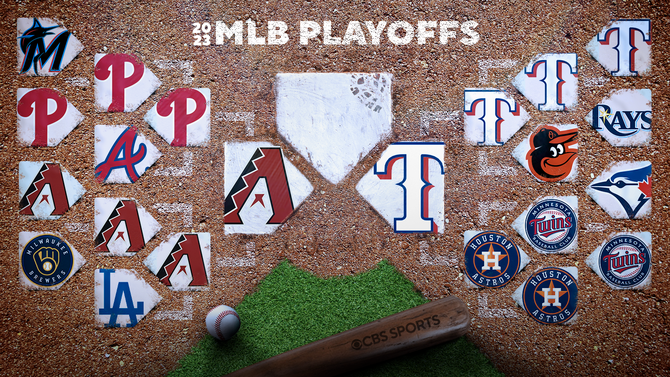 And now, let's look at the complete schedule. The World Series airs on Fox. 
All games on Fox and FS1 will be streaming on fubo (try for free).
(*-denotes if necessary)
World Series schedule

Friday, Oct. 27
World Series Game 1: Rangers vs. Diamondbacks, 8:03 p.m. ET (Fox)
Saturday, Oct. 28
World Series Game 2: Rangers vs. Diamondbacks, 8:03 p.m. ET (Fox)
Monday, Oct. 30
World Series Game 3: Diamondbacks vs. Rangers, 8:03 p.m. ET (Fox)
Tuesday, Oct. 31
World Series Game 4: Diamondbacks vs. Rangers, 8:03 p.m. ET (Fox)
Wednesday, Nov. 1
World Series Game 5*: Diamondbacks vs. Rangers, 8:03 p.m. ET (Fox)
Friday, Nov. 3
World Series Game 6*: Rangers vs. Diamondbacks, 8:03 p.m. ET (Fox)
Saturday, Nov. 4
World Series Game 7*: Rangers vs. Diamondbacks, 8:03 p.m. ET (Fox)
---
League Championship Series scores
Tuesday, Oct. 24
NLCS Game 7: Diamondbacks 4, Phillies 2
Monday, Oct. 23
NLCS Game 6: Diamondbacks 5, Phillies 1
ALCS Game 7: Rangers 11, Astros 4
Sunday, Oct. 22
ALCS Game 6: Rangers 9, Astros 2
Saturday, Oct. 21
NLCS Game 5: Phillies 6, Diamondbacks 1
Friday, Oct. 20
ALCS Game 5: Rangers 4, Astros 2
NLCS Game 4: Diamondbacks 6, Phillies 5
Thursday, Oct. 19
NLCS Game 3: Diamondbacks 2, Phillies 1
ALCS Game 4: Astros 10, Rangers 3 
Wednesday, Oct. 18
ALCS Game 3: Astros 8, Rangers 5
Tuesday, Oct. 17
NLCS Game 2: Phillies 10, Diamondbacks 0
Monday, Oct. 16
ALCS Game 2: Rangers 5, Astros 4
NLCS Game 1: Phillies 5, Diamondbacks 3 
Sunday, Oct. 15
ALCS Game 1: Rangers 2, Astros 0
Divisional round scores
Thursday, Oct. 19
NLCS Game 3: Diamondbacks 2, Phillies 1
ALCS Game 4: Astros 10, Rangers 3
Thursday, Oct. 12
NLDS Game 4: Phillies 3, Braves 1
Wednesday, Oct. 11
NLDS Game 3: Phillies 10, Braves 2
ALDS Game 4: Astros 3, Twins 2
NLDS Game 3: Diamondbacks 4, Dodgers 2
Tuesday, Oct. 10
ALDS Game 3: Astros 9, Twins 1 
ALDS Game 3: Rangers 7, Orioles 1
Monday, Oct. 9
NLDS Game 2: Braves 5, Phillies 4
NLDS Game 2: Diamondbacks 4, Dodgers 2
Sunday, Oct. 8
ALDS Game 2: Rangers 11, Orioles 5
ALDS Game 2: Twins 6, Astros 2
Saturday, Oct. 7
ALDS Game 1: Rangers 3, Orioles 2
ALDS Game 1: Astros 6, Twins 4 
NLDS Game 1: Phillies 3, Braves 0
NLDS Game 1: Diamondbacks 11, Dodgers 2
Wild Card Series scores
Wednesday, Oct. 4
Game 2: Rangers 7, Rays 1
Game 2: Twins 2, Blue Jays 0
Game 2: Diamondbacks 5, Brewers 2
Game 2: Phillies 7, Marlins 1
Tuesday, Oct. 3
Game 1: Rangers 4, Rays 0
Game 1: Twins 3, Blue Jays 1
Game 1: Diamondbacks 6, Brewers 3
Game 1: Phillies 4, Marlins 1