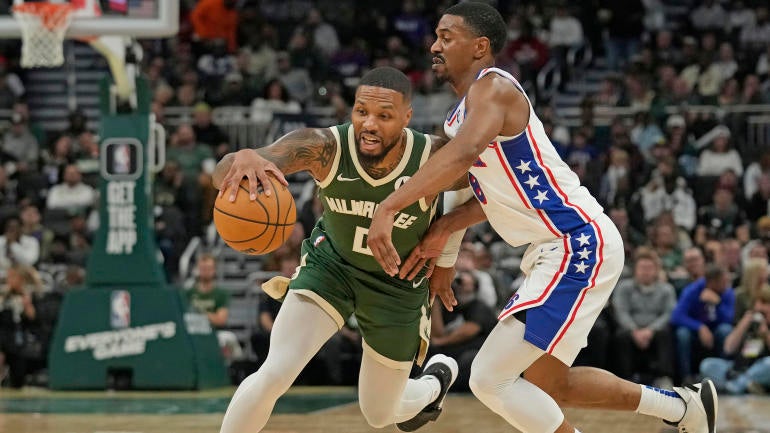 Patrick McDermott / Getty Images
Damian Lillard was electric in his Milwaukee debut, hanging 39 points on the Philadelphia 76ers in a 118-117 Bucks victory. 
This signature step-back dagger, with just over a minute to play and the Bucks clinging to a two-point lead, broke the Bucks franchise record for points in a team debut, which previously belonged to Terry Cummings, who scored 34 in his first game as a Buck in 1984.
Lillard added eight rebounds and four assists without committing a single turnover. He wasn't great from 3, making just 4 of 12 from downtown, but two of those 3s were massive in clutch time. Lillard also got to the free-throw line 17 times and made them all for a 70-plus true-shooting percentage. That'll work. 
For all the talk about how perfect Lillard and Giannis Antetokounmpo are going to be together (and they will be), the value they have to the Bucks when separated can't be overstated. 
Between the two, Bucks coach Adrian Griffin can have a top-five offensive player on the court at all times by staggering their minutes, which he did on Thursday. And it worked. Over a three-minute stretch in the second quarter when Giannis went to the bench, the Bucks extended their lead from eight to 18 thanks to 12 straight points from Lillard. 
And you know closing time belongs to Lillard. Over the final four minutes of the game, he scored 14 of the Bucks' 16 points. 
Credit the Sixers for giving us a highly competitive, entertaining showing despite playing without James Harden (Tyrese Maxey is better, anyway) situation, but with all the distraction he's created. But this was Lillard's night. Just an incredible debut for an incredible player.