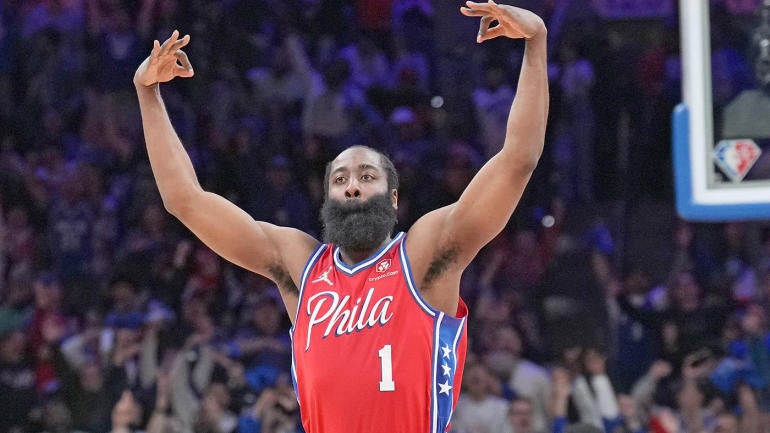 Getty Images
We're entering the back half of Week 1 of the 2023-24 NBA season and James Harden is still seeking a new home. While the Los Angeles Clippers are his preferred destination and have reportedly halted negotiations for the time being, other teams could become interested in acquiring him in the more immediate future. Fringe playoff teams are looking to avoid being on the outside looking in once the postseason rolls around while legitimate contenders are hoping to add a finishing touch for a deep title run. The disgruntled Harden could be helpful to both situations and we've outlined cases for why two teams should consider bringing him in.
The Timberwolves were a play-in team last year and want to do everything they can to make a real push with Anthony Edwards as the face of the franchise. The 22-year-old wing drew some Harden comparisons out of college and Minnesota could use a player who puts more pressure on defenses running at point guard. Harden hasn't been a go-to scorer in years, but he did lead the league in assists per game last season and his playmaking could benefit several Timberwolves. 
Harden's pairing with Tyrese Maxey worked wonders right off the bat. The Kentucky product feasted off open looks following his arrival in Philly and has converted 45.3% of his 3-pointers and 49.5% of his field goals through 68 career games with him. Edwards often has all eyes on him as his team's only consistent threat off the dribble. Harden's creation skills could free him up for fewer forced shots and improve Minnesota's offensive flow as a whole. Then there's Karl-Anthony Towns, who's thrived as one of the league's premier shooting bigs in recent years. Harden remains a pick-and-roll savant capable of finding KAT spot-up opportunities and picking out the more limited Rudy Gobert easy lobs for finishes around the rim.
Minnesota also has the personnel to make up for Harden's defensive shortcomings. Jaden McDaniels is growing as one of the NBA's up-and-coming 3-and-D players. His effort, athleticism, and anticipation make him a great fit with Harden while Gobert protects the paint. Those two and Edwards were part of the five-man Timberwolves lineup that boasted a defensive rating of 104.6 over 260 minutes (17 games) last season.
The 76ers nearly toppled the new-look Milwaukee Bucks in their season opener and could get this deal done in return for Mike Conley, Kyle Anderson, and some draft capital. Getting some veteran support is better than nothing for Philly and a difference maker at point guard could mean the world to the Timberwolves in a Western Conference that's teeming with star power toward the top.
The Miami Heat missed out on the Damian Lillard sweepstakes and it's clear that they could still use an upgrade at point guard. Harden appears to be the only star on the market and Miami shouldn't have to fork up as much as they would have for Lillard. The Heat have enough moveable assets and talent to make a deal work.
The 76ers would probably like to start someone other than De'Anthony Melton with Maxey in the backcourt and 37-year-old Kyle Lowry probably isn't the answer. That's where 23-year-old Tyler Herro enters the conversation. The young duo would be a hindrance on defense together but have loads of offensive versatility as scorers and facilitators. Caleb Martin and draft capital could help sweeten that deal, as breakout performance from last year's playoffs was eye-opening. He's a competent scorer who can defend multiple positions and help make up for the fact that P.J. Tucker gives the 76ers little to nothing on offense.
This deal would bring Miami a more dynamic player at point guard and give him an environment where he can be on the court with at least one All-Defensive caliber player at all times. Shooters like Duncan Robinson and Kevin Love can provide Harden with efficient outlets on the perimeter. Miami has exceeded expectations in the postseason for years but could use a third piece to take them over the top. Could Harden be the answer?