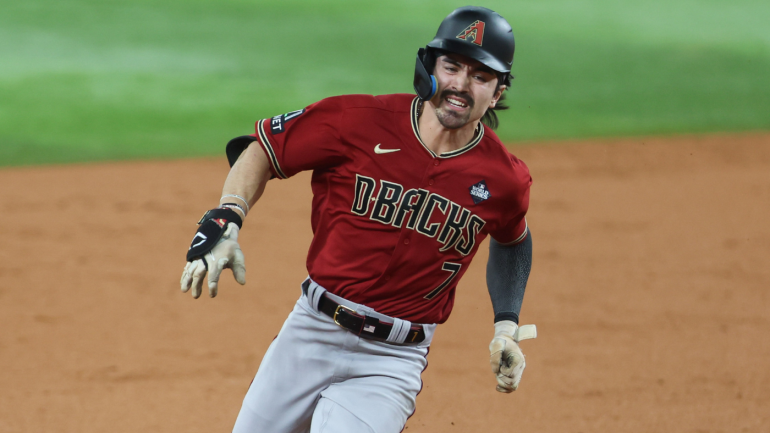 Getty Images
The 2023 World Series continues Saturday night with Game 2 between the Arizona Diamondbacks and Texas Rangers at Globe Life Field in Arlington, Texas. Thanks to Corey Seager's game-tying home run and Adolis García's walk-off, the Rangers snatched victory from the jaws of defeat in Game 1. The D-backs were two outs away from a win when Seager tied the game. Texas is now three wins away from the first championship in franchise history.
Going back to Games 4 and 5 in 2001, the D-backs have surrendered a game-tying two-run homer in the ninth inning and then a walk-off hit in extra innings in their last three World Series road games. That unfortunate trend continuing in Game 1 put Arizona in a 1-0 hole. Historically, teams that win Game 1 of a best-of-seven have gone on to win the series 64% of the time.
You can view the full postseason schedule by clicking here, and here's the 2023 playoff bracket. Now, let's get to the important stuff for the World Series
How to watch Game 2
Date: Saturday, Oct. 27 | Time: 8:03 p.m.
Location: Globe Life Field (Arlington, Texas)
TV channel: Fox | Live stream: fubo (try for free)  
Starting pitchers: RHP Merrill Kelly (12-8, 2.65 ERA) vs. LHP Jordan Montgomery (10-11, 3.20 ERA)
Odds: ARI +140 | TEX -165 | O/U: 8.5
Preview
For the D-backs, they have to turn the page on Game 1 real quick. Kelly has been terrific this postseason (2-1, 2.65 ERA) and they badly need him to go out and pitch well in Game 2. Montgomery has been great too (3-0, 2.16 ERA). He's starting three days after his seven-out, 32-pitch relief appearance in Game 7 of the Championship Series and Arizona has to hope the unusual schedule throws him out of whack on the mound. For much of Game 1, the D-backs were the better team. They played a good game before the bullpen had its first real meltdown of October. Arizona needs to play that game again in Game 2 and get some better bullpen work this time.
Prediction
Montgomery does with Nathan Eovaldi could not and keeps the D-backs in check at the plate and on the bases. Kelly is very good but quite not good enough. Pick: Rangers 3, D-backs 1