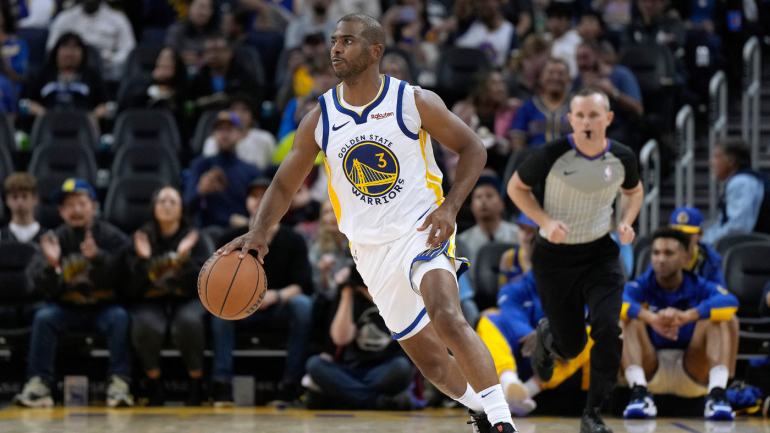 Getty Images
Future Hall of Famer Chris Paul will come off the bench for the first time in his 19-year career on Sunday night when the Golden State Warriors take on the Houston Rockets, according to Anthony Slater. Paul started the first two games of the season, but will move to the bench now that Draymond Green is healthy from an ankle injury. Green will be on a minutes limit in Sunday's contest. 
Paul was traded to the Warriors in exchange for Jordan Poole in a deal with the Washington Wizards during the offseason. The questions about his fit and role started immediately, but Green's ankle injury early in training camp ensured that Paul would begin the season as a starter. In the Warriors' first two games, a loss to the Phoenix Suns and a win over the Sacramento Kings, Paul averaged 12 points and 10.5 assists in 33.5 minutes. 
Though he played well, it's little surprise that he's moving to the bench. The Warriors' primary starting lineup of Steph Curry, Klay Thompson, Andrew Wiggins, Green and Kevon Looney was limited to 27 games and 331 minutes last season due to injury, but when it was on the court, it was one of the best five-man units in the league, outscoring opponents by 145 points. 
As great as Paul has been in his career, and still can be when healthy, it doesn't make sense to split that group up. Paul will have to be the one to adjust, which he should be willing to do if he wants a chance to win his first ring. Plus, even though he's now coming off the bench to begin games, there's a good chance he closes on some nights depending on the match-up and how the game is flowing.