If it ain't broke, don't fix it.
Dynamic Pelicans forward Zion Williamson knows exactly what works for him on the basketball court, and he's not afraid to punish opponents with it over … and over … and over … and over. The two-time All-Star has averaged 23.5 points and six rebounds to help the Pelicans to a 2-0 start to the season, but there's something pretty fascinating about the way he's getting his buckets.
Williamson hasn't attempted a shot outside the paint in the first two games of the season.
The 6-6 Duke product has gone 21 for 34 from the field, and every single one of his attempts has come inside the key. Williamson went 9 for 17 in the first game of the season, a 111-104 win over the Memphis Grizzlies. He almost breached the non-painted area on a jumper from the elbow, but didn't quite get there.
It was more of the same in New Orleans' 96-87 win over the New York Knicks on Saturday, as Williamson went 12 for 17 from the field with every single one of his attempts coming in the paint. Here's what the shot chart looks like when you put the two games together. Simply remarkable.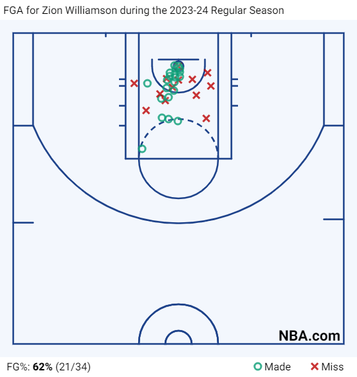 Williamson doing the majority of his work in the paint is no surprise, but the fact that he hasn't even looked at a shot from the perimeter speaks to his singular focus so far this season. Last year, Williamson took nine mid-range jumpers and 19 3-pointers in 29 games, according to NBA.com.
Another thing you'll notice: Williamson hasn't made a single field goal this season from the right side of the floor. The shot charts show that he's missed five field goal attempts from the right side, while the vast majority of his baskets come from the left side thanks to his gifted, dominant left hand.
At a listed 284 pounds with the quickness of a guard and the strength of a linebacker, the 23-year-old Williamson simply plows and maneuvers his way through defenses that have been drilled repeatedly not to allow him to go left. There's simply nothing they can do.
The Pelicans got off to an 18-8 start last season before injuries plagued them. With Williamson, Brandon Ingram and CJ McCollum on the floor, New Orleans outscored opponents by a incredible 16.5 points per 100 possessions last season. They hope that everyone stays healthy this time around, and Williamson is already showing how dominant he can be in the paint — even when everyone knows that's where he wants to live.