TRURO, Iowa – The Beelers – Dennis and Roxanne – couldn't sleep. That Anderson kid just kept playing, pounding a basketball into the driveway late into the evening like a drumbeat for this tiny Iowa town.
"I'm sitting there every night, basketballs bouncing on the street until midnight," said Dennis Beeler, longtime Truro resident and admirer of that one-time neighbor, Tobin Anderson. "I looked at my wife and said, 'Is that normal?' "
It is if your dad is a legendary coaching figure in this town of 500 hearty souls. It is if dad taught you the Bobby Knight's motion offense like it was a textbook to be memorized. It is if they still remember you, decades later now that Anderson has hit the big time. 
Part of Tobin Anderson's story is big-picture familiar. Small-town basketball star, dad was the high school coach, son moved on to play and coach in college. The other part grabbed the nation by the throat last spring and made it pay attention.
Seven months have passed now since Anderson coached Fairleigh Dickinson to a shocking first-round upset of No. 1 seed Purdue in the NCAA Tournament. It was the second time in history a No. 16 seed had beaten a No. 1. For a moment in time, Anderson and the Knights were celebrities. It put Truro on the map. That is, if you had a very detailed map. 
"We consider him our son," Roxanne Beeler said the day after the Purdue upset. "He's an awesome, awesome person. After he moved and went to college, we could sleep. I cried last night."
Anderson is Iona's coach now. No one can deny him parlaying that monster win into something better. Back in March locker room cameras revealed all, a basketball drumbeat of a different kind. Anderson's Fairleigh Dickinson, a refreshing mid-major, punching another giant in the schnoz. 
Anderson's personality gushed. NBC's Today show called. Thousands of texts bombarded the coach's phone. Anderson and his players did every interview. Then it was over that same week when the Knights lost to eventual Final Four participant FAU, a bit of an underdog itself. 
"The whole world rallies around the underdog, right?" Anderson told CBS Sports.
Right. The whole small-town basketball-in-the-driveway thing fits perfectly to Anderson's new gig and new life. The coach hadn't been back to his hometown in years until being inducted into the Interstate 35 High School Hall of Fame in September. 
"I played my last high school game in front of 8,000 people," Anderson said. "The coaching job my dad did, taking a bunch of small, farm town kids and make them into a 10, 12-year dynasty there [was amazing]."
You have to want to be in Truro. It is a circuitous 15-minute drive off the main artery, I-35, a major U.S. north-south artery that links Laredo, Texas, to Duluth, Minnesota. Here, it is farmland and quiet. Des Moines is 20 minutes away, but it might as well be light years.
When Anderson was young, he delivered newspapers and could name everyone on his route.
"There's no stoplights, downtown's got nothing," Anderson said. "I didn't order a pizza until I got to college because there's no place to order pizza [in Truro]."
His prep alma mater is a bit bigger than it was when Anderson played for his dad Steve. Back then, the district was consolidated. Practices were held 15 minutes away in New Virginia, Iowa. 
"There was no gym in Truro besides a carpeting room in the wrestling room," Anderson said.
The rug muffled the sound of bouncing basketballs if one were so inclined.
Today, Tobin Anderson's name hangs on a banner commemorating the school's last state tournament team. That was more than 30 years ago. Last year the Roadrunners were 4-18.
"Raising kids, raising a family in a very naïve part of the world still," said Truro mayor Bryan Arzani. "We don't have police. We don't deal with all the issues. You could be any nationality and come here …  We're just here."
Thing is, for Anderson, the upset really hasn't dimmed. It got him to Iona, a program sprinkled with tradition but with exactly no NCAA Tournament wins. That is, if you don't count 1980. That year star Jeff Ruland signed with an agent a few months prior to the tournament. The Gaels beat Holy Cross in the first round, but the win was eventually vacated by the NCAA.
"On paper, there's never been an Iona tournament win," Anderson said. "All the alums and boosters I talk to say, 'You gotta be able to win a game in the tournament.' I laughed. It's not that easy to do. There is no special sauce to do that." 
The offseason has been somewhat of a gym sock Disneyland. Anderson got to meet Bill Clinton. All the texts and well wishes from last March still haven't been answered. There were countless camp speaking engagements, some by Zoom Anderson admirers were so desperate. 
"I had to turn down a ton," Anderson said. 
In the afterglow of that Purdue win, the coach happened to check his phone. Bill Belichick had texted. He wanted Anderson to come watch fall camp. 
What?
Turns out the Patriots coach is an alum of Wesleyan University in Middletown, Connecticut, same as Anderson. The coach had joked with his wife, "What if Belichick wants me to talk to the team?" 
Anderson went to training camp in early August.  
"Here I am sitting there being introduced by Belichick … I'm talking to the friggin' New England Patriots after practice. It was kind of surreal the whole thing," Anderson said. "I spoke off the top of my head, which can be a dangerous thing."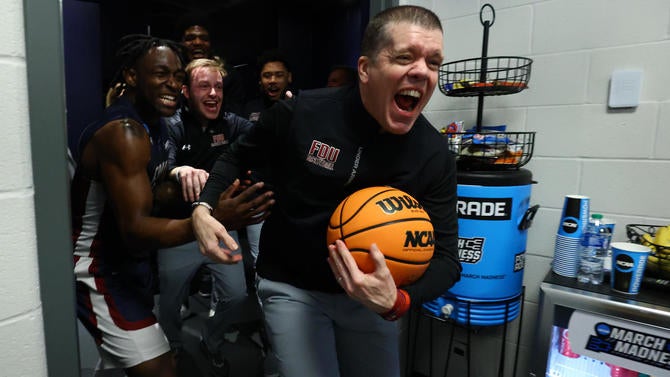 Yes, it can. Anderson became a national figure, in part, because of what he said to his team following the First Four win against Texas Southern. 
"I want Purdue to see this …," Anderson said in the lockerroom as cameras rolled. "The more I watch Purdue, the more I think we can beat them. Let's go shock the world."
This week he chuckled at the basketball moment gone viral.  
"My assistant is actually the one who said it," Anderson said. "I was thinking of something to say, like, 'Let's get ready for the next one. Let's not be content.' My assistant told me [about Purdue] that morning. Sounds pretty good to me. I just said it. We get on the bus, my assistant said, 'What you said in the lockerroom is blowing up.' I said, 'What did I say?'"
Plenty.
Anderson said he apologized to his team for the unneeded attention. Guard Joe Munden Jr. piped up.
"Don't worry, coach, we got your back," Anderson said quoting his former player. 
And they eventually did turning their speed and harassing defense into that defeat of the Boilermakers. Iona has similar expectations, but it has provided luxuries. Anderson now has eight assistants. They were guys he wouldn't talk to for weeks because of the workload. That was a change for a coach was used to riding in vans after his rise from Division III Clarkson and Hamilton. Before FDU, Anderson spent three seasons as an assistant at Division I Siena and nine seasons as head coach at Division II St. Thomas Aquinas College.
At his previous stops, Anderson's assistant coaches doubled up in the athletic department, coaching other sports as well as basketball. Now the pride of Truro is, in a sense, driving the bus.
It hit Anderson post-Purdue when he got a text from Ryan Odom. Odom was the Maryland-Baltimore County coach who oversaw the first No. 16 squad to beat a No. 1 in 2018. Odom is now at VCU.
"You're the only guy I wanted to see it happen to," the text read.