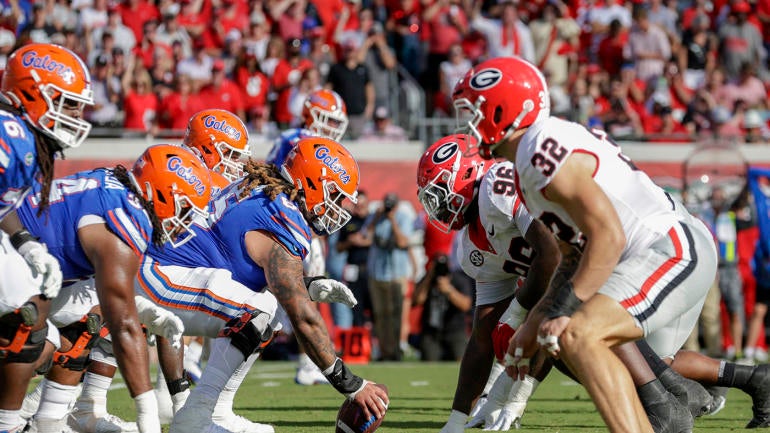 Getty Images
The Georgia and Florida football teams have met in Jacksonville, Florida, 91 times throughout the rivalry's storied history, but that might change in the near future — at least, temporarily. EverBank Stadium in Jacksonville is expected to undergo a massive $2 billion renovation in 2026-27, which would force the game to be played elsewhere. According to the Associated Press, multiple parties representing both schools are pushing for the game to be played at neutral sites during the two-year period rather than moving the rivalry to on-campus sites. 
EverBank Stadium's permanent tenant, the NFL's Jacksonville Jaguars, expect to use the facility at a reduced capacity in 2026 and play at another location in 2027 if the renovation efforts go according to plan. 
There will likely be plenty of options for neutral-site locations if the game does move temporarily. Mercedes-Benz Stadium in Atlanta and Camping World Stadium in Orlando have become annual destinations for neutral-site college football games, and the location of each would make travel easy for both fan bases. 
Only twice since 1933 have the two teams met somewhere other than Jacksonville. The game was played on campus at Florida in 1994 and Georgia in 1995 as the then-Gator Bowl was renovated for the NFL's expansion into the market with the Jaguars. Florida topped Georgia in both of those matchups. 
Florida coach Billy Napier addressed the location of the game at SEC Media Days in July. 
"I think that the Florida/Georgia game is an incredible rivalry," he said. "I think there's history there. There's tradition there. There's a ton of economic implications relative to these decisions. We are going to have to cross that bridge at some point due to the renovations in Jacksonville but there's benefit to home-at-home from a recruiting perspective, and I think there's benefit from an economic standpoint for both athletic departments and institution. Right now we have three more years of the same model. I've got enough grass to mow right now, so I'm going go focus on the things that are in front of me."
Georgia topped Florida 43-20 on Saturday to extend its winning streak in the rivalry to 25 games.