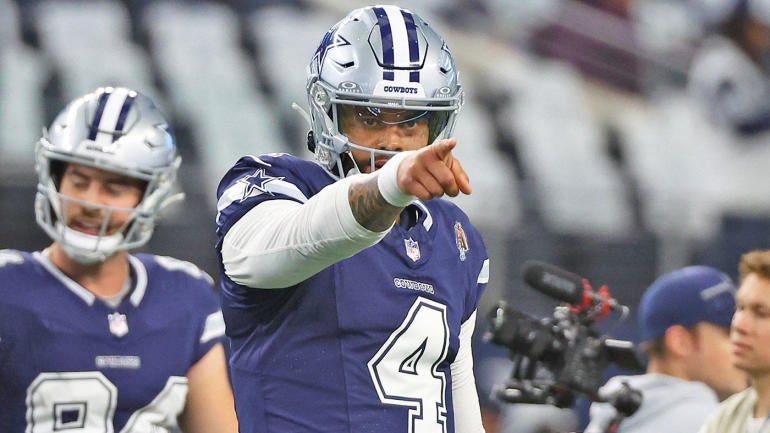 Getty Images
Welcome to the Week 8 grades!
This week was unofficially sponsored by the "the Good, the Bad and the Ugly" because that's what we got in the NFL on Sunday. The good came from the Cowboys, who absolutely destroyed the Rams in a 43-20 win. The Bengals also looked good with a 31-17 dismantling of the 49ers.
The bad came from the Steelers and Packers, two teams that managed to score just 10 points in Week 8. 
And then we have the ugly. The ugly came from the Jets-Giants game and there was A LOT of ugly. Let's take a quick look at just how ugly things got in New York: 
There were more punts (24) than points (23). The 24 combined punts was the most that two NFL teams have combined for in a game since 1998. 

There were 16 combined three-and-outs, which was tied for most in a game since 2000. 
The two teams went a combined 4-for-34 on third down, which was worst combined third-down conversion rate since 2009 in a game where the two teams combined for at least 30 attempts. 
One thing that's not ugly this week is our grades, so let's get to them, starting with the Cowboys' big win over Los Angeles. 
Dallas 43-20 over L.A. Rams
Rams-Cowboys grades by Garrett Podell (Love the grades? Hate the grades? Let him know on Twitter.)
Minnesota 24-10 over Green Bay
Vikings-Packers grades by John Breech (Love the grades? Hate the grades? Let him know on Twitter.)
Tennessee 28-23 over Atlanta
Falcons-Titans grades by John Breech (Love the grades? Hate the grades? Let him know on Twitter.)
New Orleans 38-27 over Indianapolis
Saints-Colts grades by John Breech (Love the grades? Hate the grades? Let him know on Twitter.)
Miami 31-17 over New England
Patriots-Dolphins grades by John Breech (Love the grades? Hate the grades? Let him know on Twitter.)
N.Y. Jets 13-10 over N.Y. Giants (OT)
Jets-Giants grades by John Breech (Love the grades? Hate the grades? Let him know on Twitter.)
Carolina 15-13 over Houston
Texans-Panthers grades by John Breech (Love the grades? Hate the grades? Let him know on Twitter.)
Jacksonville 20-10 over Pittsburgh
Jaguars-Steelers grades by Bryan DeArdo (Love the grades? Hate the grades? Let him know on Twitter.)
Philadelphia 38-31 over Washington
Eagles-Commanders grades by Jeff Kerr (Love the grades? Hate the grades? Let him know on Twitter.)
Seattle 24-20 over Cleveland
Browns-Seahawks grades by John Breech (Love the grades? Hate the grades? Let him know on Twitter.)
Baltimore 31-24 over Arizona
Ravens-Cardinals grades by John Breech (Love the grades? Hate the grades? Let him know on Twitter.)
Denver 24-9 over Kansas City
Chiefs-Broncos grades by John Breech (Love the grades? Hate the grades? Let him know on Twitter.)
Cincinnati 31-17 over San Francisco
Bengals-49ers grades by Tyler Sullivan (Love the grades? Hate the grades? Let him know on Twitter.)
L.A. Chargers 30-13 over Chicago
Bears-Chargers grades by John Breech (Love the grades? Hate the grades? Let him know on Twitter.)
Buffalo 24-18 over Tampa Bay (Thursday) 
Buccaneers-Bills grades by John Breech (Love the grades? Hate the grades? Let him know on Twitter.)
Our Latest NFL Stories