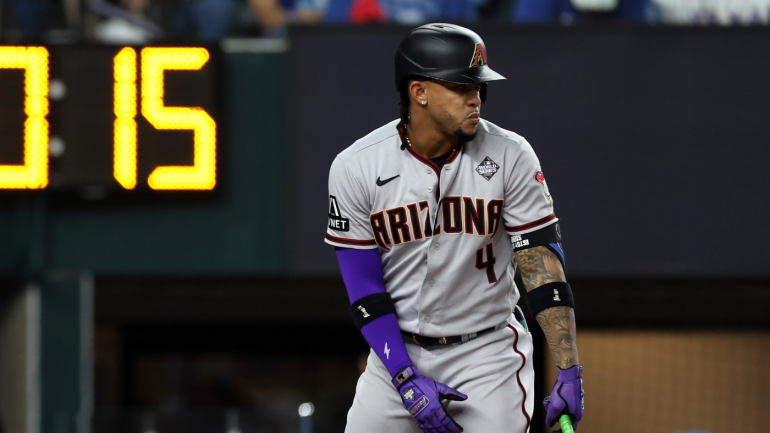 Getty Images
In Game 2 of the World Series on Saturday night, Arizona Diamondbacks second baseman Ketel Marte made postseason history at the expense of the Texas Rangers. 
His two-out, two-RBI single in the eighth inning not only pushed the Arizona lead to 6-1, but it also gave Marte the longest postseason hit streak in MLB history. Here's a look: 
As the caption says, Marte has now hit safely in 18 straight postseason games (and counting). He had been in a four-way tie with Derek Jeter, Manny Ramirez, and Hank Bauer with a record 17-game playoff hit streak, but now Marte stands alone. Even more impressive, Marte has gotten a hit in every postseason game he's played in, dating back to the 2017 NL Wild Card Game. He came into Game 2 on Saturday with a career playoff slash line of .360/.377/.640 with 12 extra-base hits in, yes, 18 games. In related matters, he's fresh off an ALCS MVP award for his work during the D-backs' upset of the Phillies. 
Marte was one of the team's top performers during the regular season, and he's been a chronically underrated sort for much of his career. Now, though, he's shining in October, and that figures to get him the attention he's long merited.