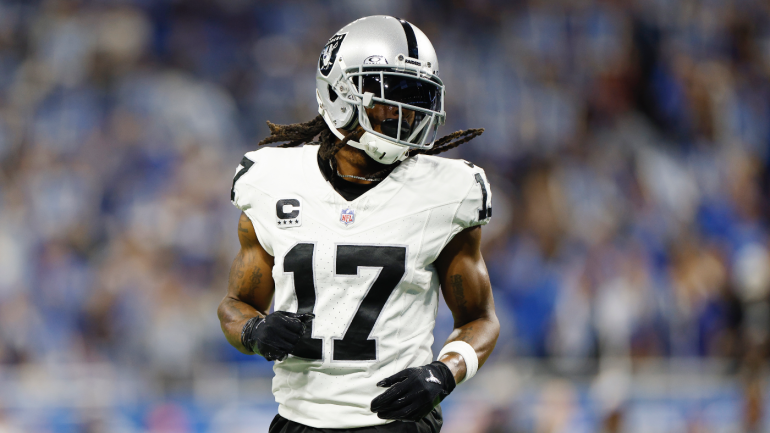 Getty
It's safe to say that 2023 season has been a nightmare so far for Davante Adams. The perennial All-Pro receiver's disappointing season continued during Monday night's 26-14 loss to the Lions, as Adams caught just one pass on seven targets. 
Monday night represented one of the worst statistical performances of Adams' career. It was the worst reception percentage of his career (minimum three targets) and it was his fewest amount of receptions in a game since Week 8 of the 2022 season, according to CBS Sports Research. Adams' 142 yards over the past four games are his fewest total over a four-game span since 2015, which was his second season with the Packers. 
It appears that Adams reached his boiling point after Jimmy Garoppolo overthrew him late in the game on a play that could have been a touchdown. Adams slammed his helmet to the turf upon reaching the sideline following the incomplete pass. 
Adams said that he didn't have the right words to describe his feelings after another disappointing night for himself and the Raiders, who fell to 3-5. 
"Frustration," Adams said when asked to try to sum up his feelings, via ESPN. "That kind of goes without saying."
Adams' small stat line summed up what was an abysmal performance from the Raiders' offense, which has the fourth-lowest points-per-game average in the NFL through eight weeks. On Monday night, Las Vegas gained just 12 first downs, gained 157 yards and was just 1 of 9 on third down. Nearly half of their total yards (75) was gained on their lone scoring drive late in the first half. 
Despite that performance, Adams said that he hasn't lost faith in the offense and its ability to put up points. 
"It's not hard to maintain the confidence in our offense," he said. "It's just hard to curb your frustration when you can't put it together when you know you should." 
Adams' tough night comes on the eve of the NFL's trade deadline. And while it doesn't appear that the Raiders will trade Adams, something needs to happen if he and the Raiders are going to turn things around during the season's final nine games.