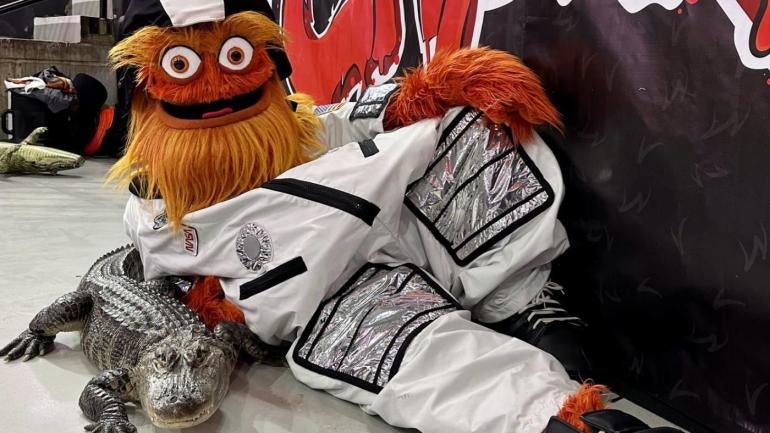 Twitter/@GrittyNHL
Wally, an emotional support alligator, finally got a chance to attend a Philadelphia sporting event this week. The alligator, who goes by WallyGator, was at Monday's game between the Carolina Hurricanes and Philadelphia Flyers at the Wells Fargo Center. He even got the chance to meet the Flyers' enigmatic mascot, Gritty.
"They got gators in outer space,?" Gritty tweeted as he was dressed as an astronaut for Halloween. 
The emotional support alligator attempted to attend a game between the Pittsburgh Pirates and Philadelphia Phillies at Citizens Bank Park back in September. However, WallyGator was denied entry into the stadium.
WallyGator is owned by Joie Henney of Jonestown, Pennsylvania. Henney has struggled with depression over the years, which is why he takes the alligator around with him.
"My doctor wanted to put me on depression medicine, and I hate taking medicine. I had Wally, and when I came home and was around him, it was all OK," Henney said in a 2019 interview with the Philadelphia Inquirer. "My doctor knew about Wally and figured it works, so why not?"
The emotional support reptile also has a following on both Instagram and TikTok.