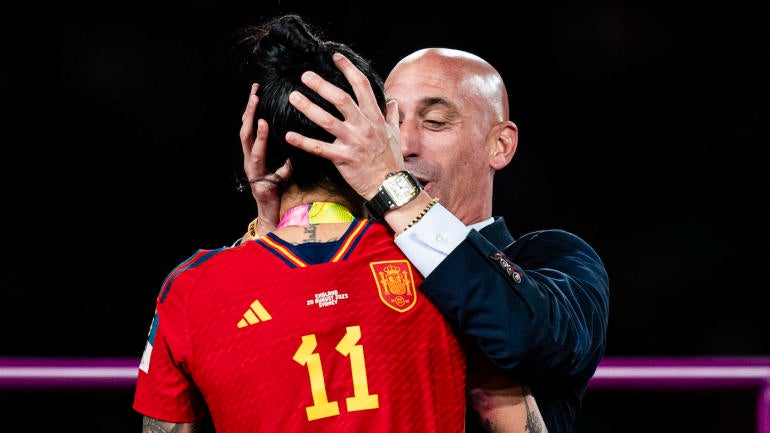 Getty Images
Luis Rubiales, the former president of the Spanish football federation (RFEF), has been banned from all football-related activities for three years.
FIFA's disciplinary committee imposed the ban on the 46-year-old in the aftermath of the World Cup final, where Rubiales kissed Jenni Hermoso on the lips. Following a lengthy, tumultuous battle to stay in position Rubiales resigned from his position last month. 
Rubiales has 10 days to take the decision to the FIFA Appeal Committee. World football's governing body said: "The FIFA Disciplinary Committee has banned Luis Rubiales, the former president of the Spanish Football Association, from all football-related activities at national and international levels for three years, having found that he acted in breach of article 13 of the FIFA Disciplinary Code.
"This case relates to the events that occurred during the final of the FIFA Women's World Cup on Aug. 20, 2023, for which Mr. Rubiales had been provisionally suspended for an initial period of 90 days … FIFA reiterates its absolute commitment to respecting and protecting the integrity of all people and ensuring that the basic rules of decent conduct are upheld."
Rubiales' actions in the celebrations after Spain's 1-0 win over England, their first world title in the women's game, cast an almighty pall over what should have been days of celebration for the nation and its squad. Despite attempting to cling onto his job, insisting that the kiss had been consensual despite Jenni Hermoso stating otherwise, the former Levante and Alicante defender quit on Sept. 10 as investigations were opened into his conduct. The head coach of the women's team, Jorge Vilda, who had been the subject of a player boycott that began in 2022, also left his role before later joining Morocco in the same capacity.
Want more coverage of women's soccer? Listen below and make sure to watch Attacking Third on Golazo Network Monday, Wednesday and Friday for all your USWNT, NWSL and WSL women's soccer coverage.
Rubiales appeared in court in Madrid earlier this month after Spanish state prosecutors accused him of sexual assault and coercion. He denies the charges. He is also the subject of a court order that bans him from going within 200 meters of Hermoso or making contact with the Barcelona forward.
Meanwhile, Hermoso marked her return to the Spanish national team by scoring an 89th minute winner in their Nations League game in Italy on Friday. "What better joy than to get back here and feel good again, to score the goal that gets the win — now I can only smile," the 33-year-old told TVE.