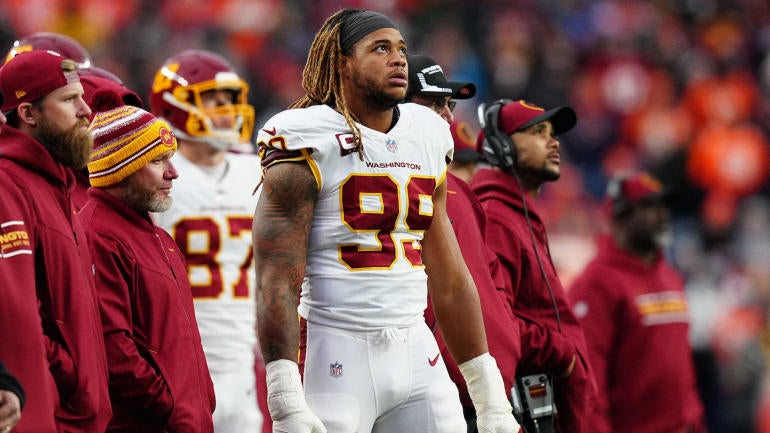 USATSI
The Washington Commanders sent defensive end Montez Sweat to the Chicago Bears for a second-round pick at the trade deadline, which led many to believe that Chase Young would remain on Washington's roster for at least the remainder of the 2023 season. However, that is not the case.
Per CBS Sports Lead NFL Insider Jonathan Jones, it is not guaranteed Young will be on their roster past the 4 p.m. ET trade deadline. The Commanders are still listening to offers on their former No. 2 overall pick. Since both Sweat and Young are on expiring contracts and will be free agents this offseason, many believed this would be an "either/or" situation for Washington and its two pass rushers at the trade deadline, but it's not. 
One team that has reportedly checked on the asking price for Young is the New England Patriots, according to the The Athletic. 
The former Defensive Rookie of the Year is having a great season after two disappointing, injury-riddled campaigns. In seven games played, Young has recorded five sacks, 15 combined tackles and nine QB hits. In his award-winning 2020 campaign in which Washington won the NFC East, Young recorded 7.5 sacks, 44 combined tackles and 12 QB hits.
Injuries have been a concern for Young, as a torn ACL held him to 12 total games played from 2021-22, and a stinger forced him to miss the season opener in September. Young has not played a full NFL season yet, and that's something both the Commanders and interested teams have to consider before offering him a lucrative, long-term deal.
CBS Sports HQ Senior NFL Insider Josina Anderson previously reported that several different teams were interested in trading for Sweat and Young, and that clubs were open to extending them with long-term contracts. The NFL trade deadline is Tuesday at 4 p.m. ET.