Praise the hoops gods, the season is less than a week out. We are almost to actual games, people!
As we pack up the car and prepare to embark on a five-month journey along the road to the Final Four, we can't get to where we need to go without a reliable atlas of college basketball. As is custom here at CBS Sports, I've provided a preseason map of the top teams from every state with a Division I program. (That means everyone except Alaska is included. Shouts to D-II Seawolves of Alaska Anchorage.)
This project is a projection of the schools I expect to be the best within the borders of their respective territories across the basketball realm from now until March. Some states have close chases between two or three schools, while plenty tracts of land have a clear-cut pick for No. 1 in their region. 
Basically, if your school has its logo on its state, this is a wonderful piece of bragging material to shove in your rivals' faces. So savor it and share it widely. The logos you see across this great, basketball-adoring nation line up with where I tiered teams in my preseason Top 100 And 1 rankings.
Here are the 50 flags of 50 schools (Washington, D.C. included) firmly planted into their home soil as we set to embark upon the 2023-24 men's college basketball season.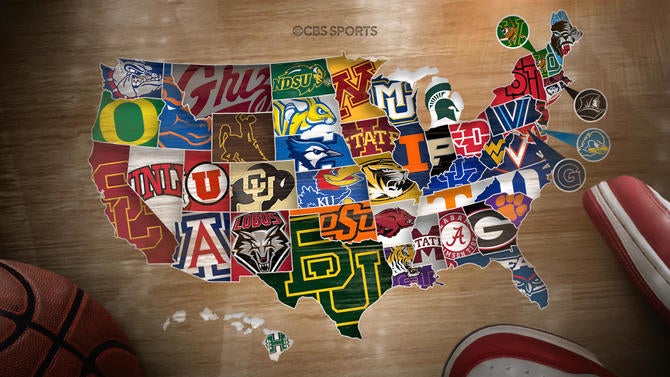 Outlook: While UAB is looking like a top-four team in the American Athletic Conference, the Crimson Tide should still have a little bit of space in front of the Blazers in this state. Alabama had to dip into the portal to try and keep this team in contention in the SEC (that's very much TBD), but it's likely to end the season as the top team in the Yellowhammer State. A name of intrigue with the Crimson Tide is Hofstra transfer Aaron Estrada, who could be the top newcomer to the league — if teammate Grant Nelson doesn't one-up him. 
Outlook: Not much competition here. Arizona State is coming off an NCAA Tournament appearance, but the Sun Devils aren't projected by any mainstream publishing outlet nor predictive metric to return to the Big Dance. Tommy Lloyd's Wildcats, meantime, are shaping up as the favorite in the Pac-12. The Wildcats hope Caleb Love can transform his career, but it's big man Oumar Ballo who should be the No. 1 reason why Arizona easily strides to a third straight NCAA trip under the 48-year-old Lloyd. In the WAC, I like Grand Canyon to take that league and be a top-100 team. 
Arkansas: Arkansas Razorbacks
Outlook: If the Hogs ever fail to take the preseason emblem on their state, just shut the program down. Arkansas' only in-state competition is Arkansas State, Central Arkansas, Little Rock and Arkansas Pine Bluff. The Razorbacks are on another level. Eric Musselman's team is 47th in my preseason rankings (I want to see how this new group molds) but is top-25 in a variety of human and computer polls. Musselman is among the best coaches in the game. The hype around Fayetteville got hiked up over the weekend with Arkansas' home exhibition OT win against Purdue. 
California: USC Trojans
Outlook: UCLA is due to take a dip after losing tremendous players such as Jaime Jaquez Jr., Tyger Campbell and David Singleton. Adem Bona is back, but Mick Cronin's team doesn't match up (on paper) entering the season with Andy Enfield's Trojans. Southern Cal is in the proud position to have the top-ranked incoming freshman, combo guard Isaiah Collier. With Collier and Boogie Ellis teaming up in the backcourt, USC should vie with Arizona as the top team in the Pac-12. Hoops is healthy in Cali: Saint Mary's could be top-15 good and San Diego State is ranked again after coming off its best NCAA Tournament run ever (national championship game loss to UConn).
Colorado: Colorado Buffaloes
Outlook: Congrats to the Buffs for taking this territory back after Colorado State had its logo plastered on the map a couple times in recent seasons. Though CSU still has an elite talent in senior point guard Isaiah Stevens, Colorado returns Trista Da Silva (potential Pac-12 Player of the Year), KJ Simpson (key backcourt piece) and welcomes in its highest-rated recruit in history. His name is Cody Williams, brother of Jalen Williams — who is currently one of the best second-year players in the NBA (Oklahoma City Thunder). Tad Boyle has one of his top three teams since he got this job in 2010.
Connecticut: UConn Huskies
Outlook: The reigning champs do have one in-state team that is top-100 quality (Yale). But obviously no one is in Connecticut's range, nor should they be so long as UConn is operating at the level it should. The Huskies will aim to repeat thanks to the return of sophomore Donovan Clingan in the middle, senior Tristen Newton running the offense, sophomore Alex Karaban contributing a little bit of everything and freshman Stephon Castle replacing some of the scoring of Jordan Hawkins and playmaking of Andre Jackson Jr. The Huskies were picked third in the Big East, so they're plenty motivated even with that newly polished NCAA hardware. 
Delaware: Delaware Blue Hens
State of the state: Always a two-team race in the state with the lowest highest point. Delaware almost always beats out Delaware State, and that's the case again in 2023. UDel was picked fifth in the CAA preseason poll. The Blue Hens have a potential top-five player in the conference in forward Jyáre Davis. Delaware State is projected fourth in the MEAC at KenPom.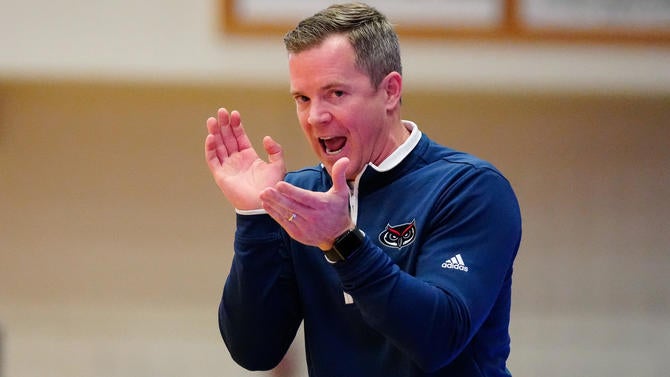 Florida: FAU Owls
Outlook: Now here's a fun change. For the first time in the near-decade I've been charting these preseason maps, the state of Florida is not covered by a Miami U, a Florida Gator or an FSU Seminole. After a 35-win season and with almost all of the team back, FAU is rightfully placed atop all other Sunshine State programs heading into 2023-24. I've ranked FAU 15th, which is actually lower than you'll find it at Gary Parrish's Top 25 And 1 (No. 4) and in the preseason AP Top 25 (No. 10). If FAU stumbles, it's likely to be caught by another team coming off a Final Four. Miami. The Hurricanes look like a top-20 team and should push to win the ACC. In the SEC, the Gators are aiming to clear the at-large bar for the tourney.
Outlook: Things are chummy in Athens at the moment. While landing five-star 2024 prospect Asa Newell was a great get, word has it that the streets around campus are positively abuzz after I ranked Mike White's team 44th nationally. Truth is, even if Georgia isn't top-50 quality, it will probably comfortably outpace Georgia Tech in its first year under Damon Stoudamire, not to mention the mid-major programs, none of which are picked to win their respective leagues. 
Hawaii: Hawaii Rainbow Warriors
Outlook: The Rainbow Warriors are the only Division I team in paradise, and their arena/campus will take on more attention than ever this November. Due to the devastating wildfires that eradicated almost all of Lahaina on the island of O'ahu, the University of Hawaii will host the 40th edition of the Maui Invitational. (Hawaii will not be playing in it, but traditional D-II Maui Invitational host Chaminade will.) As for UH, Eran Ganot's team figures to be somewhere in the 3/4/5 range in the Big West.
Outlook: The Broncos are never in doubt in a three-team Potato State race, always outrunning the likes of Idaho and Idaho State. Leon Rice's team could be good enough to crack into the AP rankings for a week or three this season, but even if that doesn't happen, Boise State has the roster to work for an at-large bid and figures to be a top-three squadron in the Mountain West. 
Outlook: Brad Underwood's team easily clears ahead of the 2023-24 campaign. While hopes are moderately high at places like Northwestern, Loyola Chicago and Bradley, none of those schools can match the firepower of Illinois, which boasts CBS Sports preseason All-American Terrence Shannon Jr. and ever-valuable stretch 4/5 Coleman Hawkins. I have Illinois ranked in the top 20 and third in the Big Ten behind Purdue and Maryland. 
Outlook: If I had to make a map of one logo to cover the country, a big Purdue P would lord over this year's landscape. The Boilermakers are my No. 1 going into the season thanks to returning the universal preseason pick for national player of the year, Zach Edey. Purdue isn't even in shouting distance of Indiana, Butler and Notre Dame this season, but its relative standing to those programs will not be how it's judged. For Matt Painter and his team, this has to be a dominant regular season that concludes, minimally, with three NCAA Tournament victories. At the mid-major level, Indiana State is the dark horse choice in the MVC.
Iowa: Iowa State Cyclones
Outlook: As of now, it's no lock that the state of Iowa will have a top-25 team this season. But it will have Iowa State and Drake both pushing for NCAA Tournament inclusion. And if not Drake, Northern Iowa could usurp the Bulldogs in the MVC. The Cyclones have some intriguing freshman talent joining a rugged program that's accumulated a number of notable wins the past two seasons under T.J. Otzelberger. It seems a safe bet that ISU outperforms Iowa in 2023-24, but if the Hawkeyes turn in another top-six season in the Big Ten that would come as no shock.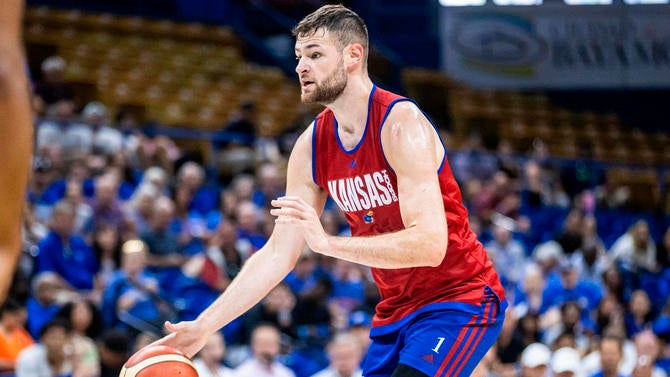 Outlook: Credit to Kansas State for making this one interesting last season. And still: Kansas had the better seed (No. 1 to 3) and beat K-State in the Big 12. Jerome Tang has quickly built something good in Manhattan, but Bill Self and the Jayhawks are a tier above. Kansas is the No. 1 team in the preseason AP Top 25, the fourth time in school history that's been the case. The three previous times (2004, 2008, 2018), Kansas failed to advance past the Sweet 16. 
Kentucky: Kentucky Wildcats
Outlook: John Calipari is under more pressure now than at any point in his college coaching career, but at least he's far and away the No. 1 team in his state. Louisville is still down bad (losing to a D-II school in an exhibition on Monday is outrageous), making things a lot less dramatic in one of the strongest rivalries in college hoops. Kentucky has the top-ranked freshman class coming in to help returning star Antonio Reeves. A huge year ahead for Calipari and this team. Inconsistency will not be tolerated. Kentucky is one of the most intriguing and urgent stories of November.
Louisiana: LSU Tigers
Outlook: The Bayou Bengals aren't receiving an overload of attention, and that's fair. Matt McMahon is diligently trying to build out a program in his image in a competitive SEC. There's a dozen teams in the deep south state of Louisiana, and only one of them could theoretically outflank LSU this season. Tulane can be a top-four team in the American. Ron Hunter's doing yeoman's work at a tough program. But I like LSU to take a jump and finish in the top 80 after landing 151st at KenPom a season ago.  
Outlook: The only D-I program in the easternmost state in the nation. Maine, which alas could not land the best basketball player in its state's history (Cooper Flagg), is nonetheless moving in the right direction as a program after winning 13 games in Chris Markwood's first season. It was the most victories in a season for the Black Bears since they went 15-15 in 2010-11.
Outlook: The Terps figure to be legit. Kevin Willard has by far the best team in his state (as it should be). That's owed in large part to Jahmir Young, Julian Reese and Donta Scott coming back to ensure Maryland has an NCAA Tournament-level team for the fifth time in six years. I have the Terps ranked 23rd in the sport and wouldn't be surprised if they can work into the top-15 conversation in the first month of the season.
Outlook: Still waiting on the Codfish State to up its collective college hoop game, as Boston College is slightly out ahead of Harvard, UMass, Merrimack and the like. Still, not a projected NCAA Tournament team in the bunch. BC is in its third season under Earl Grant and has a chance to emerge as a spoiler in the ACC.
Michigan: Michigan State Spartans
Outlook: There's been a yo-yo in recent years between Michigan and Michigan State. This year, it's not all that close. Sparty is unequivocally set up to be the better team. In fact, Michigan State is forecasted as a Final Four contender, while Michigan would surprise quite a few if it made the NCAAs in Juwan Howard's fifth year. Tom Izzo's Spartans are led by Tyson Walker and A.J. Hoggard in the backcourt; MSU will have four of its top six players in the rotation with four years or more of college experience — the first time that's ever happened on an Izzo-coached team.
Outlook: It's only been in the past couple of years that Minnesota had in-state competition, but we'll likely see the sun envelop the earth before St. Thomas can proclaim bragging rights in the Land of 10,000 Lakes. For Ben Johnson's Golden Gophers, the goal this season is to get into the NIT and away from the bottom of the Big Ten standings. 
Mississippi: Mississippi State
Outlook: The Bulldogs are coming off an NCAA Tournament appearance in their first season under Chris Jans. The team will be better in the second half of the season than the first due to the delayed appearance of all-SEC big Tolu Smith, who is sidelined for the first two months of the season with a foot injury. The Bulldogs could prove to have a close chase with Mississippi, which has talent and could be the toughest target to pin down in the SEC under new coach Chris Beard. 
Missouri: Missouri Tigers
Outlook: Saint Louis and even Missouri State have taken the Show Me State's logo in college hoops multiple times over the past eight seasons here at CBS, but Dennis Gates has things back to normal for Mizzou. The Tigers made the NCAAs and won a Big Dance game as a 7-seed in Gates' first season, which was a huge step of progress. Some questions linger about how good the roster will be this season, but Mizzou is comfortably out in front against all other programs in the state. Gates is a rising star in the profession. 
Montana: Montana
Outlook: A year ago, the Bobcats of Bozeman and Montana State earned the logo — and that was the right call. Montana State finished ahead of Montana and made the NCAA Tournament. That prompted MSU coach Danny Sprinkle to take the Utah State job, meaning the Griz have won back Big Sky territory. Travis DeCuire's team was picked second in the preseason Big Sky coaches poll; Montana State was seventh. On a personal note as someone who lives on the East Coast, Montana has fascinated me from afar for a long time and I hope to visit (and ski there!) someday.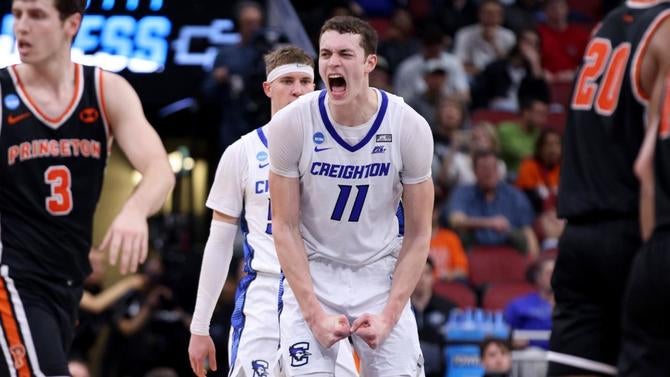 Nebraska: Creighton Bluejays
Outlook: Creighton has bested Nebraska almost every season since it joined the Big East 10 years ago. That will be the case again this season, as Creighton's starting five figures to be among the 10 best in the country. Nebraska has quite the watchable scorer in Keisei Tominaga, but the Cornhuskers lack the firepower that Creighton will boast. The Bluejays enter the season No. 7 in the AP poll, marking the second straight year the team set a program record with its highest preseason ranking. 
Nevada: UNLV Runnin' Rebels
Outlook: We don't have an overload of close calls in the 50 states this season, but this one is a tight race. I am leaning UNLV, but Nevada is right on it shoulder. Officially, in the Mountain West preseason poll, Nevada was picked fourth and UNLV sixth. As you know, preseason polls are not reliable indicators of future results. (Surely MY picks are!) The Runnin' Rebels hope Oklahoma transfer Jalen Hill becomes one of the five best players in the conference. For Nevada, combo guard Jarod Lucas will steer the ship on a potential NCAA tourney team.
Outlook: The state of New Hampshire hardly ever offers up notable national college hoops stories, but the Dartmouth men's basketball team did that this offseason when it petitioned to unionize. If successful, that case could have ripple effects in college sports in the years to come. From an on-court lens, Dartmouth figures to be better than UNH because the Big Green returns four of its top five scorers. 
Outlook: A year from now we could be talking about Rutgers having one of the premier freshman classes in the country and possibly being a preseason top 25 team. But that can wait. For now, this is still the strongest team in the Garden State. Princeton lost too many pieces from a team that made a Cinderella run to the Sweet 16, and Seton Hall figures to be in the bottom half of the Big East. A shoutout to Fairleigh Dickinson after it made history as well — agreeing to play fellow Cindy Saint Peter's is awesome — but Rutgers and Cliff Omoruyi should emerge as New Jersey's best.
Outlook: New Mexico State is undergoing a program re-wipe after last season's team had its season cut short because of a litany of off-the-court issues. That kind of action is severe and almost never happens. New Mexico, on the other hand, has a top-three team in the Mountain West thanks to the return of Jamal Mashburn Jr. and Jaelen House. Those two should be First Team All-MW players come March. The Lobos should have their best season in a decade. The fans are been so thirsty for this.
Outlook: What a joyous site for sore eyes this is for St. John's fans. The program has had maybe two seasons in the past dozen years when it could claim top status. With coaching changes at Syracuse and Iona, plus some wait-and-see with St. Bonaventure, Rick Pitino's new team in Queens holds the strongest position in the Empire State. The Red Storm were picked fifth in the preseason Big East poll. If it meets that expectation, it should make the NCAA Tournament for only the third time since 2011.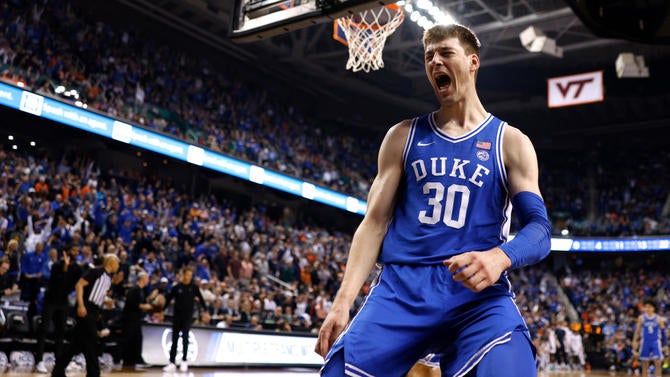 North Carolina: Duke Blue Devils
Outlook: The Tar Heels of Carolina had this one a year ago in the preseason, but that proved to be a major miss. Everyone whiffed on UNC. Duke was the best team in the region a year ago and has the roster to be tops in the Tarheel State once again. Jon Scheyer's Blue Devils have four players in the top 77 of our list of the best hoopers in the sport. Things are about to get really real in Durham. UNC figures to be better than last season, but it has much to prove in Hubert Davis' third season. That's going to be one to track from Game 1. I'd go Duke, then UNC, then Wake Forest for top-three in North Carolina in 2023-24.
Outlook: The Bison of North Dakota State and the Fighting Hawks of North Dakota are the only D-I programs in the Flickertail State. Both teams are under the Summit League roof. Dave Richman is in his 10th season at NDSU and figures to have a top-three squad (as usual) in the conference. North Dakota is yet to finish above. 500 in league play since joining the Summit in 2018.
Ohio: Dayton Flyers
Outlook: It sure seems like Dayton is set up for its best season since the tremendous what-could-have-been 2019-20 season with Obi Toppin as national player of the year. Anthony Grant has a mid-major stud in DaRon Holmes II, plus a fun playmaker Malachi Smith. I like Dayton to narrowly beat out Ohio State, which should be good again after a terrible 2022-23. Elsewhere in the state, Xavier has a lot to work through, but Akron (MAC) and Wright State (Horizon League) are projected to win their conferences. We'll set the over/under of NCAA Tournament bids to teams from Ohio at 3.5.
Outlook: It's unclear if the Pokes will have the power and pizzazz to emerge as an NCAA Tournament team in the Big 12, but they get the narrow edge over Oklahoma. The Sooners also have some things to figure out. For OSU, Bryce Thompson must emerge as an alpha scorer. At Oklahoma, Milos Uzan has an opportunity to be one of the most valuable sophomore guards in the sport. This feels like one of the closest races on my list. 
Outlook: This one's not close. Oregon should have a roster that outflanks Oregon State, not to mention little brothers Portland and Portland State. It may take a while to know how good the Ducks will be. They aren't guaranteed to play a projected NCAA Tournament team in the nonconference portion of the schedule. Winning 12 or more league games could be mandatory in order to get into at-large consideration. 
Pennsylvania: Villanova Wildcats
Outlook: There's a non-zero chance Kyle Neptune's offseason haul in the transfer portal puts Villanova back into the top-15 conversation. The Wildcats were a letdown in Neptune's first year, so a lot is on the line now in terms of the program's reputation in the post-Jay Wright era. Nova has no close second in the Quaker State. The No. 2 team this season, per my top 101 rankings, is Pitt. The No. 3 team is almost never considered this high in its own state: Duquesne should be a quality A-10 outfit. 
Rhode Island: Providence Friars
Outlook: With URI still looking for some footing in Archie Miller's second season, Bryant potentially making a coaching change and Brown looking to be top-four in the Ivy League, it seems obvious that Providence will yet again be the top team in the smallest state. Kim English takes over for Ed Cooley and has a potential All-American wing, Bryce Hopkins. The Friars' fan base is expecting PC to be in the bubble-team convo, at minimum, by the end of February. 
South Carolina: Clemson Tigers
Outlook: Historically, Clemson-or-South Carolina is up for annual debate in men's college basketball. But for the past few years, the Tigers have owned this part of the hoop-country map. P.J. Hall will be one of the best big men in the ACC and could get Brad Brownell's Tigers to the Big Dance for the third time in eight seasons. South Carolina is expected to be in the bottom three of the SEC. Furman (SoCon) could make back-to-back NCAA trips after a 43-year drought. Charleston could again be a mid-major menace a year after winning 31 times a year ago.
Outlook: Eric Henderson has proven to be the right coach for an underrated mid-major job. South Dakota State has finished first or second in his four seasons. The Jackrabbits look to be more well-rounded than their in-state brethren, the Coyotes of South Dakota. Both are in the Summit League, which was won by Oral Roberts last season. 
Tennessee: Tennessee Volunteers
Outlook: Rick Barnes is 175-92 in eight seasons in Knoxville. He's finished fourth or better five times in the SEC. It will almost definitely be six come mid-March. Tennessee is easily the best team in its state this season. The Vols have preseason All-SEC honoree Santiago Vescovi and will bring back Zakai Zeigler to play the point — but the team is much deeper than that. In a crowded SEC, the Volunteers have a chance to take the league. No. 2 in this state figures to be Memphis, then Vanderbilt. 
Texas: Baylor Bears
Outlook: Not Houston, not Texas A&M, not Texas. Give me Scott Drew's Bears to be the best team in the Lonestar State in 2023-24. Baylor brought in reinforcements, young and old, to give it a chance at winning the Big 12. Freshman Ja'Kobe Walter and senior transfer RayJ Dennis could be transformative players. I'm still high on Houston, A&M and Texas, though. I've got the Aggies higher than anyone: sixth in my top 101 rankings. I put the Cougars top-10 and slotted Texas No. 16 overall — and believe all four teams have rosters with Final Four capability. 
Utah: Utah Utes
Outlook: Craig Smith is in his third season at Utah and has a team that looks like a fun Pac-12 dark horse. Center Branden Carlson is going to be the primary factor, though he's got a boatload of seniors around him to boost the Utes' chances. I like Utah to outpace BYU in the Beehive State — and what an awesome rivalry those two have. The Cougars are now in the Big 12 and were picked 13th in that 14-team league. Weber State is the favorite to win the Big Sky, and Utah State starts anew in the Mountain West with first-year coach Danny Sprinkle.
Outlook: The Catamounts, Vermont's only D-I team, are again the pick to win the America East. John Becker's crew is seeking an eighth straight regular-season championship. If it happens, it will be an America East record. Becker has a top-10 winning percentage in the sport in the past 10 years.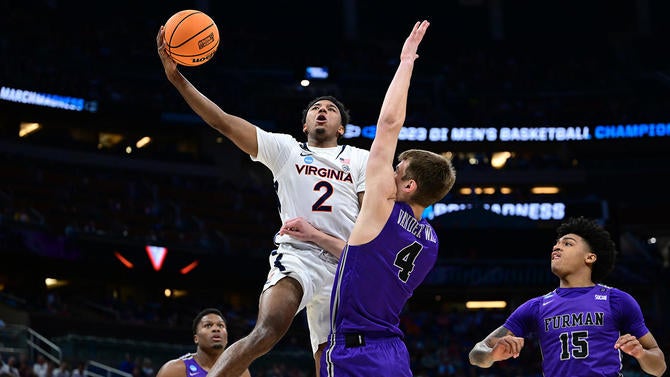 Outlook: Tony Bennett is regarded as a top five-type coach in college hoops. If he can get Virginia to finish in the top three of the ACC and get the Wahoos into the top 10 of the AP poll for multiple weeks this season, Bennett's reputation will only be reinforced. While not expected to be a Final Four contender, the Cavaliers nonetheless would seem to have the strongest combination of roster and coaching in the state of Virginia. The Hokies of Virginia Tech and the Rams of VCU both sit between No. 57-67 in my rankings. Liberty (in Lynchburg, Virginia) moves up to CUSA and may well push to win that league.
Washington: Gonzaga Bulldogs
Outlook: You can expect the Washington Huskies to be improved and Seattle U to threaten in the WAC, but no one is in Gonzaga's proverbial area code in the Evergreen State. The Bulldogs are ranked fifth in KenPom in the preseason, but the AP poll has GU at 11 and I've got it at 17th overall in my top 101. A major coup in the backcourt was scoring Ryan Nembhard out of the portal after the point guard left Creighton following a sweet sophomore season. He'll need to one-up that showing at Creighton in order to get Gonzaga to another top-10-ish season. 
Washington, D.C.: Georgetown Hoyas
Outlook: The Hoyas win out in the District as usual, but this could be the closest this program ever is to the likes of Howard, American and George Washington. Ed Cooley is going to attempt to work some wonders and avoid finishing bottom two in the Big East. Starting in 2024, the idea is Georgetown is a middle-of-the-pack Big East program at worst. It's a huge project, but Cooley told me at Big East media day he's put all of himself into it and hasn't had a day off since he got to campus.
Outlook: It's a whole new mission and situation in Morgantown after Bob Huggins resigned in June following an arrest on suspicion of DUI. Josh Eilert is the interim head coach for WVU, which has some talent but a lot of obscurity as well. That said, WVU is still streets ahead of Marshall. Guys like Jesse Edwards and Kerr Kriisa (who is serving a nine-game suspension) should shine. No threat of losing its hold on its state, even in a season of potential flux. 
Wisconsin: Marquette Golden Eagles
Outlook: The reigning double champs of the Big East clear the competition in America's Dairyland. Shaka Smart has All-American point guard Tyler Kolek running the show and with most of his teammates back from a 29-win run. MU is the Big East favorite, while Wisconsin also returns a majority of its best players and should be in the 2024 NCAA tourney after falling short last season. Thankfully, these two non-con foes continue to schedule each other every season. They'll face off Dec. 2 in Madison.
Outlook: The Cowboys were one of the letdowns of mid-major basketball last season. In 2021-22, Wyoming went 25-9 and took a rare trip to the NCAAs. Last year, Jeff Linder's team was hampered and was a brutal 9-22. Expect improvement, but this team is not projected to be in the top half of the Mountain West. Still, that yellow-on-brown is one of the stronger color schemes in college sports.