This is an article version of the CBS Sports HQ AM Newsletter, the ultimate guide to every day in sports. You can sign up to get it in your inbox every weekday morning here.
Please check the opt-in box to acknowledge that you would like to subscribe.
Thanks for signing up!
Keep an eye on your inbox.
Sorry!
There was an error processing your subscription.
---
There was a major breaking news story overnight:
The Raiders fired coach Josh McDaniels and general manager Dave Ziegler. Maybe it's because they read Tuesday's newsletter. The Raiders were 3-5 with an awful recent draft history and no direction. Now, they're still 3-5 with an awful recent draft history, but at least they're heading in a new direction. Former NFL linebacker (and Raiders position coach until yesterday) Antonio Pierce will serve as the interim head coach through the remainder of the season. There are also reports that Aidan O'Connell may start over Jimmy Garoppolo this weekend.
Let's get right to it.
⚾ Good morning to everyone but especially …
THE TEXAS RANGERS
I try to avoid overusing absolutes. The greatest. The best. The most. The Rangers are making that increasingly difficult. In their 11-7 Game 4 victory over Arizona, the Rangers became the first team with consecutive five-run innings in a World Series game and won their 10th straight postseason road game, breaking the 1996-97 Yankees' record and extending their own record for a single postseason.
Marcus Semien had his first home run of these playoffs and totalled five RBI, tying the most ever by a leadoff batter in a World Series game.
Corey Seager hit his third home run of the World Series and the 19th of his postseason career, leaving him one short of Derek Jeter's record for a shortstop.
We talked about Semien and Seager yesterday via Matt Snyder's story on how both players signed on the same day to start Texas' turnaround. Today, I want to talk about Andrew Heaney and Travis Jankowski. With both teams turning to their bullpen, Heaney delivered five solid innings, his longest appearance in over two months.
If Heaney's a surprise, Jankowski's a true shocker. He wasn't expected to play much (if at all) until Adolis García got hurt in Game 3. He will miss the rest of the series. (Max Scherzer — also hurt in Game 3 — is done as well.) So in came Jankowski, promptly delivering two hits, two runs and two RBI from the nine hole … earning a spot in Matt's latest dispatch from Arizona.
Here's our Game 5 preview as the Diamondbacks hope to keep their season alive.
😃 Honorable mentions
😔 Not so honorable mentions
🏈 NFL trade deadline: Commanders big sellers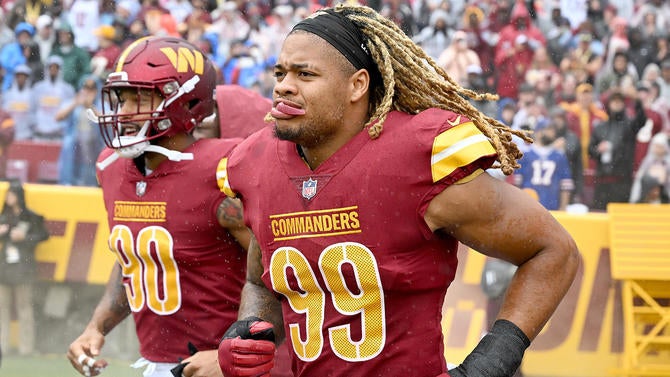 The NFL trade deadline often disappoints. Blockbusters don't get done. Big names stay put. The hypothetical sellers don't sell. The hypothetical buyers don't buy.
Not this year.
We got a remarkably busy and entertaining deadline day — here are grades for every trade — with the Commanders shipping off two big-name defensive ends as the top storyline. Washington sent Montez Sweat to the Bears for a 2024 second-round pick (earning an "A" grade) and Chase Young to the 49ers for a 2024 third-round pick (earning a "C+" grade).
I pretty much agree with those marks. The Sweat pick should be early in the second round, while Young's value took a nosedive due to injuries and inconsistency. To only get a late third-round pick back for a former No. 2 overall selection is disappointing. So, too, is the fact that the Commanders never put it all together with a defensive line filled with four first-round picks. They're 31st in scoring defense this year, and it's another lost season. But new owner Josh Harris made it clear that things are going to be different in Washington D.C., writes some guy named Zach Pereles.
Pereles: "Perhaps in previous eras, the Commanders would have looked at the encouraging performances and said 'We're close' and held tight at the deadline. Not with Harris in charge. … Harris doesn't do 'close,' and he smartly didn't think his newest franchise should, either. … It's nice to have the picks. They signal a new direction. What Washington does with those picks — and more importantly who is making them — will ultimately determine how well Harris' first big call as Commanders owner turns out."
The Commanders weren't the only multi-deal team. The Vikings acquired Joshua Dobbs from the Cardinals shortly after Kirk Cousins (Achilles) went on IR and Arizona benched Dobbs. The Vikings only had to give up a sixth-round pick, earning them the better mark in Bryan DeArdo's trade grades. Minnesota also sent guard Ezra Cleveland to the Jaguars.
Other trades included …
The deadline is often as much about teams that make moves as teams that don't. Jordan Dajani says the Chiefs staying put was a mistake.
Dajani: "I didn't expect the Chiefs to actually be buyers at the trade deadline, but I think they should have explored adding another wide receiver. … Yes, the Chiefs are still the Super Bowl favorites, but imagine how good this fan base would have been feeling with another addition at wideout."
We also have who improved and who didn't, full winners and losers and takeaways.
🏈 Ohio State tops first College Football Playoff Rankings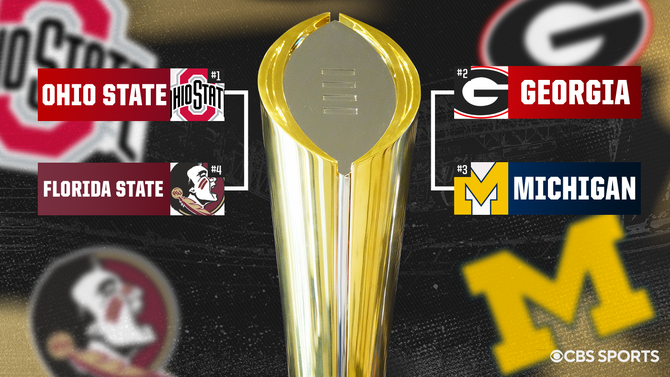 The College Football Playoff Selection committee unveiled its first rankings of the season Tuesday, and it delivered some surprises:
Ohio State
Georgia
Michigan
Florida State
Washington
Oregon
While Georgia is the two-time reigning champion and Michigan has been the country's most dominant team, Ohio State's strength of wins (at Notre Dame, vs. Penn State) earned the Buckeyes the nod. Here's a stat they'll like: Only two teams ranked No. 1 in a season's initial CFP Rankings failed to reach the playoff.
Their biggest rival, meanwhile, is underrated, writes Barrett Sallee.
Sallee: "Michigan: Underrated — They boast the top overall defense (226.8 yards per game), scoring defense (5.9 points per game) and red zone defense (33.3%) in the country. … It's easy to say that Michigan 'hasn't played anybody.' That's only part of the equation. Not struggling — like, at all — is something that not many other teams fighting for the top spot in the rankings can say."
👀 More reaction to James Harden trade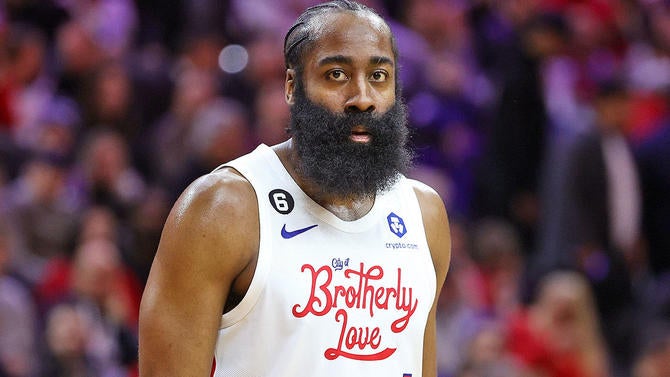 The James Harden trade is just barely over 24 hours old — thanks for ruining my sleep schedule, NBA — and Harden is so happy that he even attended the Clippers' game Tuesday.
Sam Quinn graded the trade shortly after it happened, but Harden is one of the most polarizing players in the NBA for his actions on and off the court. Everyone has an opinion. As such, we have Brad Botkin saying Harden isn't worth it …
Botkin: "Again, what is Harden's value as an off-ball player next to Kawhi Leonard, who is going to have the ball when it counts? He doesn't move. He doesn't catch and shoot. The Clippers could use some juice to their pace, but Harden plays like a slug. His defense is obviously atrocious."
… while James Herbert says L.A. is a great landing spot.
Herbert: "For the Clippers, who are completely committed to chasing the championship this season and face massive question marks after that, this was likely the best trade they could have made. They have never been a particularly good passing team in the Kawhi Leonard-Paul George era, so they acquired the guy who led the league in assists last season and finished second the season before that."
One thing we can all agree on? Tyrese Maxey is about to explode this season in Philadelphia. The Never Boring Association strikes again.
🏀 United States of College Basketball: Predicting best team in every state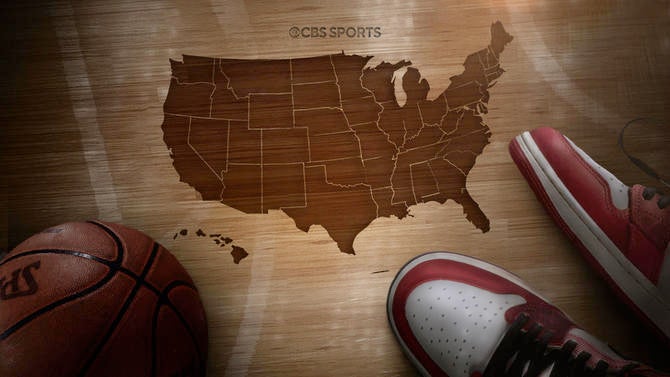 In case you somehow don't have enough sports right now, we have more coming: College basketball begins next week.
We already hit on the Top 100 And 1 teams and the Top 100 And 1 players. Today, we're featuring another annual tradition: Matt Norlander's United States of College Basketball in which he predicts the best men's Division I team in 49 states (sorry, Alaska) and Washington, D.C.
Florida is annually one of the most competitive states. This year, Matt's top team is …
Norlander: "FAU Owls — For the first time in the near-decade I've been charting these preseason maps, the state of Florida is not covered by a Miami U, a Florida Gator or an FSU Seminole. After a 35-win season and with almost all of the team back, FAU is rightfully placed atop all other Sunshine State programs heading into 2023-24. I've ranked FAU 15th, which is actually lower than you'll find it at Gary Parrish's Top 25 And 1 (No. 4) and in the preseason AP Top 25 (No. 10)."
Other fun states include Iowa, North Carolina, California, Ohio and Texas. I can't wait.
📺 What we're watching Wednesday
🏒 Sabres at Flyers, 7 p.m. on TNT
🏀 Pelicans at Thunder, 7:30 p.m. on ESPN
⚾ Rangers at Diamondbacks, 8:03 p.m. on Fox
🏒 Blues at Avalanche, 9:30 p.m. on TNT
🏀 Clippers at Lakers, 10 p.m. on ESPN