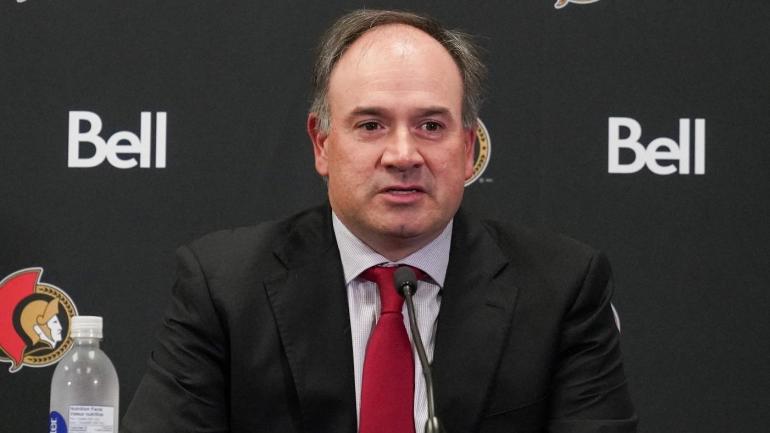 Getty Images
Ottawa Senators general manager Pierre Dorion has resigned from his position. Team owner Michael Andlauer announced the move just hours after the Senators were docked a future first-round pick due to the team's role in a botched trade involving forward Evgenii Dadonov.
Dorion served as the Senators' general manager for seven years after replacing former general manager Bryan Murray in April 2016. In Dorion's first season on the job, Ottawa reached the 2017 Eastern Conference Final and was one shot away from defeating the Pittsburgh Penguins and reaching the Stanley Cup Final.
However, the Senators did not reach the postseason again under Dorion's guidance and never even finished higher than sixth in their own division.
The apparent straw on the camel's back came Wednesday morning when the NHL announced the Senators would have to forfeit a first-round pick from either the 2024, 2025 or 2026 NHL Draft. That was the result of a league investigation into Ottawa's role in a nullified trade involving Dadonov between the Vegas Golden Knights and Anaheim Ducks.
According to the NHL, the Senators never informed the Golden Knights of Dadonov's modified no-trade clause after sending him to Vegas, and the league came down hard on them as a result.
At his press conference Wednesday, Andlauer said the Senators' front office was "negligent in nature" and "embarrassed the league and pissed off two other NHL clubs." Andlauer also noted that while the punishment may have been "harsh," the mistake could have been avoided entirely.
For the time being, president of hockey operations Steve Staios will serve as the interim general manager while the team begins its search for Dorion's replacement.