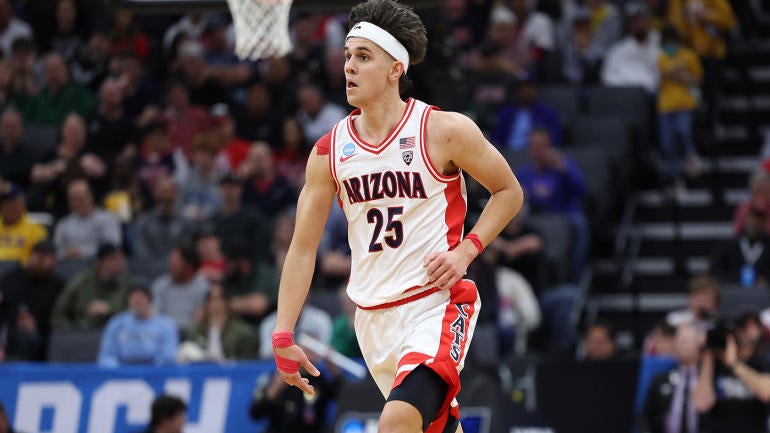 USATSI
West Virginia guard Kerr Kriisa will miss nine games during the 2023-24 season because of impermissible benefits he received while playing at Arizona, WVU announced Wednesday. Kriisa is expected to play a key role for the Mountaineers after ranking as the No. 7 transfer of the offseason following three seasons with the Wildcats.
West Virginia first learned of a "potential eligibility concern" for Kriisa in late August, according to the school's announcement, which revealed that Kriisa admitted to receiving the impermissible benefits at Arizona. The 6-foot-3 guard will continue to practice and travel with the Mountaineers amid the suspension.
"He accepts responsibility for his actions at Arizona and looks forward to joining his Mountaineer teammates on the floor," West Virginia's announcement said. 
The news marks the latest blow to a 2023-24 season that once looked promising for the Mountaineers before the offseason unraveling of legendary coach Bob Huggins, which led to a coaching change. Interim coach Josh Eilert has stepped in after 16 years on staff as he faces an uphill battle in guiding the Mountaineers back to the NCAA Tournament after last year's team earned a No. 9 seed and finished 19-15 with a first-round loss to Maryland.
Among the games Kriisa is slated to miss are games against St. John's (Dec. 1) and Pitt (Dec. 6), as well as a game against either Virginia or Wisconsin on Nov. 22 as part of the Fort Myers Tip-Off.
West Virginia recently parted with Manhattan transfer Jose Perez, who could have helped plug the gap in the back court during Kriisa's absence, and the Mountaineers are still fighting to get two-time transfer RaeQuan Battle eligible for the 2023-24 season. The Mountaineers also lost point guard Joe Toussaint to Texas Tech and power forward Tre Mitchell to Kentucky amid the coaching change from Huggins to Eilert. 
Amid all the roster attrition, WVU could have a lean rotation when it opens the season against Missouri State on Monday. The Mountaineers take on Monmouth on Nov. 10 and Jacksonville State on Nov. 14 before beginning play in the Fort Myers Tip-Off against SMU.