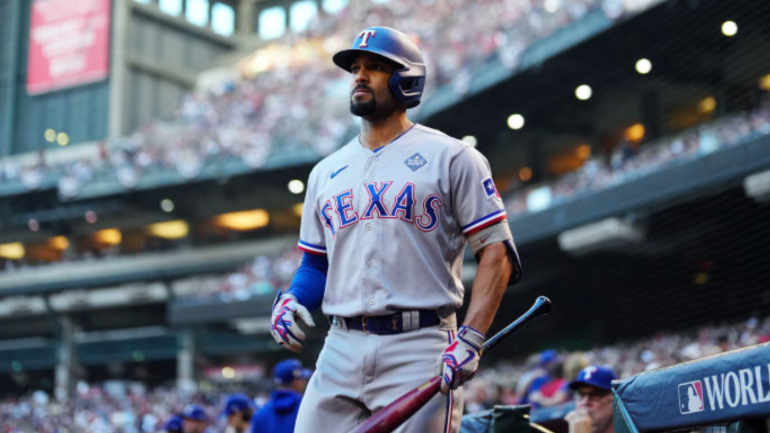 Getty Images
The Texas Rangers are one win away from the first World Series title in franchise history. The Rangers blew out the Arizona Diamondbacks in Game 4 on Tuesday night and have a commanding 3-1 lead in the best-of-seven series. They can clinch the title as soon as Wednesday as the D-backs try to keep their season alive in Game 5.
Historically, teams that take a 3-1 lead in a best-of-seven have gone on to win the series 85% of the time. The last team to come back from 3-1 was the Los Angeles Dodgers in the 2020 Championship Series against the Atlanta Braves. In the World Series, the last team to do it was the 2016 Chicago Cubs. They of course came back against Cleveland.
You can view the full postseason schedule by clicking here, and here's the 2023 playoff bracket. Now, let's get to the important stuff for World Series Game 5.
World Series Game 5 info
Date: Wednesday, Nov. 1 | Time: 8:03 p.m. ET
Location: Chase Field (Phoenix, Arizona)
TV channel: Fox | Live stream: fubo (try for free)  
Starting pitchers: RHP Nathan Eovaldi (4-0, 3.52 ERA) vs. RHP Zac Gallen (2-2, 5.27 ERA)
Odds: TEX -115 | ARI -105 | O/U: 8.5
Preview
Every game from now on is a potential clincher. The Rangers have Eovaldi, one of the best postseason pitchers of this era and really of all-time, on the mound in Game 5. The D-backs are starting their ace, though Gallen has not been particularly ace-like this October. He's up to 237 1/3 innings on the year, by far a career high, and it's fair to wonder if fatigue is setting in. Arizona's offense can make life easy on Gallen if they carry over their performance in the late innings of Game 4 into Game 5.
Prediction
We here at CBS Sports root for nothing but more baseball, so we're going with the D-backs in Game 5. We're not ready for the season to end just yet. Pick: Diamondbacks 6, Rangers 4.