The 2022-23 season featured some bumps for Kansas and coach Bill Self following the program's 2022 national title win, but Self navigated them all to maintain his spot atop the CBS Sports Top 25 And 1 coach ranking entering the 2023-24 season. Self was suspended for the season's first four games and also missed time in the postseason due to a health scare, but as the Jayhawks replaced four of their top five scorers from the title-winning team and navigated Self's absences, they demonstrated just how strong of a program he's built in over two decades on the job.
KU won the Big 12 regular season title, reached the Big 12 Tournament title game and earned a No. 1 seed for the NCAA Tournament for the 10th time under Self's direction, all while bracing for a long-awaited ruling on alleged NCAA violations. That ruling, which landed in October, brought relatively minor penalties that will do little to knock Self off his historically great coaching trajectory.
A storied generation of college basketball's braintrust continues to trickle out of the sport with the offseason departures of Jim Boeheim and Bob Huggins. Their exits followed the retirements of other icons like Mike Krzyzewski, Jay Wright and Roy Williams, all of which has set the stage for Self, 60, to become the dean of college basketball coaches.
Of course, there are plenty of challengers to his throne. But as the 2023-24 season arrives, everyone else on this list is playing catchup to Self's two national titles, except for 71-year-old Rick Pitino, whose 2013 title at Louisville was vacated by the NCAA. Here is the collective ranking of the Top 25 and 1 college basketball coaches as the new season gets underway.
Top 25 And 1 college basketball coaches
— As selected by voting from CBS Sports' Gary Parrish, Matt Norlander, Kyle Boone, David Cobb and Cameron Salerno
1. Bill Self, Kansas
Self repeats at No. 1 after following up a 2022 national title by winning the Big 12 and earning a second consecutive No. 1 seed in the NCAA Tournament. Though the Jayhawks were eliminated in the second round, it was Self's 10th time earning a No. 1 seed in 20 seasons at KU. The Jayhawks were also on track for a No. 1 seed in 2020 before the NCAA Tournament's cancellation. His program has been in hot water with the NCAA over the years, but KU avoided serious penalties in a long-running case that was finally adjudicated in October. (Last year: 1)
2. Tom Izzo, Michigan State
Everything changes in college sports … except Izzo. Entering his 29th season as Michigan State coach, he continues to facilitate a steady, high-performing operation. The Spartans have made 25 straight NCAA Tournament appearances and are coming off their 15th Sweet 16 appearance under his direction. His program is among the least-reliant on transfers in college basketball, and his 2023-24 squad has the right mix of proven veterans and touted freshmen needed to compete for a national title. (7)
3. Kelvin Sampson, Houston
Houston landed at No. 2 in the CBS Sports Big 12 predictions. That the Cougars are entering the nation's toughest conference with such lofty expectations is a testament to the juggernaut Sampson has constructed with a program that was dormant upon his arrival in 2014. A national title is the only thing he needs to cap a career that was rudely interrupted by a five-year show-cause for rules violations at Indiana that seem comically minor in hindsight. (5)
4. Mark Few, Gonzaga
Gonzga went 121-13 over Drew Timme's four seasons in the program. Now, it's time for Few to chart a new direction as the Zags bid farewell to four of their top five scorers, including Timme. As Few enters his 25th season, there's no doubt he is up to the task. The Bulldogs have never missed an NCAA Tournament under his leadership and begin the season ranked No. 11 after landing a great transfer class and returning veterans Nolan Hickman and Anton Watson. (2)
5. Scott Drew, Baylor
Baylor finished 23-11 (11-7 Big 12), earned a No. 3 seed in the NCAA Tournament and fell to an excellent Creighton team in the second round. That such a solid season felt like a down year speaks volumes to the caliber of program Drew has built from the ruins that existed when he arrived in 2003. Somehow, he has never won Naismith Coach of the Year. But if there were an award for best program builder of the 21st century, Drew would win in a landslide. (3)
6. Tony Bennett, Virginia
Virginia has won or shared the ACC regular season title in six of the past 10 seasons as Bennett has developed the Cavaliers into a defensive juggernaut. He faces a significant roster overhaul for the 2023-24 season as UVa bids farewell to its three leading scorers. But even Virginia's so-called "down years" have been good under Bennett, who has won over 20-plus games in 12 consecutive non-COVID seasons. (6)
7. Dan Hurley, UConn
Hurley failed to make the list last season as he entered Year 5 at UConn without a single NCAA Tournament victory. Now, he is entering Year 6 as the reigning national championship-winning coach. Hurley assembled a deep, well-rounded team that steamrolled through March Madness with six consecutive double-digit victories. At 50 and with seemingly boundless amounts of energy, he is poised to be a star of the coaching profession for years to come. (Not ranked)
8. John Calipari, Kentucky
As the highest-paid coach in college basketball by a wide margin, Calipari is underperforming. Kentucky last reached the Sweet 16 in 2018 and lost in the second round of the Big Dance as a No. 6 seed last season to cap an underwhelming 22-12 campaign. Still, the 64-year-old has taken three programs to Final Four appearances and is one of just a few on this list with a national title. He continues to recruit at an elite level, and his Wildcats were picked to finish fourth in the SEC in the league's preseason media poll. (4)
9. Rick Pitino, St. John's
After amassing a 64-22 record in three seasons at Iona, Pitino is back on the big stage at St. John's to finish out his career in the Big East. The 71-year-old legend has won at every stop on his winding collegiate journey and overhauled the Red Storm's roster with a group of quality transfers that should immediately have the program in the hunt for an NCAA Tournament bid. (11)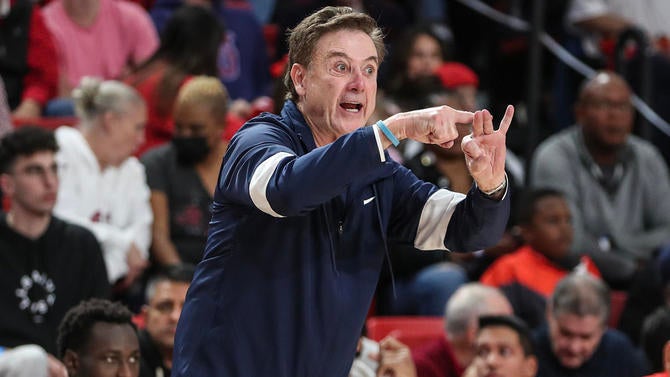 10. Matt Painter, Purdue
Some may be stunned that Painter rose from No. 12 in last year's ranking to No. 10 after Purdue lost to No. 16 seed Fairleigh Dickinson in the first round of the NCAA Tournament, but the Boilermakers won the Big Ten regular season and conference titles and spent a hefty chunk of the 2022-23 season at No. 1. They also produced the National Player of the Year in Zach Edey. This program has made eight straight NCAA Tournaments under Painter and is favored to win the Big Ten once again. (12)
11. Mick Cronin, UCLA
Cronin enjoyed excellent roster continuity during his first four years at UCLA as he improved the Bruins' win total each season, culminating with a dominant run to the Pac-12 regular season title last season. Now comes a retooling season that will put his freshman-oriented roster strategy to the test. But given his excellent 21-year track record across Murray State, Cincinnati and UCLA, there is little doubt Cronin will make it work. His teams have qualified for 12 straight NCAA Tournaments. (9)
12. Eric Musselman, Arkansas
Consider where Musselman might rank on this list had he not spent the first 23 years of his coaching career in the professional ranks. While his NBA background is an asset, it also meant that he didn't land a college head coaching job until age 50 (Nevada). In eight years since, Musselman has taken the sport by storm as a pioneering savant of the transfer trend. He's led Arkansas to a pair of Elite Eights and a Sweet 16 over the past three seasons. (10)
13. Bruce Pearl, Auburn
In a bygone era of Auburn basketball, last season's 21-13 (10-8 SEC) record and second-round exit from the NCAA Tournament would have marked a banner year. But in the world Pearl has created on The Plains, that's just a mediocre campaign. Now in his 10th season, Pearl has built a steady winner out of a program that was obsolete prior to his arrival. (8)
14. Tommy Lloyd, Arizona
Lloyd is 61-11 (32-8 Pac-12) and has earned a No. 1 seed (2022) and No. 2 seed (2023) for the NCAA Tournament in two years on the job. Wildcats fans would surely like to see longer stays in the the Big Dance. But, all things considered, the transition to Lloyd following a tumultuous ending to Sean Miller's 12-year run has gone fantastically well. The former longtime Gonzaga assistant has Arizona favored to win the Pac-12 again. (18)
15. Randy Bennett, Saint Mary's
With a fraction of the resources available to the big brands, including one in his own conference at Gonzaga, Bennett continues to manufacture prolific winners. The Gaels have been a No. 5 seed in consecutive NCAA Tournaments and were picked to win the WCC over the Zags this season. Entering his 23rd season at Saint Mary's, he is the program's all-time wins leader and a five-time WCC Coach of the Year. (24)
16. Shaka Smart, Marquette
Marquette and Smart are a perfect match, as evidenced by the fact that the Golden Eagles secured their best NCAA Tournament seeding in program history during just his second season. While Marquette was bounced in the second round of the Big Dance, it won the Big East regular season and tournament titles. After a pedestrian six-year run at Texas, the shine is officially back for Smart, who is still only 46. (NR)
17. Greg McDermott, Creighton
McDermott led Creighton to its first-ever Elite Eight and within a heartbreaking last-second finish of the Final Four during his 13th season on the job. The Bluejays missed four straight NCAA Tournaments before his arrival but have now won at least one game in three consecutive Big Dances. More big things are expected this season as Creighton finished second in the Big East preseason coaches poll. (25)
18. Ed Cooley, Georgetown
After winning 61.3% of his games over 12 seasons at Providence and making 7 of 11 NCAA Tournaments, Cooley is starting anew at Georgetown. His coaching acumen will be tested with the Hoyas, who are 13-50 over the past two seasons. But the opportunity to resurrect an elite college basketball brand will give Cooley a chance to etch his name among the sport's all-time great coaches. (21)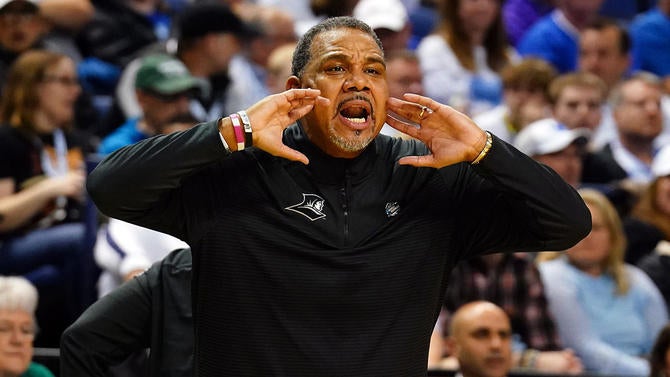 19. Nate Oats, Alabama
Alabama earned its first-ever No. 1 seed in the NCAA Tournament after winning the SEC regular season and tournament titles in Oats' fourth season. The former Buffalo coach struggled navigating a nasty off-court scandal but cemented his reputation as one of college basketball's top on-court coaches and recruiters by facilitating historic success with a freshman-heavy roster. (NR)
20. Rick Barnes, Tennessee
Tennessee's ruthless defense finished No. 1 at KenPom as the Volunteers reached the Sweet 16 and hit 25 or more wins for the fourth time in Barnes' eight seasons. Barnes has fielded three straight top-five defenses and has molded Tennessee into a consistent SEC contender. None of this should be a surprise given his successful track record at Texas, Clemson, Providence and George Mason. (14)
21. Sean Miller, Xavier
After going 38-26 (18-18 Pac-12) and grappling with the cloud of an investigation during his final two seasons at Arizona, Miller proved last season that he's still got it. In his first season back at Xavier, he guided the Musketeers to a 27-10 (15-5 Big East) mark and Sweet 16 appearance. At just 54 and on his second stint with the school, Miller should have many good seasons ahead to solidify his spot among the elite. (NR)
22. Jim Larranaga, Miami
Miami is 55-11 (29-11 ACC) over the past two seasons and has made an Elite Eight and Final Four over that span. Larranaga is 74, but he's doing some of his best work yet in the twilight of a storied career, guiding the 'Canes to previously unseen heights in successive seasons. Big things are expected again this season as Miami finished second behind only Duke in the ACC preseason media poll. (NR)
23. Chris Holtmann, Ohio State
Holtmann was fortunate to maintain a spot in the rankings after a painful 16-19 (5-15 Big Ten) mark in his sixth season at Ohio State. The Buckeyes lost 14 of 15 games during one stretch in league play before rallying to win three games in the Big Ten tournament. Holtmann previously stored up good will with nine straight seasons of 20 or more victories at Gardner-Webb, Butler and Ohio State. (17)
24. Brian Dutcher, San Diego State
Dutcher succeeded the legendary Steve Fisher for the 2017-18 season, and all he's done is rattle off six straight 20-plus-win seasons while leading the Aztecs to their first-ever Final Four. SDSU had never even been to an Elite Eight before it reached the national title game last season with a veteran, defensive-oriented team carefully crafted by Dutcher and his staff. (NR)
25. Buzz Williams, Texas A&M
Williams has won big at Marquette, Virginia Tech and Texas A&M after breaking through with the Aggies for a runner-up finish in the SEC standings and SEC Tournament. With ample production back, the Aggies are poised to keep building in Williams' fifth season and are capable of winning 25 or more games for a third straight season. (NR)
And 1: Chris Beard, Ole Miss
The off-court issues which led to Beard's dismissal at Texas last season have tainted his reputation, but he's proven himself to be a winner at Little Rock, Texas Tech and Texas. Don't be surprised if he wins at Ole Miss, too. Beard will look to join Barnes and Smart as coaches on this list who have found life after Texas to feature plenty of success with less stress. (13)