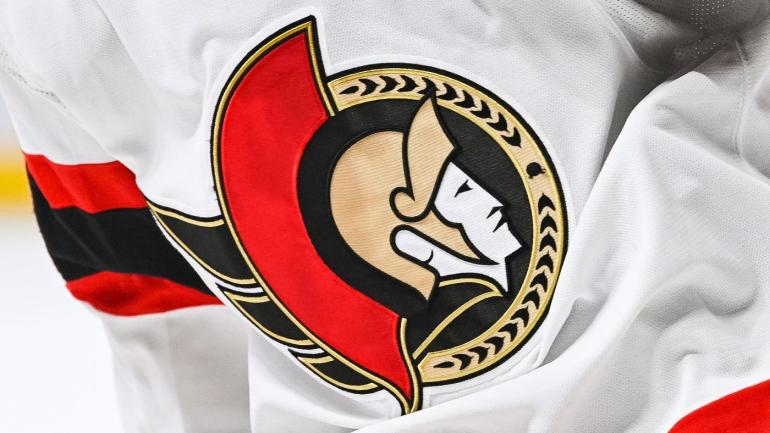 Getty Images
The Ottawa Senators will forfeit a first-round pick in one of the next three NHL drafts as a result of their role in the botched Evgenii Dadonov trade in March 2022, the league announced Wednesday. The Senators failed to inform the Vegas Golden Knights of Dadonov's modified no-trade clause and will pay a steep price as a result.
In July 2021, Ottawa sent Dadonov to Vegas in exchange for Nick Holden and a first-round pick but did not alert the Golden Knights to Dadonov's no-trade clause. Less than a year later, when Vegas tried to deal Dadonov to the Anaheim Ducks in 2022, the trade was nullified because the Ducks were one of the 10 teams on the forward's no-trade list.
After an investigation by the NHL, the Senators will now have to surrender a first-round pick in 2024, 2025 or 2026. Ottawa will have to select which one it wants to forfeit prior to that year's draft lottery.
"Ottawa will forfeit its first-round draft pick in one of the 2024, 2025 or 2026 Drafts," the NHL said in a statement. "The determination as to which pick will be forfeited will be made by Ottawa within 24 hours of the conclusion of the Draft Lottery for that year."
Following the botched trade with the Ducks, Dadonov remained in Vegas for the rest of the 2021-22 season. The following offseason, the Golden Knights successfully traded him to the Montreal Canadiens.
Prior to the 2023 trade deadline, Dadonov was traded once again, this time from the Canadiens to the Dallas Stars. Through seven games this season, Dadonov has two goals and one assist with Dallas.