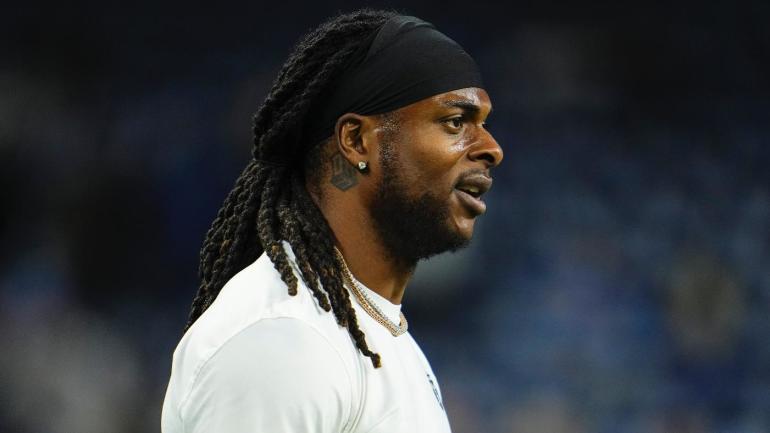 Getty Images
Davante Adams and the Las Vegas Raiders have had a rough week, but the star receiver is doing what he can to blow off steam. After getting rolled by the Detroit Lions on Monday Night Football, the Raiders fired their general manager and head coach, and Adams has heard enough of the relentless criticism.
In the Raiders' 26-14 loss to the Lions, Adams caught just one pass for 11 yards, but he found a way to lighten the mood in the locker room and call out some of his critics. On Thursday, Logan Reever of 8 News Now posted a video to X in which Adams mocks some talking heads while playing basketball against a teammate.
"'This is why they're losing,'" Adams said. "'They're worried about the wrong shit. They're in the locker room playing basketball. F—ing run the right route. Catch the ball.'"
After a tremendous season with Derek Carr behind center in 2022, Adams' production has taken a step back with Jimmy Garoppolo, Aidan O'Connell and Brian Hoyer taking snaps this year. In his eight games, Adams has caught 47 passes for 539 yards and three touchdowns.
The Raiders and Adams will try to silence the critics a little bit with a win over the New York Giants this Sunday. Owner Mark Davis has already made big changes by firing head coach Josh McDaniels and general manager Dave Ziegler late Tuesday night.
That was the product of a 3-5 start, and Davis felt the team was heading in the "wrong direction" under that duo. Interim head coach Antonio Pierce will try to right the ship in time for the Raiders to make some kind of playoff push in the AFC wild-card race.