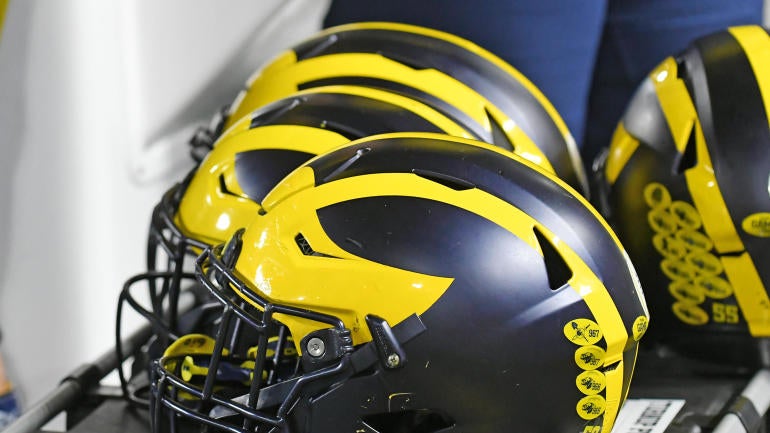 Icon Sportswire
Michigan fired analyst Connor Stalions Friday, according to multiple outlets. Stalions is at the center of the NCAA investigation into Michigan's alleged sign-stealing scandal. The university previously suspended him on Oct. 20.  
Stalions did not attend a meeting with Michigan officials on Friday and the retired United States Marine Corps captain refused to cooperate with any internal or external investigations, according to multiple outlets. 
The move also comes as Big Ten commissioner Tony Petitti met with university officials in Ann Arbor, Michigan.
Michigan's Week 10 opponent, Purdue, expressed concern over the sign-stealing scandal ahead of Saturday's matchup. Asked about the ongoing NCAA investigation during his weekly radio show on Thursday night, Purdue coach Ryan Walters didn't hold back. 
"It's unfortunate. What's crazy is they aren't allegations. It happened," he said. "There's video evidence. There's ticket purchases and sales that you can track back. We know for a fact that they were at a number of our games." 
Stalions bought tickets for more than 30 games at 12 of the possible 13 Big Ten stadiums and four tickets to games featuring out-of-conference College Football Playoff contenders over a three-year period, according to ESPN. According to the report, there are records of Stalions buying tickets to the 2021 and 2022 SEC championship game through the secondary market. 
At issue is NCAA Bylaw 11.6.1: "Off-campus, in-person scouting of future opponents (in the same season) is prohibited." Sign-stealing itself is not technically against the rules unless it involves electronic equipment to record and inform players or coaches of signals during games. Teams are given access to a great deal of film in advance of matchups in order to scout the on-field football product. 
Michigan coach Jim Harbaugh has denied knowledge of any attempt to steal opponent signs and will cooperate with the NCAA investigation, he said in a statement. Harbaugh is already embroiled in a battle with the NCAA over separate Level II violations for which he is accused misleading investigators.
The NCAA's investigation into Michigan for sign-stealing is a rapidly-developing story and CBS Sports is covering it in real time. Click here for live coverage.