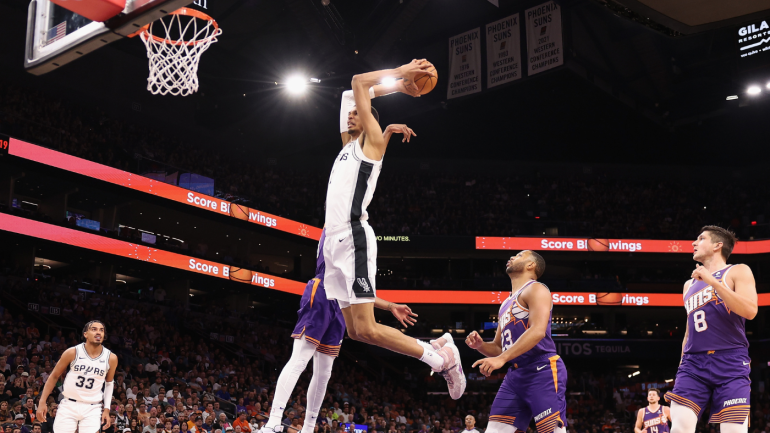 Getty Images
Victor Wembanyama is going to make plenty of history in his rookie season in the NBA, and on Thursday, he made a bit of it that's going to feel particularly satisfying. Midway through the game, Wembanyama became the first player to post at least 85 points, 35 rebounds and 10 blocks in his first five NBA games since Shaquille O'Neal back in 1992.
Now, this is a meaningful bit of history on its own. Any rookie big man who matches O'Neal is probably on his way to a pretty strong career. But for Wembanyama, a Shaq comparison is especially satisfying because of O'Neal's role as one of the game's most prominent critics. Since 2011, O'Neal has been a part of the TNT's Inside the NBA panel, and he occasionally makes points and comparisons that raise eyebrows among the basketball-viewing public. After Tuesday's Spurs victory over the Phoenix Suns, O'Neal did just that by comparing Wembanyama to a player that has played only four minutes so far this season.
"I wanna go at Reggie [Miller] a little bit. He talked about how he's never seen a guy like Wembanyama. Yes you have, his name is Bol Bol," O'Neal said. The rest of the TNT crew was, to put it mildly, surprised by O'Neal's comments. The former Laker star continued that "Wembanyama is just way more consistent than Bol Bol, but Bol Bol is the first seven-footer that we see doing that."
In fairness to O'Neal, Bol Bol is the rare big man that pairs theoretical 3-point shooting and shot-creation with elite length for defensive purposes. Here is where the comparison falls apart: Bol Bol is now in his fifth NBA season, and he has been a consistent part of a rotation just once. He is a 29.3% career shooter from deep. At his current rate of two blocks per game, Wembanyama will have more career rejections than Bol by around February. If this is a matter of ceiling rather than consistency, it's worth noting that Bol's career scoring high is 26 points. On Thursday, Wembanyama topped that mark before the end of the third quarter. The vague outline of a comparison has some merit, but these are two players in completely different universes as far as tangible production goes.
In that sense, Thursday's latest bit of Wembanyama history was fitting. The proper comparison here isn't Bol. Despite their obvious stylistic differences, Wembanyama now has more in common with Shaq himself.