With eight weeks down, we're almost halfway through the 2023 NFL regular season. That means the playoffs are already on the horizon, and with them, Super Bowl LVIII. In fact, Friday marks the start of the 100-day countdown until Super Bowl Sunday.
That's right. There are only 100 days until the last remaining contenders go head to head for the next Lombardi Trophy. Who will be standing for the championship showdown? Which teams are favored to go the distance? And what are the biggest storylines to monitor in the meantime? We've got you covered with 100 things to know, as Friday marks 100 days out from Super Bowl LVIII:
Super Bowl facts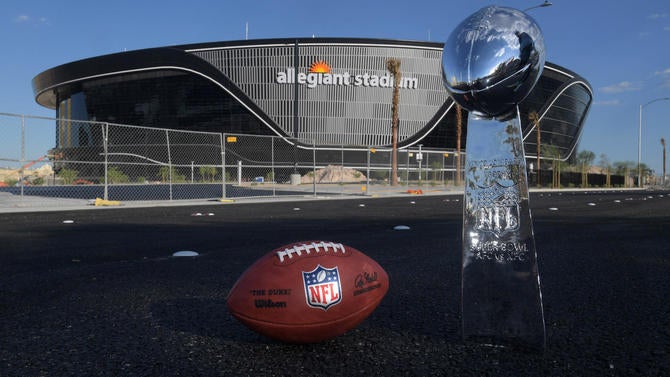 Top 10 Super Bowl favorites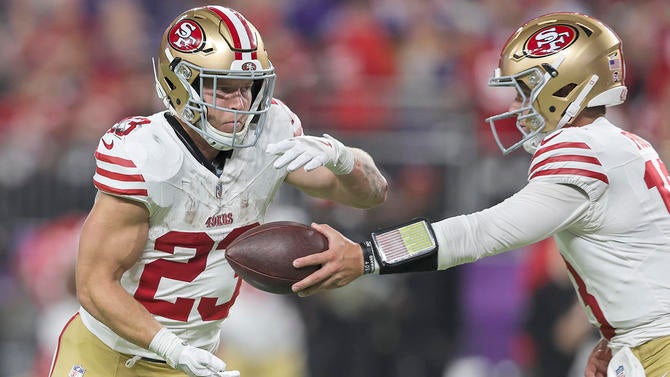 According to Caesars Sportsbook odds:
11. The Chiefs (+500) have advanced to three of the last four Super Bowls.
12. The 49ers (+525) have made three NFC title games in the last four years.
13. The Eagles (+550) have reached the Super Bowl twice in the last six years.
14. The Dolphins (+900) are 6-2 and boast the NFL's No. 1-ranked offense.
15. The Cowboys (+1000) are on pace for a third straight 12-win season.
16. The Ravens (+1000) are 6-2 and boast the NFL's No. 1 scoring defense.
17. The Lions (+1300) are 14-4 dating back to November of last season.
18. The Jaguars (+1600) are 13-4 dating back to November of last season.
19. The Bills (+1700) have made the Divisional Round in three straight seasons.
20. The Bengals (+1800) have made two straight AFC title games.
Key storylines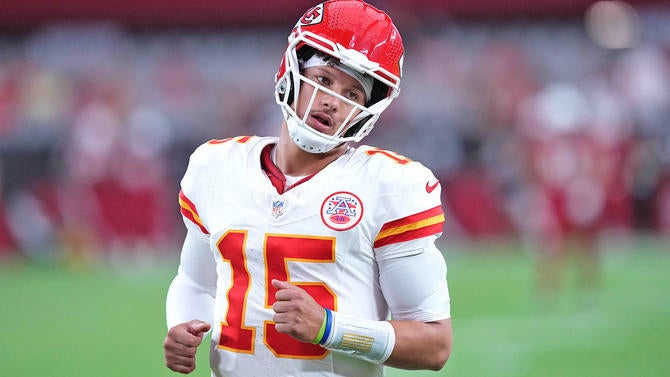 21. Are the Chiefs the same old Chiefs?
Kansas City may be favored to win it all, which makes sense considering how often they've found a new gear down the stretch. Their quarterback, Patrick Mahomes, remains on a Hall of Fame trajectory just a half-decade into his career as a starter. But their typically effortless offense has been regularly sputtery halfway through 2023, with only tight end Travis Kelce offering steady production at pass catcher. On the bright side, the Chiefs' defense looks better than it has in years.
22. Can San Francisco survive the war of attrition?
The 49ers came within one game of the Super Bowl in 2022 despite losing two different QBs to injury. This year, the improbably poised fill-in Brock Purdy has finally encountered some of his own hiccups, but his late-game turnovers have been exacerbated by injuries to stars like Christian McCaffrey, Trent Williams and Deebo Samuel. Few coaches are more lauded for their offensive strategy than the 49ers' Kyle Shanahan, but his lineup can't afford many more losses.
23. Are the Eagles the team to beat?
A year after taking the Chiefs to the wire in the Super Bowl, Philly opened 2023 in an underrated funk, scraping by inferior foes as QB Jalen Hurts uncharacteristically struggled to control the ball. Hurts' turnover streak remains, but he still ranks second among all QBs in total scores while feeding the uncoverable A.J. Brown. Better yet, he and the Eagles, who also boast a defensive front that's more physical and clutch than ever, never blink in the face of trouble. No one's got a better record (7-1) entering Week 9.
24. Can the Dolphins keep this up until January?
We've seen Tua Tagovailoa, Tyreek Hill and Jaylen Waddle put up video-game numbers before, but we've yet to see Mike McDaniel's electric offense under the truly bright lights. Off to another MVP-caliber start after an injury-shortened 2022, Tagovailoa needs his offensive line and defense to get healthier as the year progresses. If that happens, there isn't another contender with as much pure firepower on the offensive side. They'd make for one of the most entertaining Super Bowl possibilities.
25. Are the Bengals back from the dead?
The Chiefs' top AFC rivals entering the year, Cincinnati looked like a shell of itself out of the gate, with star QB Joe Burrow stumbling through a lingering calf injury. Burrow's picked up all kinds of steam in recent weeks, however, and his downfield chemistry with speedster Ja'Marr Chase is on the same level as Mahomes-Kelce, Tagovailoa-Hill and Hurts-Brown. With the Bengals also touting a borderline top-10 pass rush, it's not wild to envision them spoiling other clubs' dreams late in the year.
Top 10 MVP candidates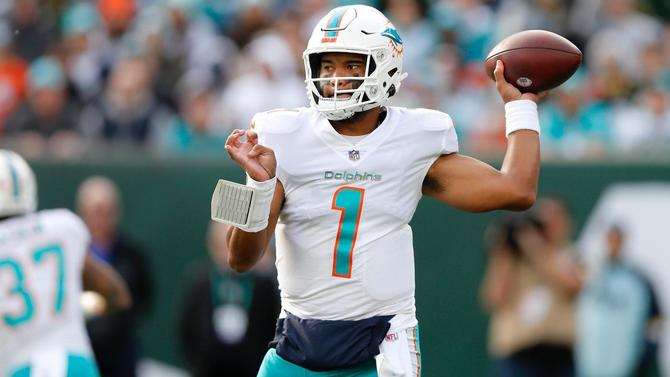 If you're looking for an idea of which players are steering top contenders' title chances, look no further than the oddsmakers' favorites to take home this year's top individual accolade, courtesy of Caesars Sportsbook:
26. Dolphins QB Tua Tagovailoa (+330) leads the NFL with 18 TD passes.
27. Chiefs QB Patrick Mahomes (+330) has won two MVPs in the last five years.
28. Eagles QB Jalen Hurts (+400) is on pace for close to 40 total TDs.
29. Ravens QB Lamar Jackson (+500) is completing 70.5% of his passes.
30. Bills QB Josh Allen (+1300) leads all QBs with 22 total TDs.
31. 49ers RB Christian McCaffrey (+1800) has scored in 17 straight games.
32. Bengals QB Joe Burrow (+2000) has thrown 45 TDs in his last 1.5 seasons.
33. 49ers QB Brock Purdy (+2000) leads all QBs in yards per throw (9.1).
34. Jaguars QB Trevor Lawrence (+2200) is 13-4 in his last 17 starts.
35. Lions QB Jared Goff (+3500) has 41 TDs and 12 INTs since the start of 2022.
Best non-MVP difference-makers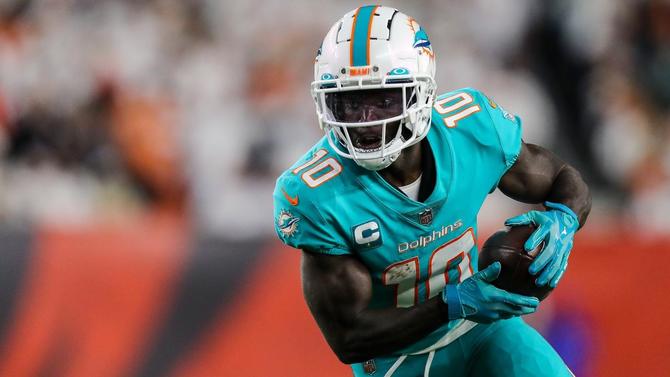 These players aren't atop oddsmakers' lists for NFL MVP, but they're among the most imposing in the game:
Key injuries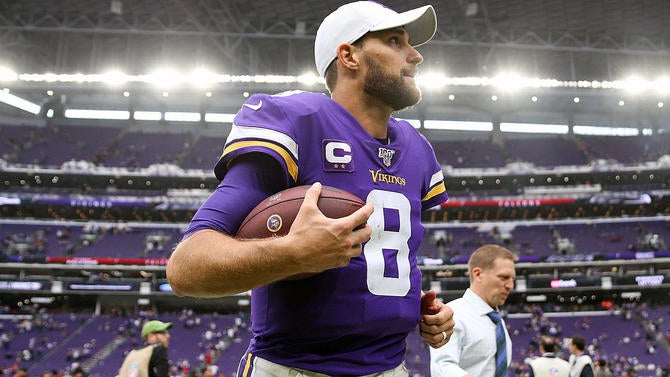 New faces in new places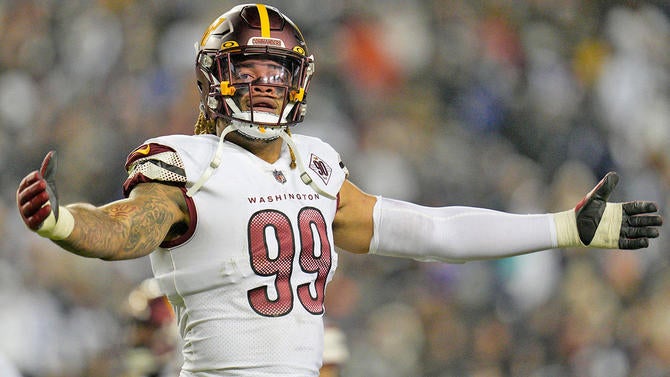 The following notable names recently joined new teams ahead of the NFL's Halloween trade deadline:
51. QB Joshua Dobbs (Cardinals to Vikings)
52. WR Donovan Peoples-Jones (Browns to Lions)
53. WR Mecole Hardman (Jets to Chiefs)
54. OG Ezra Cleveland (Vikings to Jaguars)
55. DE Montez Sweat (Commanders to Bears)
56. DE Chase Young (Commanders to 49ers)
57. DL Leonard Williams (Giants to Seahawks)
58. CB Rasul Douglas (Packers to Bills)
59. S Kevin Byard (Titans to Eagles)
Dobbs could end up starting the majority of the Vikings' remaining games in the wake of Cousins' injury; the former Browns backup learned the Cardinals' system on basically zero notice and fared reasonably well for Arizona to open 2023. Cleveland bolsters Jacksonville's depth up front. But the biggest changes came on the defensive line, where the Commanders went full-on rebuild by unloading both Sweat and Young off the edge. The former finally gives Chicago a legit QB hunter, albeit until his scheduled 2024 free agency. Young, meanwhile, slots in opposite Nick Bosa on San Francisco's underperforming but loaded front seven.
Spoilers and underdogs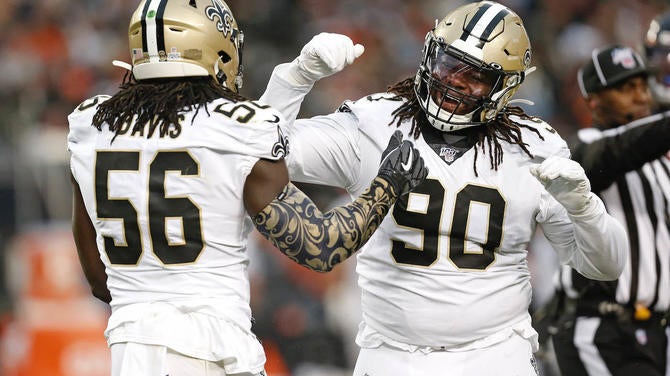 We can all agree teams like the Dolphins, Eagles and Chiefs should be in the mix to make playoff noise. But here are a couple of other teams who deserve some sleeper consideration, even if just as late-year surprises:
60. The Saints have really struggled to get points on the board even with experienced starters like Derek Carr and Alvin Kamara on offense, but they're in a wide-open division with a stingy defense. Hosting a wild-card game wouldn't be wild.
61. The Seahawks do not have the balance of their NFC West rival 49ers, and Geno Smith's interceptions are becoming something of a weekly concern. But they're physical with a stout run "D," which bodes well for the winter months.
62. The Vikings' hopes of catching up to the Lions all but evaporated when Kirk Cousins went down. But Josh Dobbs' arrival — and Justin Jefferson's eventual return — should keep them feisty as long as Brian Flores' defense stays aggressive.
63. The Browns can't be taken seriously until they find some semblance of rhythm at QB, where Deshaun Watson's yet to even stay on the field. But a strong defensive front should help them remain a tough out for the duration of the season.
64. The Texans are probably a year away from truly contending, but rookie QB C.J. Stroud has been more polished than expected, while new coach DeMeco Ryans' defense is keeping them in ballgames on a weekly basis.
Crucial matchups remaining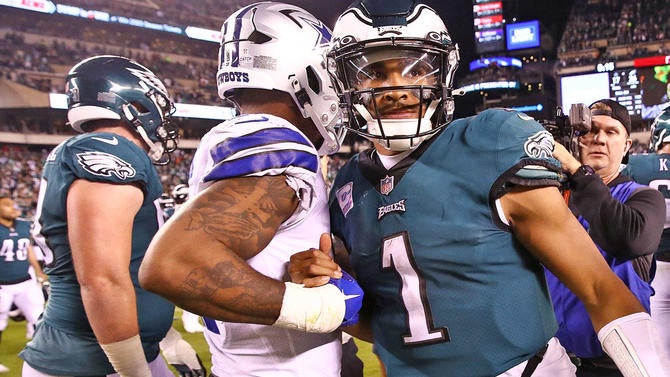 Note: Prime-time games marked with an asterisk.
65. Chiefs vs. Dolphins (Week 9)
66. Cowboys at Eagles (Week 9)
67. Bills at Bengals (Week 9)*
68. 49ers at Jaguars (Week 10)
69. Lions at Chargers (Week 10)
70. Bengals at Ravens (Week 11)*
71. Jets at Bills (Week 11)
72. Eagles at Chiefs (Week 11)*
73. 49ers at Seahawks (Week 12)*
74. Bills at Eagles (Week 12)
75. Ravens at Chargers (Week 12)*
76. Seahawks at Cowboys (Week 13)*
77. 49ers at Eagles (Week 13)
78. Bengals at Jaguars (Week 13)*
79. Bills at Chiefs (Week 14)
80. Eagles at Cowboys (Week 14)*
81. Cowboys at Bills (Week 15)
82. Ravens at Jaguars (Week 15)*
83. Bengals at Steelers (Week 16)
84. Cowboys at Dolphins (Week 16)
85. Ravens at 49ers (Week 16)*
86. Jets at Browns (Week 17)*
87. Lions at Cowboys (Week 17)*
88. Dolphins at Ravens (Week 17)
89. Bengals at Chiefs (Week 17)
90. Bills at Dolphins (Week 18)
Predictions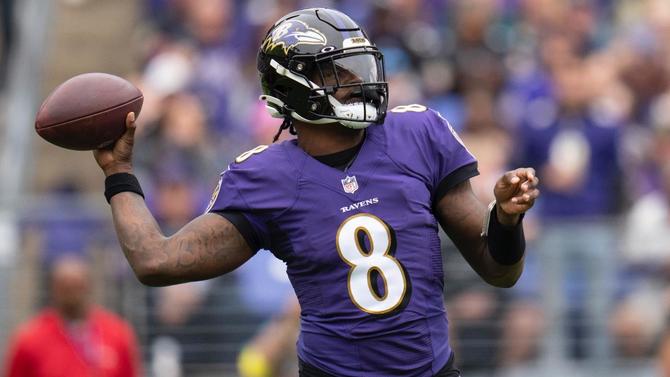 91. The Chiefs overcome their relatively slow start to capture their eighth consecutive AFC West title, plus the AFC's No. 1 seed.
92. The Ravens win a tough AFC North, and Lamar Jackson finishes as a top MVP vote-getter in the process.
93. The Dolphins get a full 17-game slate from Tua Tagovailoa, who outduels Josh Allen in Week 18 to enter the playoffs.
94. The 49ers are forced to call upon QB Sam Darnold before the end of the year but still win the NFC West.
95. The Saints overtake the Falcons to win the NFC South, finishing with a top-five defense.
96. The Lions run away with the NFC North, but elsewhere in the division …
97. The Vikings sneak into the playoffs despite losing Kirk Cousins, with Kevin O'Connell drawing Coach of the Year consideration.
98. The Commanders announce a mutual head coaching change immediately following Week 18.
99. The Jaguars contend for the AFC's top seed, then later upset the reigning champion Chiefs in the playoffs.
100. The Eagles outlast the Cowboys in the NFC East, ensuring Nick Sirianni's third straight trip to the postseason.