Part of college basketball's beauty is its unpredictability. Just one year after the 2022 NCAA Tournament produced a blue blood special of Duke, North Carolina, Villanova and Kansas in the Final Four, the 2023 Big Dance veered hard in an unexpected direction. The Final Four featured three first-time guests — FAU, Miami and San Diego State — along with No. 4 seed and eventual national champion UConn.
UConn, Miami and FAU were unranked to begin last season, while San Diego State was 19th. Meanwhile, North Carolina became the first preseason No. 1 team to ever miss the NCAA Tournament. Now, with the arrival of the 2023-24 season, it's time to embrace the possibilities once again.  
When the ball is tipped Monday around the country, it will mark the beginning of a five-month journey that will culminate in Glendale, Arizona, for the 2024 Final Four. Opinions on who will be at State Farm Stadium on the first weekend of April vary tremendously within our panel of six experts here at CBS Sports. Collectively, we've picked 13 teams to reach the Final Four, with three different teams coming out on top as national champions.
Below, you'll find those attempts to predict what's in store for the thoroughly unpredictable sport of college basketball in the 2023-24 season. 
2024 Final Four predictions
Predicted champions 

Kansas: The Jayhawks have won two national championships under Bill Self and would've been the favorite in 2020 if not for a global pandemic leading to the cancellation of the NCAA Tournament. Now, here they are again, No. 1 in the preseason AP Top 25 and the favorite in betting markets to win the 2024 NCAA Tournament largely because of Self's presence, the return of starters Dajuan Harris, Kevin McCullar and K.J. Adams and the addition of transfers Hunter Dickinson and Nick Timberlake. Kansas has talent, experience, depth and a coach who has been labeled the best in the sport by a panel of CBS Sports writers and analysts two straight years. That's a great combination and why I believe the Jayhawks are the team most likely to win the national championship, which would make Self just the seventh Division I men's coach in history to claim three NCAA Tournament titles. — Gary Parrish (also David Cobb, Jerry Palm)
Purdue: There have only been two No. 1 seeds in NCAA Tournament history to lose to a No. 16 seed. One was Virginia in 2018, but the Cavaliers rebounded in the best way possible by winning the NCAA championship the following year. The other is Purdue in 2023, and I believe the Boilermakers can replicate Virginia's follow-up. Purdue has the biggest weapon in the sport — reigning Player of the Year Zach Edey — and a more experienced supporting cast that has all the chips on all the shoulders to come back better this season. The majority of the team's core is back in place this season, and with an offseason to process and improve upon a heartbreaking postseason loss, I'm betting Purdue finds a way to turn this into a feel-good story for the ages. — Kyle Boone (also Matt Norlander)
Duke: Duke brings back four starters from a team that won the ACC title in Jon Scheyer's first season at the helm, and the program parlayed that success on the recruiting trail by bringing in the No. 2 overall class. Guard play still matters in March, and Tyrese Proctor, Jeremy Roach and Jared McCain are the three standouts at the position. The 2023-24 season is still the year of the big man, and it's hard to argue against Kyle Filipowski being the No. 2 overall player behind reigning National Player of the Year Zach Edey. The Blue Devils have a combination of experience and youth that makes the perfect recipe for a national title returning to Durham, North Carolina. — Cameron Salerno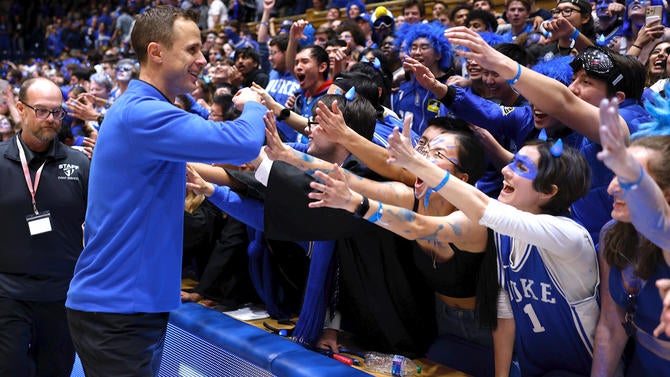 Predicted Final Four teams
FAU: The biggest mistake some make while discussing FAU is insisting the Owls "just got hot in the NCAA Tournament to make the Final Four" rather than acknowledging that they were just really good all season. FAU went 35-4 while playing in a league with two other top-50 KenPom teams. The Owls won their conference by multiple games. They won the title game of their conference tournament by 22 points. They beat the Memphis team that beat Houston in the AAC Tournament, beat the Tennessee team that eliminated Duke from the NCAA Tournament and beat the Kansas State team that eliminated Kentucky and Michigan State from the NCAA Tournament. Now, all five starters are back from that incredibly accomplished team, which is why there's nothing crazy about suggesting Florida Atlantic really does have the coach and players to make back-to-back Final Fours even though the program had zero NCAA Tournament wins in history prior to its run last March. — Parrish
Texas A&M: My Final Four picks are annually a package of teams that I intentionally choose to NOT all be ranked in the top 4/5/6 of my annual top 101 rankings. Keep in mind, with one exception (2007-08), the four Final Four teams were not ranked in the preseason top five. So, I'm looking for realistic picks that aren't obvious acros the board. I am the only one of the six here to pick A&M to go to Glendale. I like the Aggies' chances to win the SEC a year removed from finishing second with a 15-3 record and returning the fourth-highest percentage of minutes-getters in high-major basketball (Wisconsin, Purdue and Marquette, per BartTorvik.com). Look for junior lead guard Wade Taylor IV to emerge as one of the best backcourt scorers in the nation. One caveat here, though: My A&M pick was made before it was revealed that Julius Marble is currently away from the team for reasons that haven't been disclosed. His role is a major one to A&M's season-long viability, so we await more with that. (If Marble winds up not being on the team, I would tap Marquette as a sub here.) — Norlander
Texas: You're seeing some love for second-year coach Jon Scheyer in our preseason Final Four picks, but let me give second-year Texas coach Rodney Terry — who is in his first season as the full-time leader of the Longhorns — some support. Texas was a No. 2 seed last season and made the Elite Eight, finishing fifth at KenPom in the process. That's a great year. The Longhorns brought on one of the best scorers in the country, Max Abmas from Oral Roberts, and could have an elite two-way guard in the Big 12 with junior Tyrese Hunter. Dillon Mitchell had a soft opening as a freshman; look for him to pop. Dylan Disu's all-around value is about to become a lot more realized, too. I don't think Texas will win the Big 12, but I do think it's going to rack up Quad 1 wins and put itself in position to be on the 2-, 3- or 4-seed line. A team with all of the pieces to win four in the Big Dance, no doubt. — Norlander
Kentucky: Kentucky has not made it to the second weekend of the NCAA Tournament since 2019. It has lost to Kansas State, Saint Peter's and also missed the tourney entirely since then. So, the momentum for UK under John Calipari isn't there right now. I get it. But talent still matters more than I think the casual fan would care to acknowledge, and Kentucky has it in spades. Even with a completely suspect frontcourt thanks to preseason injuries, the Wildcats have two potential stars in Justin Edwards and DJ Wagner — the core pieces of a top-five incoming recruiting class. With Antonio Reeves back, there's a nice blend of experience and elite youthful talent to help Calipari get things back on track in Lexington. — Boone
UConn: Haters will point to the fact that going to back-to-back Final Fours is historically unlikely; the last team to do so was those mid-aughts Florida teams under Billy Donovan. The haters don't know Dan Hurley, though. UConn lost Adama Sanogo and Jordan Hawkins from its title-winning team, but the nucleus of Tristen Newton, Alex Karaban and Donovan Clingan are back combined with the arrival of potential one-and-done freshman Stephon Castle. This team will again have size, length and tremendous guard play — the recipe of a team that could, and I think will, be back in the Final Four this season. — Boone
Michigan State: Michigan State's combination of returning production and young talent is the perfect mix in today's era. The Spartans can turn to veteran guards like Tyson Walker, A.J. Hoggard and Jaden Akins in clutch moments and for consistent production. As the veterans guide the ship, a trio of top-50 freshmen can acclimate to the college game and blossom into key roles in time to shine by March. Tom Izzo has guided the Spartans to 25 straight NCAA Tournament appearances, including 15 Sweet 16s and eight Final Fours. This group has all the ingredients needed to add to his legacy. — Cobb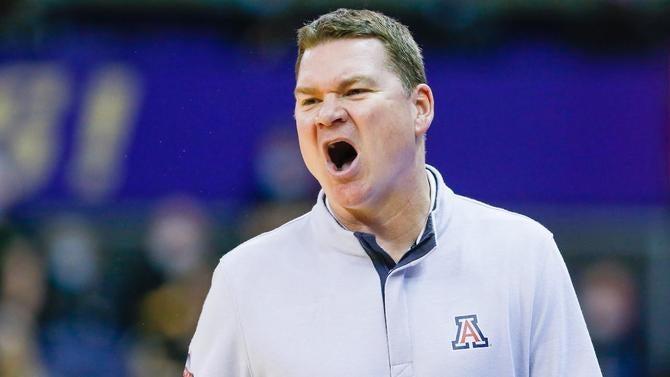 Arizona: Arizona is 61-11 (32-8 Pac-12) and has earned a No. 1 seed and No. 2 seed for the NCAA Tournament over the past two seasons to begin coach Tommy Lloyd's tenure. The Wildcats have made early exits from the Big Dance under Lloyd, but this team can be different. Former North Carolina guard Caleb Love has been to a national title game, so has San Diego State transfer forward Keshad Johnson. Both should be starters and will combine with a solid returning core of Kylan Boswell, Pelle Larsson and Oumar Ballo to give Lloyd another lethal offensive team. If Ballo can shine as the centerpiece of the frontcourt, the Wildcats will dance from their home in Tucson to a Final Four appearance just up the road in Glendale. — Cobb (also Norlander)
Marquette: Marquette was one of the pleasant surprises from last season. The Golden Eagles won the Big East regular season and tournament titles before earning a 2-seed in the NCAA Tournament. They fell victim to Michigan State in the second round, but almost everyone is back to give it another go. This season, like last, they are led by reigning Big East Player of the year Tyler Kolek.  Marquette went nine deep last year and Kolek is joined by seven other returning Golden Eagles from last season's rotation. The only player who left was Olivier-Maxence Prosper, who is now prospering (pun intended) in the NBA. The Big East figures to be highly competitive again this season, so a top seed in the NCAA Tournament may be too much to ask, but Shaka Smart's crew will be well prepared for a deep run in the NCAA Tournament. — Palm

Creighton: Creighton was seconds away from reaching its first Final Four in program history before San Diego State's Darrion Trammell knocked down a free throw that sent the Bluejays packing. Creighton brings back the best trio in the Big East in Ryan Kalkbrenner, Baylor Scheierman and Trey Alexander, and it added Utah State transfer Steven Ashworth to replace former point guard Ryan Nembhard. The Big East will be a grind, and there are three teams — UConn, Marquette and Creighton — that all have a legit chance of reaching the final weekend of the season. This is the year the Bluejays get over the hump, largely because of their returning experience. — Salerno (also Boone)
USC: The Trojans are ready to make a run. USC brings back star guard Boogie Ellis, who will be paired in the backcourt with Isaiah Collier, who is considered one of the top point guards from the 2023 recruiting cycle and the favorite to win Freshman of the Year. By season's end, we could be having a conversation about Ellis and Collier being the top backcourt in America because of how well they complement each other. The biggest storyline surrounding the Trojans program is the status of Bronny James, who suffered a scary heart-failure incident over the summer and has no timeline for a return. If USC can get James back in any capacity, he would be the perfect role player to pair with Collier and Ellis. USC was on the cusp of reaching the Final Four in 2021, and this is the season the program ends its 70-year drought. — Salerno