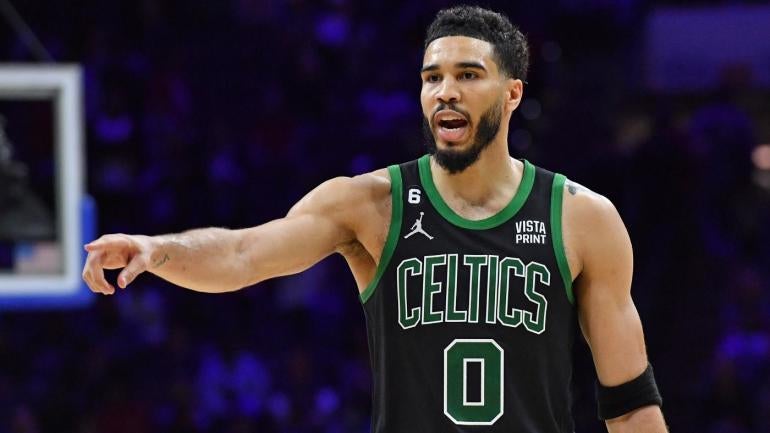 USATSI
Jayson Tatum wrote his name in the history books on Saturday night during the Boston Celtics' 124-114 win over the Brooklyn Nets at Barclays Center. With a slick and-one in the paint, Tatum became the youngest Celtics player — and 10th youngest in NBA history — to reach 10,000 career points. 
In the middle of the second quarter, Tatum, who finished with 32 points and 11 rebounds, was posting up Cam Thomas at the 3-point line, and caught the Nets youngster leaning the wrong way. As soon as he received the pass from Jrue Holiday, Tatum spun to his right, took two dribbles and then spun back to his left, leaving the Nets' defense in disarray. All Thomas could do was foul him, but that was no problem for Tatum, who finished the layup anyway before converting the and-one. 
Tatum reached the mark at 25 years, 246 days old, surpassing Antoine Walker on the team's record books by nearly a year. Here's where Tatum stands in NBA history among the youngest players to reach the milestone:
LeBron James: 23 years, 59 days
Kevin Durant: 24 years, 33 days
Kobe Bryant: 24 years, 194 days 
Carmelo Anthony: 24 years, 251 days
Tracy McGrady: 24 years, 272 days
Giannis Antetokounmpo: 25 years, 45 days
Devin Booker: 25 years, 60 days
Dwight Howard: 25 years, 95 days
Bob McAdoo: 25 years, 137 days
Jayson Tatum: 25 years, 246 days
That's an exclusive group filled with current and future Hall of Famers, and while Tatum still has a long way to go in his young career, this achievement is yet another reminder that he's on that sort of trajectory. 
Tatum, who is also the only player in NBA history with 10,000 points and 1,000 made 3-pointers before turning 26, is off to a tremendous start this season. After another strong outing versus the Nets, Tatum is up to 30.2 points, 9.6 rebounds, and 3.4 assists per game on 55.0/45.2/84.6 shooting splits. 
The Celtics, as a result, remain the only undefeated team in the league. 
Our Latest NBA Stories