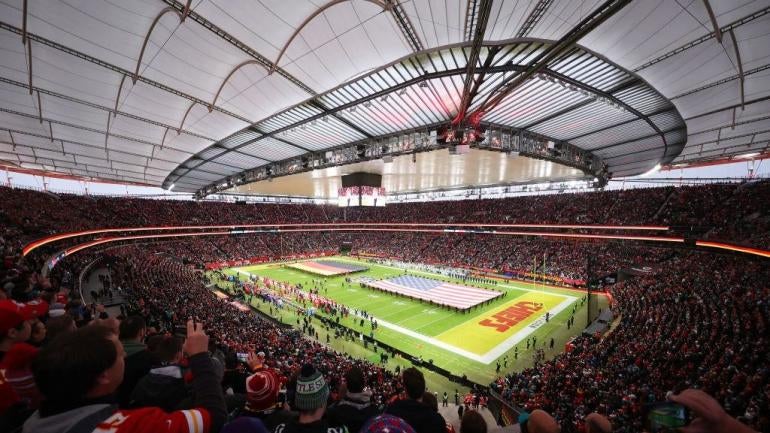 Getty Images
For the Miami Dolphins, there was no one who was busier in the first half than Jake Bailey. With Miami's offense struggling against the Chiefs during the first two quarters of the game, Bailey had more punts in the FIRST HALF (5) on Sunday than he's had in any GAME this season for Miami. 
Although punts don't usually make the highlight reel, Bailey did have a punt near the end of the first half that was pretty wild and that's because it HIT THE VIDEOBOARD at Deutsche Bank Park in Frankfurt, Germany. 
If you watch the video below, you can see how much height Bailey had to get on his punt to hit the video board. 
The punt that hit the video board got downed at the Chiefs' 8-yard line, but unfortunately for Bailey, the kick didn't count. When something like that happens in the NFL, the play is simply whistled dead, so Bailey had to kick the ball again. On his second punt, Mecole Hardman returned the kick to Kansas City's 32-yard line. The good news for the Dolphins is that the 24-yard gain in field position for Kansas City didn't end up mattering, because the Chiefs kneeled the ball on the ensuing play to take the game to halftime. 
Overall, Bailey had a pretty impressive first half. Not only did he pin the Chiefs inside their own 20 with three of his five punts, but two of those punts ended up pinning Kansas City inside its own 10. 
Bailey saw a lot of action because the Dolphins simply couldn't move the ball against the Chiefs defense. Overall, the Dolphins totaled just 110 yards during the first half while going 0-for-5 on third down. 
The Chiefs led 21-0 at the half and if you want to keep tabs on all the action in Germany, be sure to follow our live blog here.