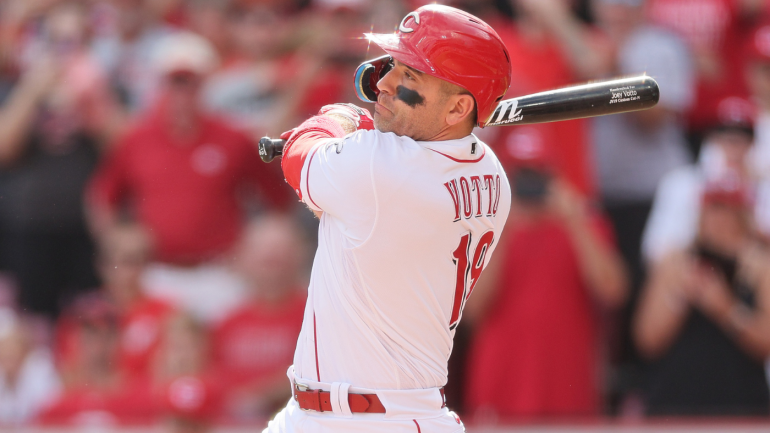 Getty Images
After 17 seasons in a Cincinnati Reds uniform, Joey Votto's time with the club appears to have come to an end. 
President of baseball operations Nick Krall on Saturday announced that the team was moving on from Votto, which means they will pay the $7 million buyout in his contract and decline his $20 million club option for 2024. 
Here is Krall's statement in full: 
"For 17 seasons, Joey has been the heart of Reds baseball as a Most Valuable Player, All-Star and respected clubhouse leader. His contributions to our team and his extraordinary generosity toward those in need, throughout our region and beyond, cannot be measured. 

"At this point of the off-season, based on our current roster and projected plans for 2024, as an organization we cannot commit to the playing time Joey deserves. He forever will be part of the Reds' family, and at the appropriate time we will thank and honor him as one of the greatest baseball players of this or any generation."
Votto, now 40, was originally drafted by the Reds as a second-rounder in 2002 out of Richview Collegiate Institute in his native Toronto. As a 23-year-old in 2007, Votto arrived in Cincinnati and thus began one of the greatest careers in franchise history. Across those 17 seasons, Votto put up an OPS+ of 144 – including a career OBP of .409 – and amassed 2,135 hits; 356 home runs; 1,144 RBI; 1,171 runs scored; and 1,365 walks. Along the way, Votto earned an All-Star selection six times, won a Gold Glove, and claimed National League MVP honors in 2010. Votto's career WAR of 64.4 is the fourth-highest ever by a Reds player, trailing just Pete Rose, Johnny Bench, and Barry Larkin. That WAR figure also means Votto has a credible case to be elected to the Baseball Hall of Fame one day. 
His age, declining performance at the plate, and recent history of injuries may all prompt Votto to retire. However, he chooses to move forward, he stands as one of the greatest and most beloved players of his generation.