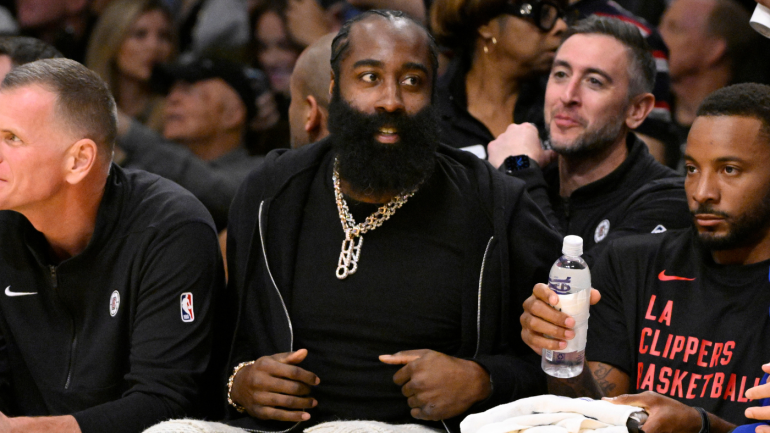 Getty Images
The James Harden era with the Clippers will begin soon, as the superstar guard is expected to make his debut with his new team against the New York Knicks in Madison Square Garden on Monday night, per The Athletic's Shams Charania. 
Harden was traded to the Clippers in the early morning hours on Oct. 31, when he was sent with PJ Tucker to L.A. from the Philadelphia 76ers in exchange for Robert Covington, Nic Batum, Marcus Morris, KJ Martin, an unprotected 2028 first-round pick, two second-round picks, a first-round pick from the Thunder and a first-round pick swap. Harden initially requested a trade from Philadelphia during the offseason, with the Clippers as his preferred destination. After months of on-and-off trade talks, Harden finally got his wish last week and joins his fifth team. 
Charania reports that the Clippers are planning on a starting lineup that will feature Harden, Russell Westbrook, Kawhi Leonard, Paul George and Ivica Zubac. Harden immediately becomes L.A.'s best facilitator and playmaker, as he led the league in assists a season ago (10.7). He'll be able to control the pace of L.A.'s offense and ease the playmaking load off of Leonard and George's shoulders.
On the surface it may seem like a backcourt of Harden and Westbrook may not work, but in the one season the tandem played together in Houston, the Rockets had a plus-5.6 net rating when those two shared the floor. That team went on to make the Western Conference semifinals, where they lost to the eventual champion Los Angeles Lakers.
That's a positive stat as the Clippers try to make this core of players work after years of falling short of their championship goals. With Leonard and George becoming free agents this summer — as well as Westbrook and Harden — there's a significant amount of pressure on this team to make a run in the postseason.