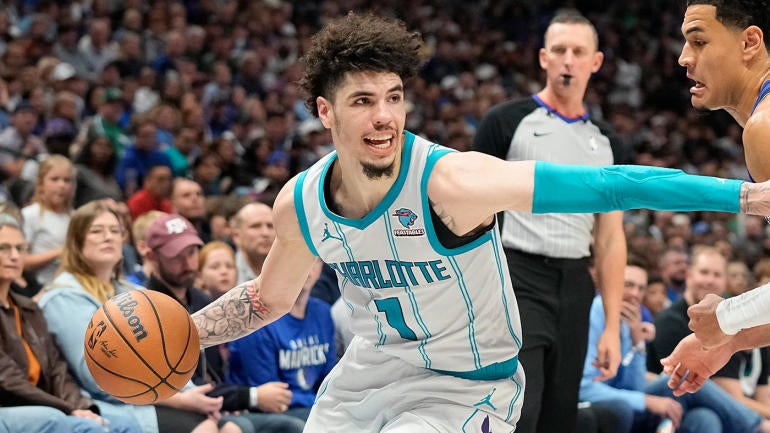 Getty Images
Charlotte Hornets point guard LaMelo Ball had a quiet first three quarters in Sunday night's 124-118 loss to the Dallas Mavericks, but he sure made up for it in the final period. Ball scored 23 of his 30 points in the fourth quarter as he went back-and-forth with Mavericks star Luka Doncic with the game in the balance.
Ball came out on the short end by losing the game, but he made history in the process. In addition to his 30 points, Ball had 13 assists and 10 rebounds, which placed him alongside Anthony Mason as the only players in Charlotte Hornets history to put up a 30-point triple-double. Since Mason's game went to overtime, however, that means that Ball is the only player in franchise history to have a 30-point triple-double in regulation.
Ball also became the first Hornets player to ever reach double-digit career triple-doubles. He's just 22 years old.
Ball went 5-for-10 from 3-point range, including some bombs from way beyond the arc, but the bucket that gave him his historic achievement was a smooth, hand-switching lefty reverse layup with less than a minute left. Here's a highlight reel from his record-setting performance:
Ball has put up remarkable statistics since coming into the league as the No. 3 overall draft pick in 2020. Entering Sunday night, he carried career averages of 19.3 points, 7.4 assists and 6.3 rebounds per game, while shooting 37% on 7.5 3-point attempts per game. In July, he signed a five-year, $260 million extension with the Hornets.
As a 6-foot-7 guard with elite vision and passing ability, Ball is a matchup nightmare for opponents. The biggest questions surrounding his career thus far have been his defense and his finishing ability, but he has plenty of time to develop those areas as he progresses. Sunday night's loss brought the Hornets to 2-4 on the season, while the Mavs improved to 5-1.