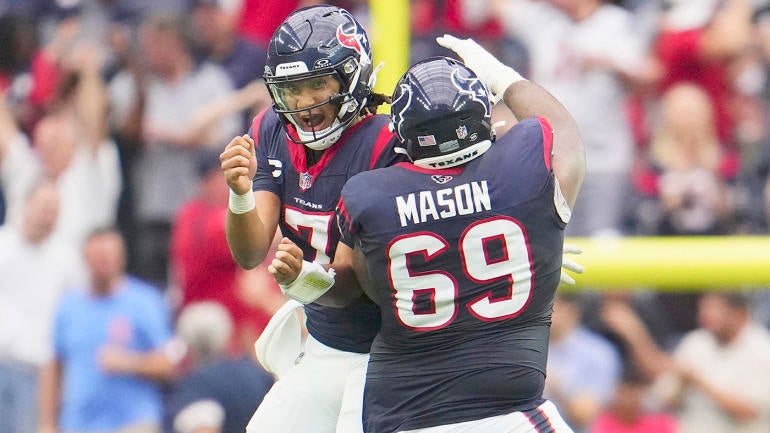 Getty Images
Welcome to the Week 9 grades!
If you're wondering what the wildest game of the week was, that would definitely be Buccaneers-Texans. In what was easily one of the craziest finishes of the season, Houston topped Tampa Bay 39-37, thanks to a record-setting performance from C.J. Stroud, who threw a TD pass with just six seconds left to seal the win. 
The Texans rookie QB set the record for most passing yards by a rookie with 470. His total topped the old record of 433, which had been held by Andrew Luck. 
Stroud also became just the third QB in NFL history to throw for at least 470 yards and five touchdowns with zero interceptions, joining Y.A. Tittle and Ben Roethlisberger. 
As if that wasn't impressive enough, the Texans also used a RUNNING BACK as their kicker in the second half. After an injury to Ka'imi Fairbairn, the Texans called upon Dare Ogunbowale, who hit a key 29-yard field goal in the fourth quarter. 
With the make, Ogunbowale became: 
The first non-kicker or punter with a field goal since 2004, when Wes Welker did it.
The first running back with a field goal since Tony Galbreath in 1979.
The Texans have suddenly turned into one of the most exciting teams in the NFL. With that in mind, let's get to the grades. We'll start with the game in Germany and then move on to the Texans. 
Kansas City 21-14 over Miami in Germany
Dolphins-Chiefs grades by Tyler Sullivan (Love the grades? Hate the grades? Let him know on Twitter.)
Houston 39-37 over Tampa Bay
Buccaneers-Texans grades by John Breech (Love the grades? Hate the grades? Let him know on Twitter.)
Baltimore 37-3 over Seattle
Seahawks-Ravens grades by Jordan Dajani (Love the grades? Hate the grades? Let him know on Twitter.)
Minnesota 31-28 over Atlanta
Vikings-Falcons grades by John Breech (Love the grades? Hate the grades? Let him know on Twitter.)
Cleveland 27-0 over Arizona
Cardinals-Browns grades by John Breech (Love the grades? Hate the grades? Let him know on Twitter.)
Green Bay 20-3 over L.A. Rams
Rams-Packers grades by John Breech (Love the grades? Hate the grades? Let him know on Twitter.)
Washington 20-17 over New England
Patriots-Commanders grades by John Breech (Love the grades? Hate the grades? Let him know on Twitter.)
New Orleans 24-17 over Chicago
Bears-Saints grades by John Breech (Love the grades? Hate the grades? Let him know on Twitter.)
Indianapolis 27-13 Carolina
Colts-Panthers grades by John Breech (Love the grades? Hate the grades? Let him know on Twitter.)
Las Vegas 30-6 over N.Y. Giants
Giants-Raiders grades by John Breech (Love the grades? Hate the grades? Let him know on Twitter.)
Philadelphia 28-23 over Dallas
Cowboys-Eagles grades by Jeff Kerr (Love the grades? Hate the grades? Let him know on Twitter.)
Cincinnati 24-18 over Buffalo
Bills-Bengals grades by John Breech (Love the grades? Hate the grades? Let him know on Twitter.)
Pittsburgh 20-16 over Tennessee (Thursday)
Steelers-Titans grades by John Breech (Love the grades? Hate the grades? Let him know on Twitter.)
Our Latest NFL Stories