What a wild year it's been for Alabama quarterback Jalen Milroe. In three months, the question about Milroe has shifted from "Is he the guy who can lead this Alabama offense?" to "What would the Alabama offense do without him?"
Milroe's performance in Alabama's 42-28 win over LSU, in my eyes, was his most impressive in an Alabama uniform. Not because of the stats he put up, but why and how he and the Crimson Tide offense adjusted to what was in front of them.
When Milroe was benched following a 34-24 loss to Texas in Week 2, it was a question of fit. Milroe fought all offseason to succeed the No. 1 pick in the 2023 NFL Draft, Bryce Young. New offensive coordinator Tommy Rees was in the process of learning his players and trying to fit them into his offense while the players were all trying to learn the offense.
Early on, it wasn't working. Rees and Alabama were trying to put a square peg into a round hole and decided to find a differently shaped peg. When neither Tyler Buchner nor Ty Simpson proved to be the answer, the Tide returned to Milroe. Thus began a collaborative process: Milroe picked up more of Rees' offense and Rees adapted his offense to Milroe's strengths. 
Ever since, Alabama has used a passing attack that I refer to as the "Dink and Detonate Offense." It's primarily a combination of easy, short throws and deep bombs, which are easier for Milroe. The intermediate stuff has been removed for the most part, and the results have been outstanding.
I expected to see more of it Saturday night against LSU. The Tigers secondary had been torn apart all year and there was little reason to believe Alabama wouldn't continue operating as it had been. I was wrong.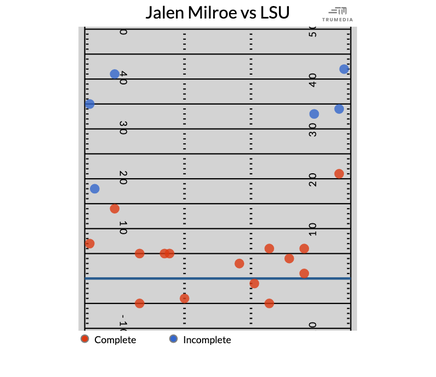 The reason Milroe rushed for 155 yards and four touchdowns on Saturday night was that LSU managed to take away his greatest strength as a passer: The deep ball. In five SEC games since being reestablished as the starter, Milroe completed 25 of 40 passes of at least 15 air yards for 764 yards and 11 touchdowns. That was an average of five completions per game on eight attempts.
Against LSU, Milroe was 1 of 7 on the same throws. The lone completion was for 21 yards to Isaiah Bond.
LSU's game plan was smart and effective, but Milroe and Alabama overcame it anyway. A good team or player figures out their strength and plays to it, but the great ones figure out ways to win when their strength is taken away.
"I'm excited for this team because we're not a finished product," said Milroe after the game. "We're excited for what's to come."
I could say the same thing about him. He's not the same player he was in September, nor is Alabama the same team. It has been improving steadily as the season's progressed, and once again it looks like a team capable of crashing somebody else's playoff party and making it their own.
Rivalry Game of the Week
Oklahoma State beat Oklahoma 27-24 in what will likely be the last Bedlam game we see for quite a while. It was yet another classic between the state rivals, and it had everything. It was a close game that came down to the final snaps and included a controversial no-call that Sooners fans will use as a coping mechanism for years to come. 
But as Okahoma State players and fans ran onto the field to celebrate, I was overcome with sadness. This sport keeps losing rivalries like this to realignment and the College Football Playoff. I don't want to sound like a bitter old man yelling at the tide coming in, but I hate losing things like this.
Next season, the College Football Playoff will expand to 12 teams and become an even greater focus. We're already to a point where if you aren't competing for the playoff, you "don't matter." I don't think this is good for the long-term health of the sport. 
Rivalries like Bedlam bring a human element that deepens the connection we have to college football. Bedlam existed for 110 years before the College Football Playoff, and until now it survived various conference alignments for both schools. I guarantee this rivalry has meant a lot to players and fans regardless of conference affiliations or playoff implications. The more rivalries like this one we lose, the looser that connection to a shared sense of importance becomes. There's no way I can be convinced this is a good thing, no matter what television ratings say.
Dominant Michigan Statistic of the Week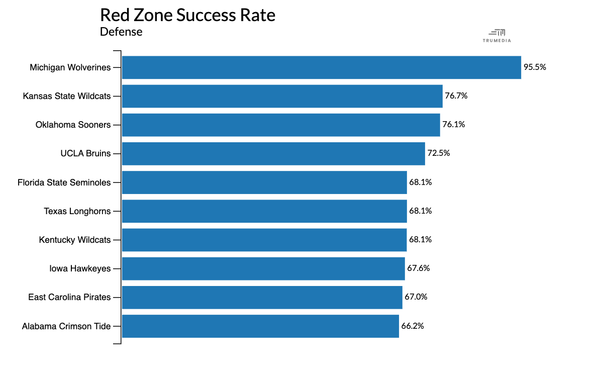 We'll learn more about Michigan next week when it faces Penn State than we've learned up until this point in the season, but there is no denying that no team in the country has been more dominant. That was the case again in the Wolverines' 41-13 win over Purdue, but are there signs Big Blue is slipping?
Purdue's 13 points were the most allowed by Michigan this year! Sure, the last touchdown came in the final seconds, but every point counts!
It's fun to look at some stats and be reminded of how much better Michigan has been than everybody else, and the stat that caught my eye is its defensive success rate in the red zone. In layman's terms, success rate is determined by whether you added to your team's chance to score points (or, in the defense's case, take points away) on a given play. As you can see when it comes to the red zone, Michigan's defense has been pretty successful.
As impressive as that 95.5% success rate in the red zone is, however, there's another stat I want to bring up. I've brought it up before, but it still holds true and grows more impressive every week. Michigan has played nine games. Its defense has been on the field for 490 snaps. Not a single one of them has come with the opposition in a goal-to-go situation. That's right — nobody has managed a single first-and-goal against Michigan this year. The next-closest defense is Virginia Tech, which has taken 11 snaps in a goal-to-go situation.
On the other end of the spectrum, Missouri's defense has played 61 such snaps. Michigan has only allowed six touchdowns on the season, and they've come by an average of 44.3 yards. You either score from midfield, or you don't score at all on this team.
Shout-Out of the Week
Speaking of Michigan, this is elite scoreboard trolling from UNLV. You may remember the Rebels lost to Michigan 35-7 earlier this season, but we all know that there's no way that would've happened if Connor Stalions hadn't (allegedly) stolen all UNLV's signals. Allegedly.
Best Play Design of the Week
There are plenty of things about Lincoln Riley and USC that you can criticize (and I have), but there are also plenty of positives. Riley remains one of the most creative offensive minds in the sport, and it was on display with this flea-flicker design that led to a USC touchdown.
Not only was it a good idea, but it was something nobody has ever seen before and executed to perfection. 
Second-Best Play Design of the Week
I saw people refer to this as a Fumblerooski, but there's no fumble. Rutgers QB Gavin Wimsatt hands the ball directly to Kyle Monangai, who picks up a first down and a lot more. It's an excellent pivot off the Tush Push, which is what everybody expects. Instead, the between-the-legs handoff provides time to suck the defense into the interior, and then it's an easy race to the edge for the back to easily pick up the first down and possibly more. Monangai found the more.
Unfortunately, Rutgers couldn't convert the play into a touchdown and ultimately lost the game. Similarly, USC went on to lose to Washington. I guess the lesson here is coming up with cool new plays costs you games? That doesn't seem right!
Backup QB of the Week
Put on your imagination caps. You're a quarterback who spent four years at a Group of Five school, serving as a starter in the fourth year, and you have one year of eligibility left. You decide to transfer to a Power Five school to give it a shot. You transfer to the school where your family members have played dating back generations. You compete for the starting job knowing the chances aren't great as the school has already accepted another, more heralded transfer from another Power-Five school who has an inside track.
You go anyway, you compete for the gig and win the backup job. Now it's November. While you've played in some mop-up duty, you've spent most of the season standing on the sideline holding a clipboard. That's where you are on the road late in the game with your team trailing. You had the lead, but fourth-quarter turnovers cost you. In the game's final minutes, your team needs a touchdown.
On a third down deep in your end of the field, you watch the starting QB get sacked from behind. He is slow to get up and needs to leave the game. Your number is called.
Without warming up, you're in the huddle. You have the ball at your 15-yard line. There's a minute left and you have no timeouts. Oh, and it's fourth-and-11. On your first snap since late September, you find your receiver for a 22-yard gain and a first down. Now you're at the 37; you hurry to the line and run another play. This time, you find your target for a 17-yard gain. Again, you race to the line as the clock continues to tick.
Then you take the snap, avoid the pressure, remember to look off the safety, step up in the pocket and fire a pass that splits the safeties and finds your receiver in stride behind them for a 46-yard touchdown.
Three plays, three passes, 85 yards and a game-winning touchdown. That was John Paddock's Saturday when the Ball State transfer stepped in for an injured Luke Altmyer and led Illinois to a 27-26 road win over Minnesota.
Low Blow of the Week
Texas A&M's Shemar Turner was ejected for this low blow against Ole Miss offensive lineman Micah Pettus. Which, come on, bro. There are certain lines we don't cross.
Everybody knows that the only time you punch a guy below the belt like this is when that guy is your friend and they aren't expecting it, and all of your friends are around. Then it's funny.
As for Pettus, he was kind enough to let us know after the game that he survived this vicious attack.
Under-the-Radar Circus Game of the Week
Saturday night featured two high-profile shootouts with Washington beating USC 52-42 and Alabama knocking off LSU 42-28. While most of the college football world watched those games, earlier in the day there was an even crazier game that took place.
Memphis beat South Florida 59-50 in a game that finished with 1,163 yards of offense and 15 touchdowns. Even crazier, of the 15 touchdown drives in the game, none took more than 4 ½ minutes off the clock (Memphis had an eight-play, 75-yard drive that took 4:23). Six of the 15 touchdown drives lasted five plays or fewer. Four of them didn't even last longer than a minute of game time.
Every time you blinked, somebody scored a touchdown.
Whoopsy Daisy Rate Leaderboards of the Week
| QB | Lowest WDR | QB | Highest WDR |
| --- | --- | --- | --- |
| 1. Drew Allar, Penn State | 0.34% | 1. Henrich Haarbert, Nebraska | 4.55% |
| 2. Bo Nix, Oregon | 0.37% | 2. Jeff Undercuffler, Akron | 4.07% |
| 3. Shedeur Sanders, Colorado | 0.92% | 3. Keyone Jenkins, FIU | 3.73% |
| 4. Gavin Wimsatt, Rutgers | 1.02% | 4. Josh Hoover, TCU | 3.46% |
| 5. Michael Alaimo, Kent State | 1.03% | 5. Mitch Griffis, Wake Forest | 3.28% |
| 6. Drake Maye, North Carolina | 1.06% | 6. Davis Brin, Georgia Southern | 3.27% |
| 7. Garrett Greene, West Virginia | 1.07% | 7. Brendon Lewis, Nevada | 3.25% |
| 8. Jordan Travis, Florida State | 1.09% | 8. KJ Jefferson, Arkansas | 3.22% |
| 9. Jayden Daniels, LSU | 1.16% | 9. Cam Fancher, Marshall | 3.21% |
| 10. Alan Bowman, Oklahoma State | 1.17% | 10. Brayden Fowler-Nicolosi, Colorado State | 3.15% |
We have new leaders on both ends of the board this week because Oregon's Bo Nix threw an interception in the Ducks' 63-19 win over Cal, allowing Penn State's Drew Allar to squeak by him for the lowest WDR on the season. Meanwhile, Nebraska's Heinrich Haarberg moves to the No. 1 spot on the other end of the board after he fumbled three times and threw two interceptions in Nebraska's 20-17 loss to Michigan State. The two fumbles give Haarberg 14 on the season, tying him with Caleb Williams for most in the country. However, Haarberg's 20 total Whoopsy Daisys are only the second-most in the country, trailing Georgia Southern's Davis Brin.
College Football Playoff Projection of the Week
The top eight teams in last week's College Football Playoff Rankings all won this weekend. That makes it more difficult to correctly project the top four like we did last week because it's hard to know what guidelines the committee will shift to find a way to change the rankings so we all have something to talk about.
Here's my best guess.
Georgia
Ohio State
Michigan
Washington
Until the next Monday After!