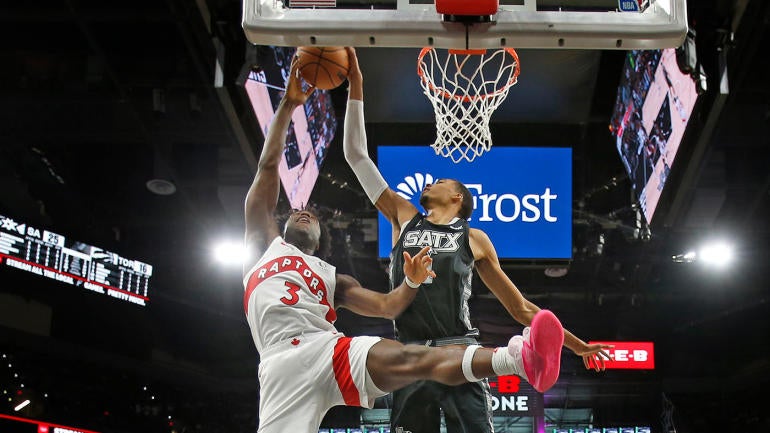 Getty Images
We're still early enough in the career of San Antonio Spurs phenom Victor Wembanyama that he'll likely be setting career milestones on a weekly, if not nightly, basis. But that doesn't mean we can't still celebrate the achievements of one of the best basketball prospects we've ever seen.
At 7-foot-4, Wembanyama displayed his offensive arsenal while notching a career-high 38 points in Thursday's win over the Phoenix Suns. And what did he do for an encore? Go out and set another career-best mark in Sunday's 123-116 overtime loss to the Toronto Raptors — this time on the defensive end.
Wembanyama blocked five shots for the first time in his young career, surpassing his previous mark of four set in Tuesday's win over Phoenix. It wasn't just the total number of Wembanyama's blocks that impressed, either. Look at how he absolutely smothers OG Anunoby as he tries to get a layup over Wembanyama's eight-foot wingspan.
That look on Wembanyama's face as he gathers the ball says everything. "How dare you try to test me, small person?" (Anunoby is 6-foot-7, just to give you a sense of scale). Anunoby was nearly left speechless when asked about the play after the game, laughing and repeatedly quipping, "He's too tall."
Perhaps even more impressive than on-ball blocks in the paint like that one, however, are Wembanyama's defensive efforts on the perimeter. He victimized Anunoby once again later in the game, this time on a corner 3-pointer, closing a gigantic gap in mere milliseconds. He also forced two airballs from 3-point shooters on a single possession, using his length to alter shots in a manner most other humans simply cannot achieve.
Wembanyama's offensive skill set will get a lot of the headlines, but his most immediate path to impacting winning is on the defensive side, where he has the potential to become a generational difference-maker very quickly. Career-high games like Sunday's only serve to emphasize the point, and you can safely bet that Wembanyama will break his own personal mark sooner rather than later.