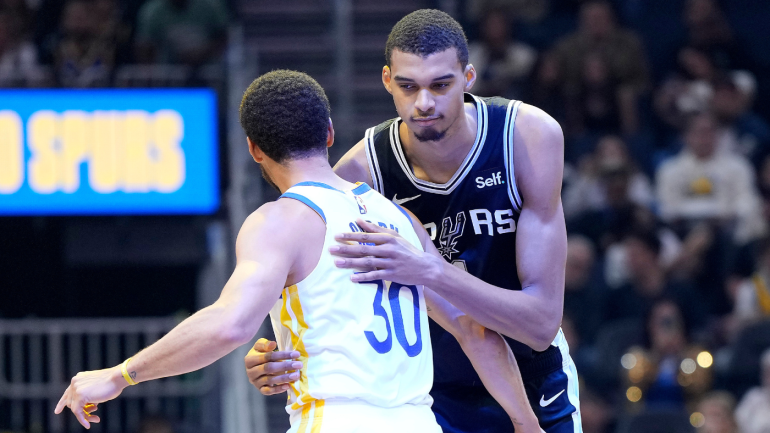 Getty Images
The NBA has spent the better part of the past decade struggling to settle on an All-Star Game format. Whether it was the All-Star Draft or the Elam Ending, the league has tinkered quite a bit with its marquee regular-season event without landing on a solution that has stuck. But commissioner Adam Silver acknowledged a popular idea on Monday when he announced that the Golden State Warriors would host the 2025 All-Star Game: the idea of an all U.S.-based roster facing off with a super team composed of players from around the world.
"I know we're busy already planning for new excitement, thinking about what All Star 2025 will be," Silver said. "People are out there talking about concepts like a Ryder Cup format – maybe US players playing against Global players. We're looking at all different approaches to All Star – stay tuned."
The NBA has become an increasingly global league, and the last five MVP winners have all been born outside of the United States. And while the league has never had an even split between American-born and foreign-born All-Stars, we are getting closer than ever. Last season saw the selection of eight All-Stars born in countries outside of the U.S., and with Victor Wembanyama's ascent looming, it shouldn't be hard to construct a team of international players capable of seriously competing with the Americans.
There would have to be plans in place to ensure fair representation on all sides, though. The agents of American-born players, for instance, would argue that limiting the All-Star pool to 12 American players would impact the earning potential of their clients, as All-Star selections play a significant role in contract negotiations. Additionally, the league would have to find a way to balance the rosters without excluding deserving players on either side. For now, there isn't an easy answer to that question. 
There's also the reality that this format could eventually grow stale. A player would only be eligible for one side, so if the same players are frequently selected, we'd wind up seeing very similar matchups every year. Of course, the possible benefit would be the development of real rivalries. The whole reason the NBA is looking for All-Star tweaks is to make the game more competitive, and this is one possible way of doing so.
The league is going back to the traditional East vs. West format for the 2024 All-Star Game. After that? Silver suggested that almost anything is possible. After failing to drum up interest with the Elam Ending or the All-Star Draft, Silver's proposed Ryder Cup format is the logical next attempt in the league's efforts to fix All-Star Weekend.