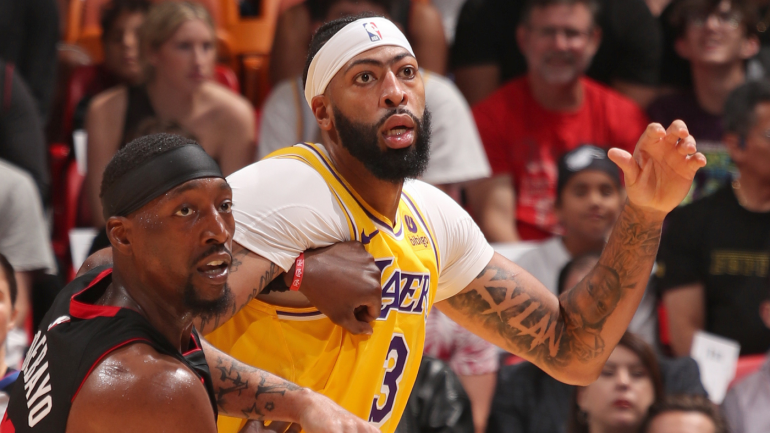 Getty Images
Anthony Davis is having one of the best seasons of his career thus far for the Los Angeles Lakers. Through his first six games, he was leading the NBA in blocks per game (3.7) while scoring over 26 points per game and pulling in a career-high 13 rebounds while averaging nearly 39 minutes per contest. But the fear with Davis has always been health-related, and on Monday, he seemingly sustained the first injury of his season.
Late in the second quarter against the Miami Heat, Davis was dealing with some clear pain in his left side. At halftime, The Athletic's Shams Charania reported that he was dealing with spasms in his hip and groin but would try to play through the pain in the second half. He was on the floor for the first few minutes of the third quarter, but ultimately could not stay in the game and had to return to the locker room. Davis finished with nine points, six rebounds and four assists in 25 minutes.
Fortunately for the Lakers, Davis said after the game — a 108-107 loss — that he is confident that he will suit up Wednesday, when the Lakers travel to Houston to face the Rockets. That is a major relief right now for a team that simply could not have afforded to be without their star big man for an extended period.
The Lakers (3-4) beefed up their frontline this offseason by adding Jaxson Hayes and Christian Wood, but have dealt with injuries across the roster this season. Gabe Vincent, Rui Hachimura and Jarred Vanderbilt are also dealing with injuries at the moment, and depth has been an issue even after the offseason upgrades the Lakers made to their roster.
The Lakers entered Monday ranked 20th in the NBA in defense, and that was even with Davis leading the league in blocks. Right now, their perimeter defense is struggling to stay in front of anyone without Vanderbilt sidelined, and the offense, which Davis leads in scoring, is ranked only 21st. the Lakers are very fortunate that this is a short-term injury, because this team simply is not equipped to survive without him for any significant stretch of time.