There's already some movement in the CBS Sports Top 25 And 1 after the first day of the college basketball season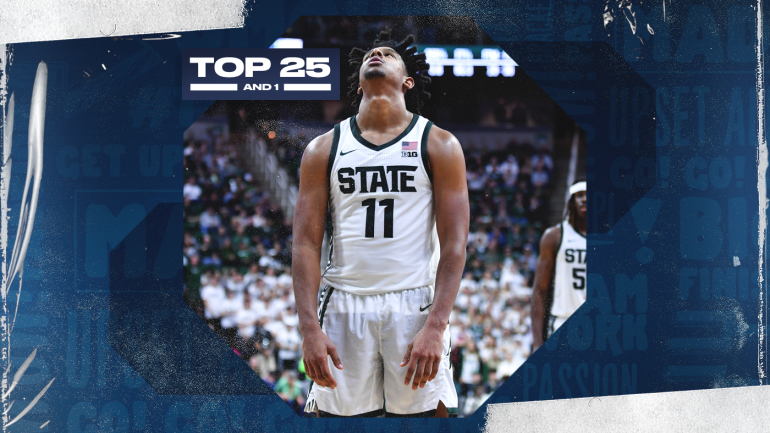 Getty Images
Full credit to USC's Andy Enfield and Kansas State's Jerome Tang for being comfortable and confident enough to schedule a real game on the opening day of the college basketball season. Without them, we would've had exactly zero contests featuring a ranked team and a point spread lower than 15.5 on Monday.
Yes, one of them was guaranteed to start 0-1.
That's never ideal for a projected NCAA Tournament team. But I still appreciated both men being willing to legitimately test their squads from the jump and provide an interesting television product that's good for the sport on the season's first night because so few other coaches seem willing to do it, for whatever reason.
Final score: USC 82, Kansas State 69.
The Trojans got 24 points, eight rebounds, five assists and three steals from Boogie Ellis, who was my personal pick in the preseason to be the Pac-12 Player of the Year. The 6-foot-3 super-senior took 14 shots and made half of them. His backcourt mate, five-star freshman Isaiah Collier, added 18 points and six assists while the Trojans cruised to a 13-point victory after leading by as many as 19 in the second half.
"I thought Boogie and Isaiah really controlled the tempo in the first half," Enfield said. "Isaiah got downhill and was able to get to the rim, made some great passes. … I was proud of the six assists and 7 of 9 from the field. Very efficient."
With the win, the Trojans are up to No. 11 in Tuesday morning's updated CBS Sports Top 25 And 1 daily college basketball rankings, primarily because Michigan State took a humbling loss Monday after opening the season at No. 5. The Spartans were upset by James Madison at the Breslin Center despite closing as 16.5-point favorites. The final score was 79-76, in overtime. The biggest issue was that Michigan State missed 19 of the 20 3-pointers it attempted.
"I don't know if I have ever seen us shoot that poorly," said Naismith Memorial Hall of Fame coach Tom Izzo.
Several years ago, I established an automatic 10-spot-drop punishment for any ranked team that takes a head-scratching loss in November because if you start ranking schools based on nothing but resumes this early you can't have one that's 0-1 with a loss to James Madison ranked at all, and especially not ranked ahead of James Madison. Most would agree, and I certainly learned a while back, that being that stringent leads to goofy rankings. So rather than drop Michigan State all the way out after what will likely prove to be just one fluky loss, I've instead hit the Spartans with an automatic 10-spot drop that pushed them down to No. 15. That's the punishment for a first questionable loss at home but a second would obviously lead to Michigan State's removal from the Top 25 And 1, provided Izzo's team doesn't have enough quality wins to help offset it when or if it arrives.
Top 25 And 1 rankings
Biggest Movers
1 Marquette
10 Michigan St.
Our Latest College Basketball Stories