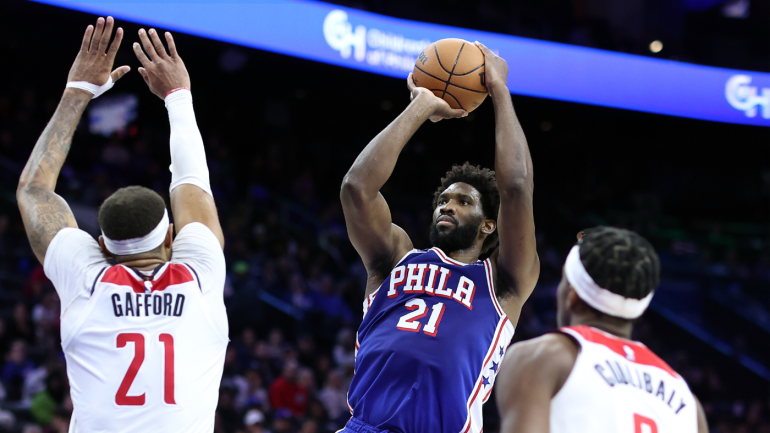 Getty Images
Joel Embiid certainly didn't need to have the greatest offensive quarter in Philadelphia 76ers history on Monday. No, with a 17-point halftime lead over the Washington Wizards and 19 points of his own already in the bank, Embiid easily could have jogged his way through what was looking like yet another comfortable victory for the 76ers and called it a night.
Instead, he decided to light an entire professional basketball team on fire. 
Across the 12 minutes that encompassed the third quarter in Monday's contest, Embiid shot the basketball 19 times: 10 from the field and nine from the foul line. He made all 19 shots on the way to 29 points scored.
For the game as a whole, that third quarter took Embiid to 48 points on 17-of-25 shooting from the floor and 14-of-14 from the foul line. He easily could have pushed his point total ahead into the 50s or 60s, but with a 22-point lead after three quarters, Philadelphia saw no reason to risk any injury and sat Embiid for the rest of the game.
Still, he hardly left the game empty-handed. The 29 points he scored were the most any 76er has ever put up in any period. In addition, it was the third-most points any player have ever scored in a single quarter without missing a field goal. Ahead of Embiid on that list? Klay Thompson, who infamously scored 37 points in a single quarter, and Kobe Bryant, who reached 30.
It was a fitting night for Embiid to make history. Only a brief train ride away, James Harden made (and lost) his debut with the Los Angeles Clippers. With Harden now gone, Philadelphia is going to need the occasional superhuman performance from Embiid to stay afloat offensively. The safety net of having a former MVP as his point guard is now gone. Fortunately for Philadelphia, Embiid was more than enough on Monday, as he has been all season long.