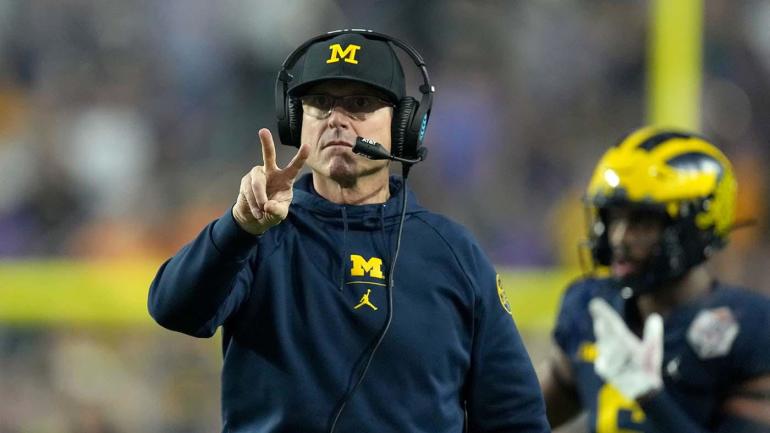 USATSI
As part of Michigan's reply to the Big Ten amid notification that the conference may discipline the Wolverines and coach Jim Harbaugh, the university intends to portray the ongoing sign-stealing scandal as an NCAA issue rather than a violation of the Big Ten's sportsmanship policy, sources told CBS Sports. As such, Michigan will claim the situation should be handled by the NCAA's ongoing enforcement investigation.
The Big Ten on Monday presented evidence to Michigan and gave the university until Wednesday to reply to its notice of potential disciplinary action in the scandal involving former low-level staffer Connor Stalions. 
The Wolverines are expected to present their own evidence that as many as three Big Ten schools had Michigan's signals in 2022. Michigan alleges Ohio State, Purdue and Rutgers shared its signals last season, according to The Athletic.
While it is not against NCAA rules to obtain signals during games or via game film during preparation for opponents, teams are not allowed to advance scout opponents or videotape signals in person. That rule has been in place for nearly 30 years.
Any suspension of Harbaugh will be swiftly met with immediate court action, an injunction or temporary restraining order, a source close to the situation told CBS Sports on Monday. It's not clear whether that assertion is part of Michigan's reply to the Big Ten.
There is no specific language in the Big Ten Sportsmanship Policy regarding sign stealing. That may be by design because "sportsmanship" is such a wide-ranging term. However, the policy states commissioner Tony Petitti shall have "exclusive authority" where a sportsmanship violation has occurred.
The NCAA has not connected the sign-stealing investigation directly to Harbaugh, according to Yahoo Sports. However, that may be a minor point for the NCAA as the association's bylaws state that a head coach "shall be" responsible for the conduct of his staff.
Such a finding could lessen the penalty, but any violation of the bylaw would still stick to Harbaugh.