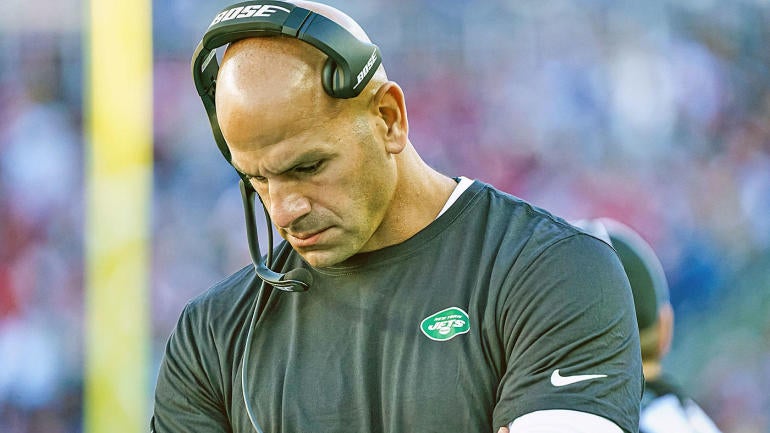 USATSI
The Jets saw their win streak come to a screeching halt Monday night, with quarterback Zach Wilson absorbing eight sacks and failing to lead a touchdown drive in a 27-6 loss to the Chargers. But coach Robert Saleh isn't ready to make any major changes on that side of the ball, telling reporters he won't consider changing play-callers and suggesting Wilson's job remains secure.
"Today was not good, obviously," Saleh said, referring to Wilson and the Jets offense. "Every time we had momentum, (it was) just a self-inflicted wound. Was it (Zach's) best game? Obviously not. Was it his worst game? No. I'm not going to say it was even close to his worst game."
It's possible Saleh included the last line because, frankly, Wilson has endured dozens of poor performances up to this point. But the coach defended the QB on multiple occasions after Monday's loss, in which the former first-round pick also fumbled twice, spreading blame to the offensive line and a receiving corps that dropped several passes.
In light of Saleh's insistence that Wilson did not "take a step back" in his seventh straight start in place of the injured Aaron Rodgers, reporters asked if offensive coordinator Nathaniel Hackett could be replaced as the primary play-caller.
"No," Saleh responded, without a second thought.
The Jets (4-4) are still holding out hope that Rodgers will return under center to maintain playoff aspirations. Just two months removed from surgery on a torn Achilles, an injury that typically requires nine to 12 months of rehab, the former Packers star was seen throwing deep passes on the field prior to Monday's game. He also appeared to tell Chargers safety Derwin James in a post-game handshake that he's bound to suit up sooner rather than later: "Give me a few weeks," he seemed to say.
In the meantime, Wilson is set to remain at QB for the Jets; he's now 11-18 as their starter over the course of his career.