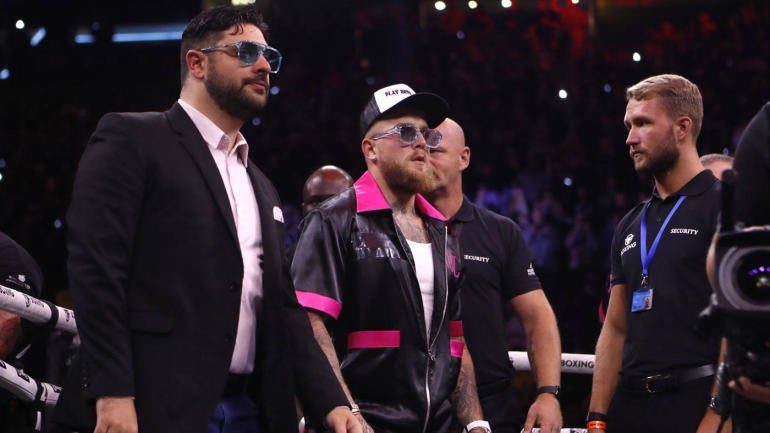 Getty Images
Jake Paul meets his most experienced boxing opponent yet. Paul will fight professional boxer Andre August in a cruiserweight tilt on Dec. 15 in Orlando, his promotional company announced on Wednesday.
Paul's return date was previously set to air on DAZN without an opponent being formally announced. The social media star's foray into boxing has primarily consisted of crossover athletes and ex-UFC fighters. A fight against August is a deviation from Paul's formula of finding the most popular opponent with the least risk.
Paul (7-1, 4 KOs) is coming off a unanimous decision win against UFC alum Nate Diaz making his boxing debut. Paul has only twice fought an opponent with at least one win in a boxing ring: defeating former UFC middleweight champion Anderson Silva via decision and losing a split decision to Tommy Fury.
"I'm a professional boxer and I want to be world champion, so I need to pursue the path towards greatness against people who have been boxing their whole life," Paul said in a statement. "So far, my entire boxing career has been on pay-per-view, but now it's about more than business. Now I want to build my experience in the ring against seasoned fighters. I'm coming to prove my greatness on Friday, December 15th live on DAZN for the world to see."
August (10-1, 5 KOs) is the surprise winner of the Paul sweepstakes, a name few, if any, expected to be in the running. August enters the fight on a five-fight winning streak with one stoppage.
"I don't talk very much. I'm all about that action," August said in a statement. "Jake Paul has the money, the fame, the team and the resources but he doesn't have my hunger. When that bell rings, I am going to go straight to Jake Paul and ring his bell and send him back to YouTube for good." 
There was a general belief among fans that Paul would face rival YouTuber KSI or book a rematch with Tommy Fury. The two potential opponents fought each other on Oct. 14 with Fury winning a unanimous decision to improve his pro record to 10-0.