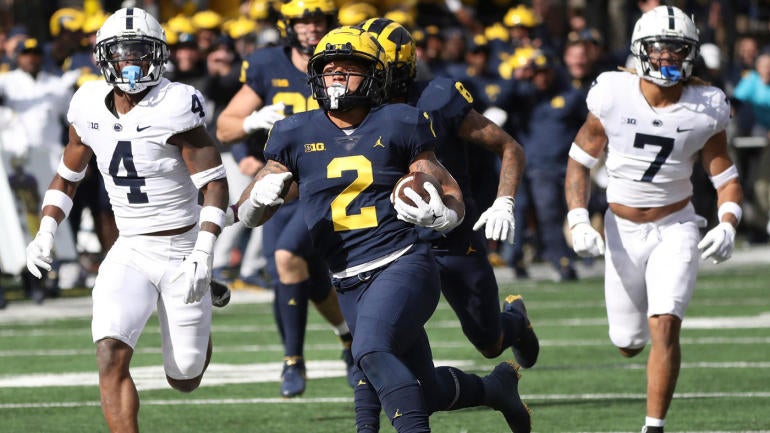 Detroit Free Press
Michigan star running back Blake Corum denied any business dealings with former Wolverines analyst Connor Stalions Tuesday. Earlier in the day Wyoming state documents were discovered listing Corum, Stalions and Connor O'Dea as co-organizers of a "BC2 Housing LLC." 
"I know exactly what you're talking about," Corum told reporters.  "My first time hearing it was when I went out to practice. First of all, I have no businesses with him. I don't have any business with Connor or anything like that. But I'm glad whoever found it, whoever was searching the web was able to find that. I appreciate you. My attorneys are on it. We'll definitely get that figured out right away and give my name taken off or whatever it is." 
The LLC came to light as part of a report from the Wall Street Journal concerning a lawsuit filed against Stalions by a homeowners association in Ann Arbor, Michigan. He is accused of operating an appliance refurbishing business out of his home, which was a direct violation of the HOA's bylaws. According to the WSJ's report, the HOA's investigation into Stalions began after "dozens of old vacuum cleaners appeared on his front porch" angering neighbors. 
"That's something I'm not really into," Corum said. "Vacuums aren't my thing. I'm a clean person, but I'm not a cleaner. Vacuums aren't my thing. I don't know anything about that." 
Stalions is accused of buying tickets for more than 30 games at 12 of the possible 13 Big Ten stadiums and four tickets to games featuring out-of-conference College Football Playoff contenders over a three-year period, according to ESPN. There are records of Stalions buying tickets to the 2021 and 2022 SEC Championship Games through the secondary market. 
At issue is NCAA Bylaw 11.6.1: "Off-campus, in-person scouting of future opponents (in the same season) is prohibited." Sign-stealing itself is not technically against the rules unless it involves electronic equipment to record and inform players or coaches of signals during games. Teams are given access to a great deal of film in advance of matchups in order to scout the on-field football product. 
Michigan coach Jim Harbaugh has denied knowledge of any attempt to steal opponent signs and will cooperate with the NCAA investigation, he said in a statement. Harbaugh is already embroiled in a battle with the NCAA over separate Level II violations for which he is accused of misleading investigators.