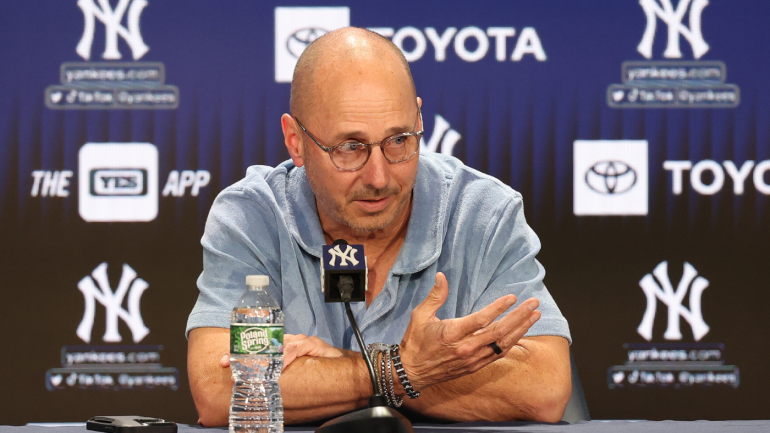 USATSI
After missing the playoffs for the first time since 2016 and putting up their worst regular-season winning percentage since 1992, the New York Yankees are answering many questions these days. That's especially the case since the relative depths of 2023 didn't lead to meaningful changes in the front office or the dugout. 
No doubt, long-time general manager Brian Cashman is acutely aware of all the criticisms directed at every corner of the organization these days, and the frustration may have shown a bit during a scrum with reporters at the ongoing general managers meetings in Arizona. At issue was whether the Yankees as an organization are too analytically oriented. Here are Cashman's at times pointed remarks on that subject: 
To push against the idea — real or imagined — that the Yankees are too invested in analytics, Cashman stated: 
The Yankees have the smallest analytics department among the five teams of the American League East. 
The Yankees have the largest pro scouting department among those same five teams. 
The recurring use of the word "bullshit" suggests this is very much a sore and tired subject for Cashman, which explains why he's in essence holding up the modest size of the Yankees' analytics department as a good thing. The obvious rejoinder is that, given the Yankees' vast resources, they should not have the smallest department of any kind among their divisional peers. 
The reality, of course, is that in 2023 all teams operate under some blend of analytics and traditional scouting. Some tilt more toward one side of the other, but both (entirely compatible) schools of thought inform every player-personnel decision that every team makes these days. Cashman, though, would like everyone to know which way the Yankees lean. 
However the Yankees arrive at their decisions, how those decisions work out in 2024 may play a determinative role in whether or not Cashman is back holding court on behalf of the Yankees next offseason.