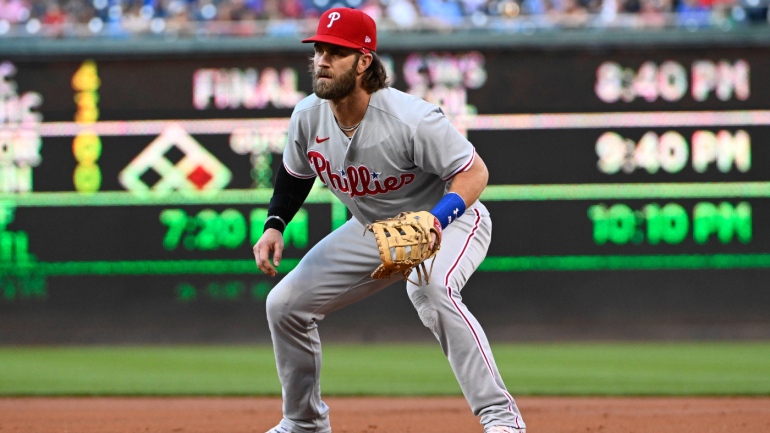 USATSI
Philadelphia Phillies executive Dave Dombrowski told reporters on Wednesday that Bryce Harper will continue on as the club's everyday first baseman, according to Chelsea Janes of the Washington Post. Dombrowski, speaking at the annual general managers meetings, added that the Phillies are close to set from a position player's perspective.
"He's happy to do whatever we wanted him to do," Dombrowski told reporters. "He said he'd play first or the outfield. He feels great. But the more we talked about it internally, we liked the idea of playing him at first."
Harper, 31, has not played the outfield since injuring his elbow early during the 2022 season. He underwent Tommy John surgery that winter, and was restricted to serving as the Phillies' designated hitter until July 21, when he made his first career appearance at the cold corner. Harper would make 36 total appearances at first base through the end of the regular season. 
Overall, Harper batted .293/.401/.499 (146 OPS+) with 21 home runs, 72 RBI, and 3.7 Wins Above Replacement in 126 contests. Statcast's Outs Above Average metric had Harper plus-three in a small sample at first base.
Of course, Harper's permanent move to first base doesn't just impact him. It also makes it unlikely that the Phillies find a reason to bring back free-agent slugger Rhys Hoskins, who missed the 2023 season after tearing his ACL in spring training. CBS Sports recently ranked Hoskins as the 13th best free agent available this winter. Here's what we wrote at the time:
Hoskins missed the season after tearing his ACL in March. Unfortunately, he was already facing a dicey free agent market before the injury. For as good as Hoskins is, and he's amassed a 120 OPS+ or better in five of his six seasons, he's a right-right first baseman on the stormy side of 30. Teams needn't look further than José Abreu to see how quickly that profile can crater. (To be fair, Abreu is/was significantly older than Hoskins.) Between the injury and the market's tepidness for the type, Hoskins would seem like a reasonable candidate to accept a qualifying offer. 
Dombrowski, for his part, said that he had already informed Hoskins of the Harper situation.