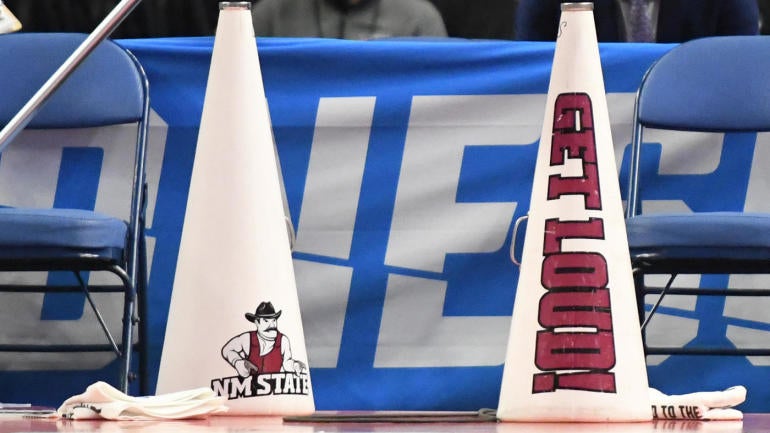 Getty Images
Three former New Mexico State basketball players have been charged with multiple felonies following an investigation by the New Mexico Attorney General's office into a hazing scandal that rocked the program last season, according to KTSM-TV. Charges for former Aggies Kim Aiken Jr., Doctor Bradley and Deshawndre Washington include criminal sexual contact and false imprisonment in connection with last season's alleged abuse, which also sparked a pair of lawsuits against the university.
New Mexico State halted its season last February with five games remaining amid an investigation into the hazing allegations. The issues led to first-year coach Greg Heiar's firing and a total overhaul of the program under new coach Jason Hooten, who was hired from Sam Houston.
In one alleged incident described in a 28-page lawsuit reported by KTSM-TV in April, Washington grabbed teammate William "Deuce" Benjamin's scrotum in a hotel room in front of a group of women. Another allegation claimed Aiken and Bradley ripped back a shower curtain on teammate Shakiru Odunewu and forced him to do squats while slapping his buttocks and videotaping the encounter. In yet another allegation, Odunewu says he was attacked and sodomized by the defendants during November bus trip to a road game. 
New Mexico State settled the lawsuit with Benjamin and Odunewu in June. This week, a second lawsuit was brought by other members of last year's team, according to KTSM-TV. Of the trio of charged former players, only Bradley landed at a new school as he transferred to Nicholls State. He was suspended Wednesday because of Title IX violations committed at New Mexico State, according to the Nicholls Worth.