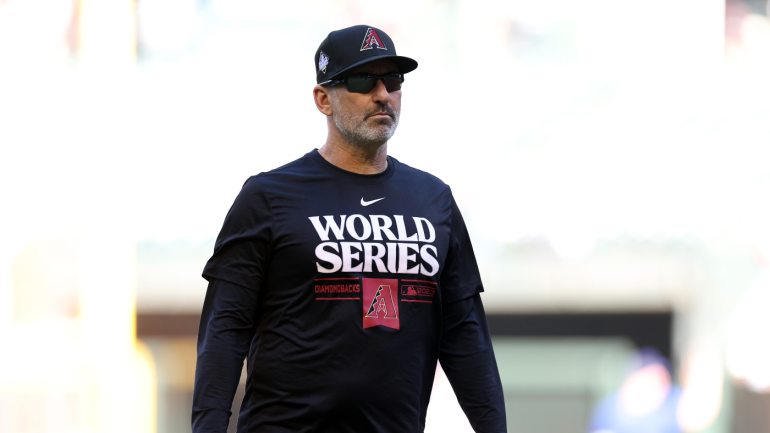 Getty Images
The National League champion Arizona Diamondbacks have signed manager Torey Lovullo to a contract extension, the team announced Wednesday. Details were not announced but the Arizona Republic previously reported that the deal runs through the 2026 season. The team has not yet confirmed the extension. Lovullo was already under contract for 2024, so the new extension adds two years to his deal.
"It's great to have the long-term contracts, right? Everybody wants that," Lovullo told the Arizona Republic in June. "Do I deserve that? I don't know. I don't know. I feel like I've got to prove myself every single day to people. That's how I was raised. You honor what they give you and then at the end of the day, if they want you back, then you honor that too."
Lovullo, 58, joined the D-backs in Nov. 2016 and they are his only full-time MLB managerial job. Arizona has gone 495-537 (.480) during Lovullo's seven seasons, though several of those seasons were rebuilding years. The D-backs reached the postseason as a wild-card team in 2017 and again in 2023, when they made a Cinderella run to the World Series.
The D-backs lost 110 games as recently as 2021. Thanks to Lovullo's leadership, as well as an infusion of young talent like Corbin Carroll and Gabriel Moreno, Arizona won 84 games in 2023 and qualified for the postseason. They upset the Milwaukee Brewers, Los Angeles Dodgers, and Philadelphia Phillies before falling to the Texas Rangers in the Fall Classic.
Prior to joining the D-backs, Lovullo worked as Toronto Blue Jays first base coach (2011-12) and Boston Red Sox bench coach (2013-16). He served as Boston's interim manager for the final seven weeks of the 2015 season, when manager John Farrell stepped away from the team to receive treatment for lymphoma.
With Craig Counsell leaving the Brewers for the Chicago Cubs, Lovullo is the third longest-tenured manager in the National League. Only Dave Roberts (Los Angeles Dodgers) and Brian Snitker (Atlanta Braves) have been at the helm longer, and Snitker was hired only a few months prior to Lovullo.