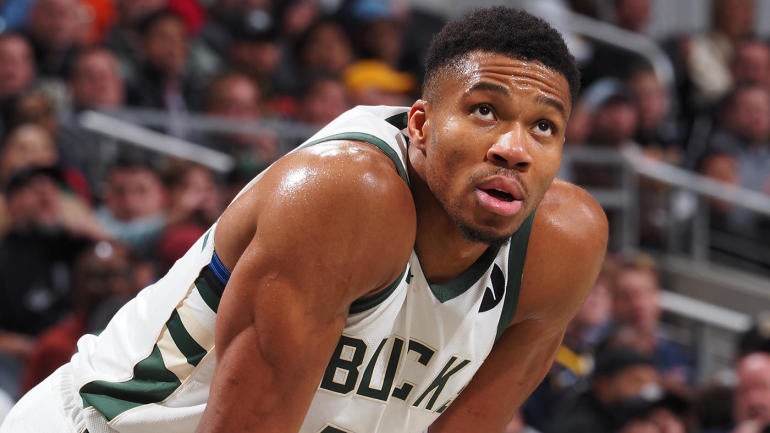 Getty Images
With Damian Lillard on the sideline due to a calf issue, Giannis Antetokounmpo took it upon himself to provide offense for the Milwaukee Bucks in Thursday night's matchup against the Indiana Pacers. The two-time MVP put up an impressive 54 points, but committed two crucial late turnovers that cost Milwaukee in a 126-124 loss to Indiana.
Antetokounmpo was as dominant as he's ever been in the first three quarters, getting to the rim at will to collect layups, fouls — or both — as the Pacers searched for answers. By the end of the third quarter, he had tallied 46 points and looked well on his way to surpassing his career high of 55 set this past January against the Washington Wizards.
Credit goes to veteran coach Rick Carlisle, however, for making a significant adjustment. Indiana began trapping Antetokounmpo at half-court in the fourth quarter, and sending a quick double-team every time he caught the ball in the post. It forced the other Bucks players to have to contribute offensively, and served a secondary purpose of taking the Greek Freak out of the tremendous rhythm he had cultivated over the first three quarters.
With just over a minute left to play in the fourth quarter and the Bucks trailing by a single point, Antetokounmpo was once again trapped, and he looked for Brook Lopez as a release valve. Lopez had plenty of room to operate in the middle of the floor, but Antetokounmpo's pass sailed well above the outstretched arms of the 7-foot-1 Lopez, landing out of bounds for a turnover.
On the next Milwaukee possession, Antetokounmpo tried to bully his way to the basket, as he'd done countless times during the game, and was stripped by Pacers guard Bennedict Mathurin.
The consecutive turnovers cost the Bucks dearly, as the Pacers sunk their free throws and Milwaukee was unable to close the gap.
Antetokounmpo's missteps in the final minute highlight the absence of Lillard, who is always able and willing to initiate late offense and deter opponents from trapping and doubling Antetokounmpo. That's exactly the reason why Milwaukee mortgaged its future — and got rid of an excellent player in Jrue Holiday — to bring in a proven closer like Lillard in to play alongside Antetokounmpo.