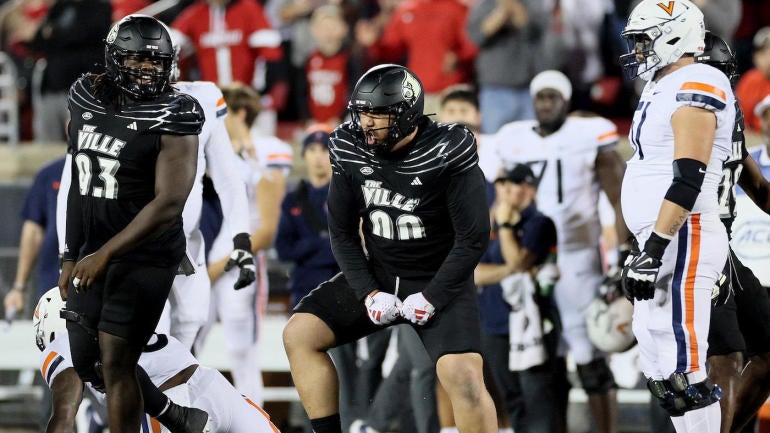 USATSI
No. 11 Louisville needed a late rally, but eventually took down upset minded Virginia 31-24 Thursday night. The win inches the Cardinals closer to an ACC Championship Game berth and keeps lingering College Football Playoff hopes afloat for another week.
Louisville running back Isaac Guerendo ripped off a 73-yard touchdown run with just 3:24 left in regulation to break a 24-24 tie, propelling the Cardinals to a seven-point victory after they entered the fourth quarter trailing by a touchdown. 
Louisville seemed to be in control when it carried a 14-0 lead late into the third quarter, but Virginia exploded for 21 unanswered points in five mintes on a series of wild plays. The Cavaliers scored two touchdowns separated by just 10 seconds — one of them on an interception return — before taking a 21-14 lead on a touchdown that was scored off an offensive fumble recovery. 
The teams traded field goals early in the fourth quarter before Louisville quarterback Jack Plummer found receiver Ahmari Huggins-Bruce wide open for a 52-yard touchdown to tie the game with 6:20 to play. Louisville's defense — which forced a pair of turnovers in the victory — came up with a stop on the next drive to set up Guerendo's game-winning touchdown. Virginia had one last chance after to tie the game, but turned the ball over on downs with 1:16 remaining. 
Plummer finished the game 19-of-28 passing for 243 yards and two touchdowns with an interception, one that was returned by Virginia for a touchdown
Louisville's special teams came up big in the victory, blocking a punt in the second quarter that was recovered for a touchdown
Play was stopped for nearly 11 minutes in the second half after Virginia running back Perris Jones suffered an injury that forced him to be stretchered off and transported to a local hospital for further evaluation 
Louisville now sits 9-1 for the first time since 2016, a season that was punctuated by then-Cardinals quarterback Lamar Jackson taking home the Heisman Trophy
Cards on brink of ACC title game berth
While Louisville certainly helped itself in the race for the ACC title game with a win, it has not clinched a spot against No. 4 Florida State just yet. The Cards need a win Nov. 18 at Miami or for No. 24 North Carolina to lose one of its remaining three ACC games to punch their ticket to Bank of America Stadium in Charlotte on Dec. 2. That could come as soon as Saturday as the Tar Heels take on rival Duke. 
Louisville's path to the College Football Playoff is a little more fluid. The Cardinals would obviously have to win out, which would include an upset of No. 4 Florida State in the conference title game. Even with that, the Cards would likely need some chaos to occur ahead of them — say a two-loss Pac-12 or Big 12 champion — to get a CFP invite.